Where's the volume? When you break above resistance or out of a trading range, it is supposed to be on volume.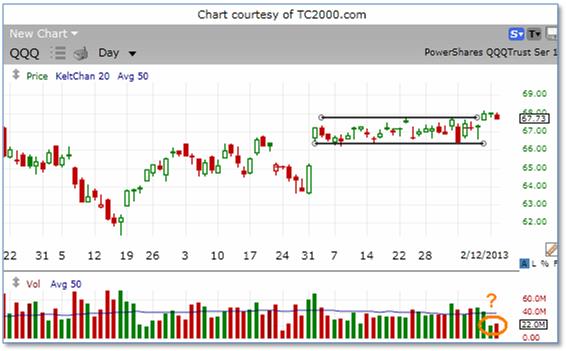 So many indexes, ETFs, and individual stocks, at first glance, seem to be working their way upwards. But volume isn't there. Volume is what you get when the institutions are participating. Solid gains that aren't quickly given back are what you get when the institutions are participating.
Using a charting program that colors the volume bars according to up-close or down-close days and draws a 50-day moving average of the volume, it was quite obvious as I went through the charts of many well-known/widely-traded stocks. Recent advances have paused and volume has dropped off dramatically.
The Dow seems to be just pausing, but the volume fall-off is more pronounced in the other indexes. It is most noticeable in the ETFs: QQQ, IWM, and SPY.
Will seasonals come to our rescue? Is there any track record of strong buying, or selling, this time of year in the major indexes/ETFs?
Focusing on the next 6 weeks, if you take out the internet mania period of 1999/2000, and 2001's subsequent internet stock-related crash, QQQ barely nets any gain. If history repeats itself, watching paint dry may be more interesting than trying to trade the major indexes and ETFs.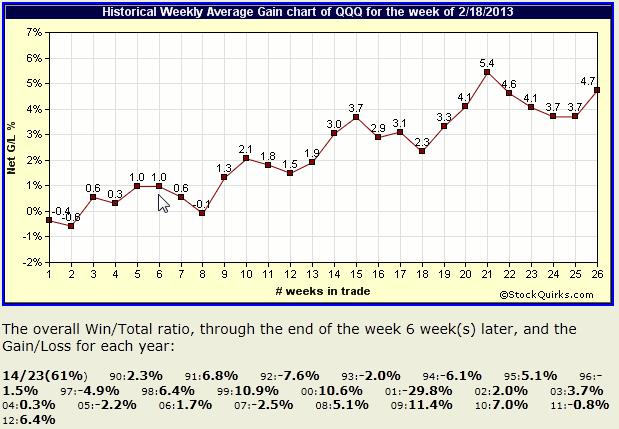 Certain individual stocks are another matter, especially the ones tied to seasonal sales cycles or that typically benefit if the economy is improving, even slightly.
I believe a correction could happen any day now, but I can't say the odds are real high. There is something driving this market. It may be individual investors, or institutions making small periodic purchases. It's not a roaring bull market and we're overdue for a correction, but it slowly keeps going up.
It's time for more conservative, higher probability trades. For instance, in today's Seasonal Forecaster newsletter, I cover an energy trade that can quickly return 20% no matter which way the stock goes, and conservative trades on two stocks with good setups that can return 8% and 10% over the next few weeks.
Of course, there's much more you need to know and many more stocks you can capitalize upon each and every day.  To find out more, type in www.markettamer.com/seasonal-forecaster

By Gregg Harris, Market Tamer Chief Technical Strategist
Copyright (C) 2013 Stock & Options Training LLC
Unless indicated otherwise, at the time of this writing, the author has no positions in any of the above-mentioned securities.
Gregg Harris is the Chief Technical Strategist at MarketTamer.com with extensive experience in the financial sector.
Gregg started out as an Engineer and brings a rigorous thinking to his financial research. Gregg's passion for finance resulted in the creation of a real-time quote system and his work has been featured nationally in publications, such as the Investment Guide magazine.
As an avid researcher, Gregg concentrates on leveraging what institutional and big money players are doing to move the market and create seasonal trend patterns. Using custom research tools, Gregg identifies stocks that are optimal for stock and options traders to exploit these trends and find the tailwinds that can propel stocks to levels that are hidden to the average trader.
Related Posts
Peloton Stock Is the Netflix of Fitness
How Your Spending Is Likely to Change as a Retiree
La-Z-Boy Terminating 10% of Its Workforce