Many of the major indexes and ETFs appear to be healthy, at first glance. But volume has been falling off on this recent advance, and lower-highs, on higher volume, are starting to appear: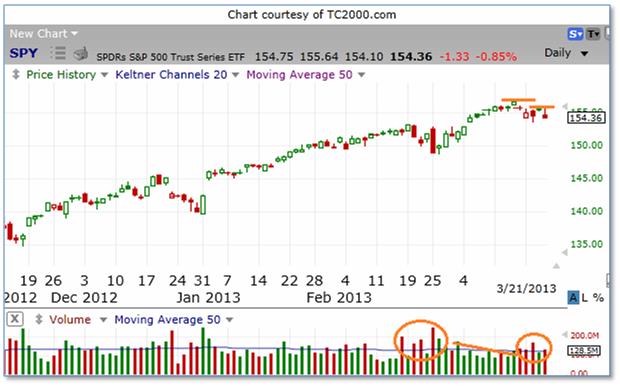 Even the recently-strong Financial sector, as represented by IYF and XLF, are producing sell signals on the Stochastics.
The S&P's track record over the next two months offers little encouragement. There is no strong pattern of gains, or losses to base any seasonal trades on.
 Gold is starting to show a little inspiration, but it has a downtrend to overcome first: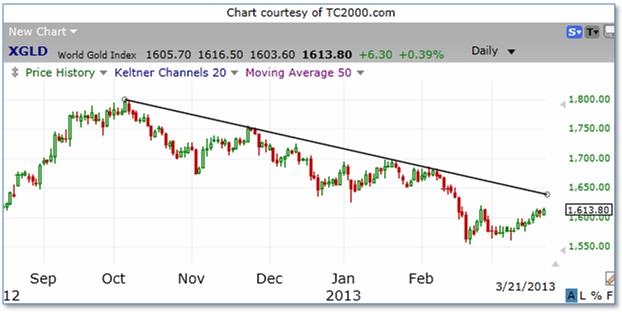 Right now (3 am on Friday morning), Marketwatch.com is stating "Cyprus likely to go ahead with deposit tax after all". If the Cyprus deposit tax starts a bank run that spreads to other countries, you won't want to be long this market.
Hold on to the strongest stocks, but consider paring back the weak ones. Buy protection (such as puts), scale back open positions, and take profits if possible.
Of course, there's much more you need to know and many more stocks you can capitalize upon each and every day.  To find out more, type in www.markettamer.com/seasonal-forecaster
By Gregg Harris, MarketTamer Chief Technical Strategist
Copyright (C) 2013 Stock & Options Training LLC
Unless indicated otherwise, at the time of this writing, the author has no positions in any of the above-mentioned securities.
Gregg Harris is the Chief Technical Strategist at MarketTamer.com with extensive experience in the financial sector.
Gregg started out as an Engineer and brings a rigorous thinking to his financial research. Gregg's passion for finance resulted in the creation of a real-time quote system and his work has been featured nationally in publications, such as the Investment Guide magazine.
As an avid researcher, Gregg concentrates on leveraging what institutional and big money players are doing to move the market and create seasonal trend patterns. Using custom research tools, Gregg identifies stocks that are optimal for stock and options traders to exploit these trends and find the tailwinds that can propel stocks to levels that are hidden to the average trader.
Related Posts
Study Finds Breast Cancer Risk Can Rise by 50% for Women Who Drink a Cup of Milk Every Day
Massachusetts Pot Regulator Wants to Cut License Wait Time in Half
Amazon Is Preparing for Coronavirus Troubles. Should Investors?