Since December 20 of this past year, an enthralling drama has played out surrounding the stock of Herbalife (HLF). This propelled my "creativity" to levels heretofore rarely reached. I have developed a sure fire television concept that should whet the appetite of any perceptive TV production company – especially since they perpetually seem to be on the lookout for new ideas (instead of simply recycling old ones).  Imagine a series that captures the best (worst) features of "soap opera" and "reality TV"!
My idea will ensure blowout ratings because it combines elements from "Survivor" (cut throat scheming), "Keeping Up with the Kardashians" (lots of arrogance and money), "Fear Factor" (unlimited risk), "The Biggest Loser" (losing is not the goal… but it happens in large doses), and "The Bad Girls Club" ("feisty and mischievous" are understated adjectives for the lead characters).
Of course (with apologies to the ladies) it would have to be called "The Bad Boys Club" (the hedge fund world is extremely patriarchal). The plot lines are unlimited because new ones are created nearly every week! And the theme song would be absolutely perfect: "Love Me or Hate Me"!
A veritable case in point of hedge fund human pathos and intrigue is still unfolding as you read this—namely, the Herbalife controversy to which I alluded at the start! For the few who haven't followed it, here is the essential "barebones" narrative with which Hollywood can easily create several episodes.  On December 20, Pershing Square hedge fund manager, Bill Ackman, offered a savage analysis of the stock – accusing it of being a pyramid scheme and announcing hisfund had sold 20 million shares of HLF "short" (with a target price of zero!). Within days, the stock plunged over 40% (bottoming at $24.24 on December 24). One respected analyst called the attack "almost unprecedented in the history of investing".
Then HLF announced word of an investor meeting on January 10 to refute the charges, leading to a strong price recovery of over 70%.  Ackman's attack led to a direct counterattack by HLF CEO, Michael Johnson, who said: "the United States will be better off when Bill Ackman is gone!"  In response, Ackman characterized Johnson's statement as a physical threat. Talk about reality show-like excitement!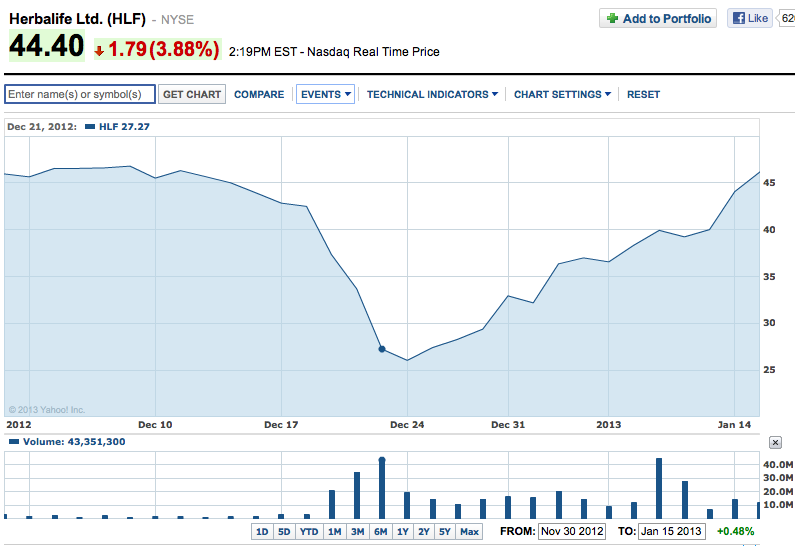 During this time, the plot expanded in scope and intensity when Third Point Capital's Daniel Loeb jumped on the chance to buy a huge position in HLF!  Among the reasons Loeb chose this long position are (presumably) an enduring resentment of Ackman, who traded against Loeb when Loeb shorted Target (TGT) stock and through whom Loeb suffered a huge loss in 2008 when he had money in Ackman's "Target Fund". Adding fuel to the fire, Chapman Capital's Robert Chapman threw 35% of his assets under management into HLF stock! (In days gone by, Chapman had labeled Ackman the "PT Barnum of hedge funds.")  Finally, rumors swirled that the venerable Carl Icahn was also long HLF stock, with reminders that he had suffered through a drawn out, seven year lawsuit with Ackman over a real estate deal, a suit that Ackman won months ago. For his part, during the suit, Ackman accused Icahn of being a "shakedown artist" who could not be trusted.
At this point, picture a hockey game, with several stars circling in the middle of the rink, each with very bad intentions toward the other. For better or worse, those moments always make it to the "Sports Central" highlight reel and bring the crowds to their feet! That is the intensity equivalent of this hedge fund brawl – with the difference being how one keeps score (millions won or lost versus simply bruises and the drawing of blood).
It is puzzling to me why Ackman made a point of being so public and transparent with his huge short on HLF. It is not "best practice" in the hedge fund world to do so, since it exposes the fund manager to just this sort of battle – one big hedge fund manager against others. Loeb made it clear that his fund never discloses short positions… ever. With regard to Ackman's premise that HLF will eventually be "shut down", Chapman reports that he did due diligence with prominent legal authorities who assured him that there will not be any regulatory action to close down HLF ("hell freezes over before this happens").
Whatever the final fate of Herbalife turns out to be, there is no denying that it would be "Must See TV"!
I invite TV networks to contact me if they actually want to develop "The Bad Boys Club" as a weekly series. It is a sure winner. Just imagine the theme "Love Me or Hate Me" playing at the awards show as the producers head up to the stage to get their Emmy Award!
Disclosure: I have never owned HLF shares, do not own HLF shares, do not have a short position in HLF, and have no desire to get in the middle of this grudge match!
Submitted by Thomas Petty
Related Posts
3 Dangerous Money Lies You May Be Telling Yourself
Surprise! Social Security Might Not Have Paid for Your Medicare
1 Stock That Pays You Each Month