The markets have been pulling back, a process well overdue. So far there is no reason to be alarmed, at least from the price charts. The SPY chart looks similar to the NASDAQ and Russell 2000 charts.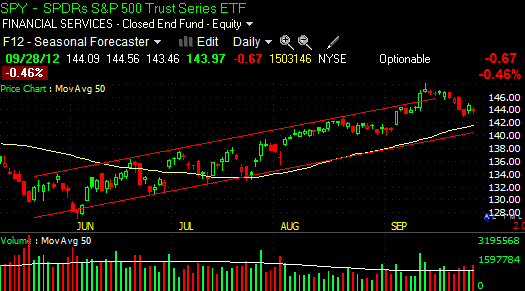 The SPY could fall a bit more. Halting in the area of the 50-day moving average and the lower trendline of the up-trending channel, and then rebounding on increasing volume would be a very positive sign. The other indexes and ETFs should react similarly.
If this happens, it would be a very good time to go long on many individual stocks, as there are strong upwardly-biased seasonal patterns this time of year. Over the next four months for instance, the S&P 500 has risen almost 5% on average with gains in 80+% of the years. The NASDAQ has risen an average 9% with gains in about three-quarter of the years.
Just to keep everyone leaning towards the side of caution, I want to bring a few points to your attention. Of course we are headed into an election, a 'fiscal cliff' situation that may drastically affect the markets, and another quarterly earnings release season. But also consider these factors:
Marketwatch.com highlighted seven global companies that have warned their earnings may be below expectations. Look at this varied list of businesses: Caterpillar, Dow Chemical, Ford, Federal Express, Intel, Nike, and Proctor & Gamble.
SentimentTrader.com reported the "Dumb money" has twice the expectations of a rally as the "Smart money" does. Guess which group is usually right? Some of the recent pullback may be institutions lightening up on positions.
A Commerce Department report on Thursday indicated durable goods orders fell 13.2 percent in August, the biggest drop since January 2009, in the midst of the recession. Economist David Rosenberg notes a bigger concern that the three-month moving average of non-defense capital goods orders was -4.1% in August.
A Seasonal Forecaster subscriber mentioned he was uncomfortable being in the market right now and was going to sit out until at least after the election. My reply is good advice for everyone right now.
"You will always have to deal with various external factors. When your instinct is making you uncomfortable with being in the market, sitting out is not only a good option, it is a profit-preserving technique few traders are ever able to master.
Other ways you can deal with such periods:
Paper trade to get more experience, either in the types of trades you normally do, or in the stocks you normally trade, or to get experience in trade strategies or stocks you aren't familiar with. I've been trading options since the early 80's, and I still do a lot of paper trading (I'm getting more familiar with weekly options and butterfly and credit spread variations).
Continue trading, but take smaller positions – have a smaller maximum percentage of your portfolio at risk, and really focus on position protection and learning adjustments.
Switch to trades that can work out if the market moves strongly in one direction or other, even if you are trading just individual stocks (William O'Neil states from extensive research that 75% of stocks follow the overall market)."
Today's full Seasonal Forecaster newsletter covers trades on earnings announcements that can also work well in volatile market environments.
Of course, there's much more you need to know and many more stocks you can capitalize upon each and every day.  To find out more, click here:  www.markettamer.com/newsletters
By Gregg Harris, MarketTamer Chief Technical Strategist
Copyright (C) 2013 Stock & Options Training LLC
Unless indicated otherwise, at the time of this writing, the author has no positions in any of the above-mentioned securities.
Gregg Harris is the Chief Technical Strategist at MarketTamer.com with extensive experience in the financial sector.
Gregg started out as an Engineer and brings a rigorous thinking to his financial research. Gregg's passion for finance resulted in the creation of a real-time quote system and his work has been featured nationally in publications, such as the Investment Guide magazine.
As an avid researcher, Gregg concentrates on leveraging what institutional and big money players are doing to move the market and create seasonal trend patterns. Using custom research tools, Gregg identifies stocks that are optimal for stock and options traders to exploit these trends and find the tailwinds that can propel stocks to levels that are hidden to the average trader.
Related Posts
The Emergency Grant Program for Small Businesses Is Officially Out of Money
Meal-Delivery Space Consolidates Further
Why Virgin Galactic Stock Just Popped 6%