Here we have a stock that isn't setting new highs, like many of the Dow stocks are doing. It is coming off a recent lower-high with high volume gap-downs. With an EPS Growth Rate of -12%, erratic earnings, a P/E of 984, a Return On Equity of a paltry 2%, and a declining Relative Strength number, it looks like the February lows may not hold.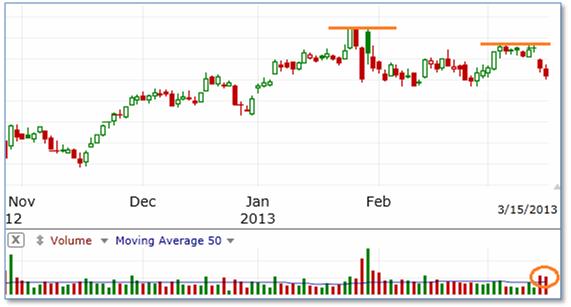 It gets better. Stochastics and MACD have been setting lower highs, and On Balance Volume shows accumulation is giving way to distribution:

I'm looking for some negative delta for my portfolio, some bearish positions to counterbalance the bullishly-oriented positions. So I will be shorting this stock or evaluating puts, straddles, and bear call/bull put spreads, right?
Wrong. Not with this stock. This is Amazon.com, and AMZN is becoming the new Apple. Very adept at marketing and rapidly expanding into new markets (including web hosting and media), Amazon is the bus you don't want to get run over by.
Surely institutions aren't interested in a measly 2% ROE stock that doesn't pay dividends. You would think so. But the number of funds (now over 2100) holding Amazon.com stock has risen over the past year by 8%.
But still, AMZN must occasionally pull back – why wouldn't I take a chance here? Because of AMZN's seasonal pattern. Over the next 5 weeks for instance, AMZN has gained an average 15.3%, with gains in 12 out of the past 15 years. While there are a few years that really pushed up the average, notice that most years still show strong 5-week gains.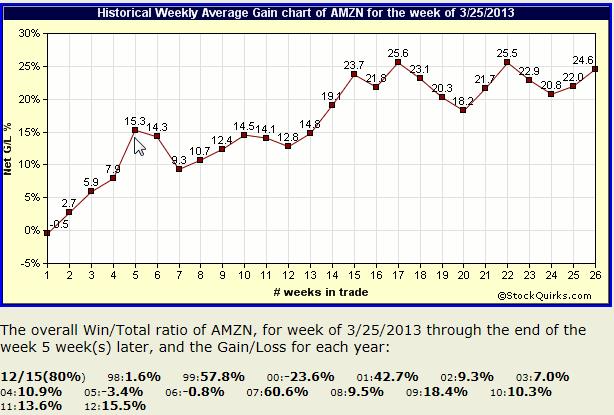 This is clear evidence institutions regularly accumulate Amazon stock this time of year. To bet against them is a sure path to investing disaster.
Of course, there's much more you need to know and many more stocks you can capitalize upon each and every day.  To find out more, type in www.markettamer.com/seasonal-forecaster
By Gregg Harris, Market Tamer Chief Technical Strategist
Copyright (C) 2013 Stock & Options Training LLC
Unless indicated otherwise, at the time of this writing, the author has no positions in any of the above-mentioned securities.
Gregg Harris is the Chief Technical Strategist at MarketTamer.com with extensive experience in the financial sector.
Gregg started out as an Engineer and brings a rigorous thinking to his financial research. Gregg's passion for finance resulted in the creation of a real-time quote system and his work has been featured nationally in publications, such as the Investment Guide magazine.
As an avid researcher, Gregg concentrates on leveraging what institutional and big money players are doing to move the market and create seasonal trend patterns. Using custom research tools, Gregg identifies stocks that are optimal for stock and options traders to exploit these trends and find the tailwinds that can propel stocks to levels that are hidden to the average trader.
Related Posts
Better Buy: Magellan Midstream Partners vs. Enterprise Products Partners
Is E-Cig Health Crisis Causing Users to Start Smoking Again?
Better Buy: Boeing vs. Airbus