I gave three example stocks to watch, on the possibility their current patterns could turn into perfect examples of spotting a downturn at the beginning.
Colgate-Palmolive (CL) was down today but hasn't yet proved my point (I think it will). But Amazon's (AMZN) low today was 2.5% down from Friday's close, and the chart pattern suggests more downside to come: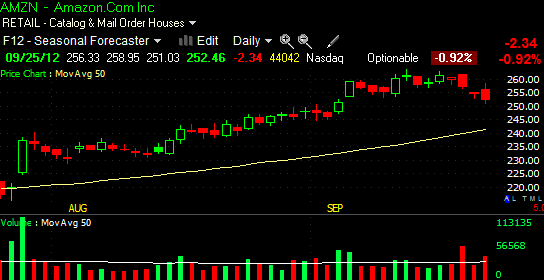 The third stock I focused on was Biogen Idec (BIIB), down about one percent so far, but also looking ready for more.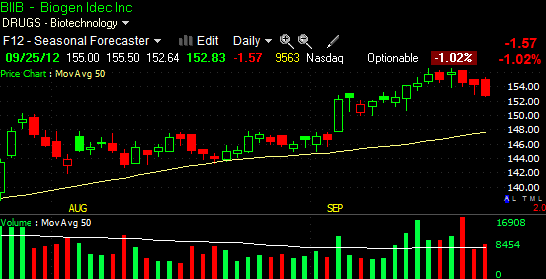 The simple techniques I gave for spotting tops would have had you preparing for a drop in Mosaic (MOS) back on Monday, 9/10, when it was 4% higher: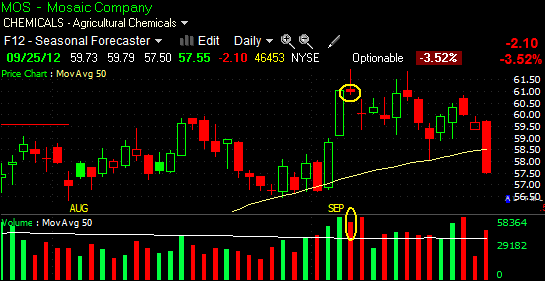 Not every stock has downside on its mind. Even during Tuesday's 1% decline on the S&P 500, there were some well-known stocks that not only showed strength, they also have good seasonal patterns (historical track records of usually rising this time of year).
Of course, there's much more you need to know and many more stocks you can capitalize upon each and every day.  To find out more, type in www.markettamer.com/newsletters
By Gregg Harris, MarketTamer Chief Technical Strategist
Copyright (C) 2013 Stock & Options Training LLC
Unless indicated otherwise, at the time of this writing, the author has no positions in any of the above-mentioned securities.
Gregg Harris is the Chief Technical Strategist at MarketTamer.com with extensive experience in the financial sector.
Gregg started out as an Engineer and brings a rigorous thinking to his financial research. Gregg's passion for finance resulted in the creation of a real-time quote system and his work has been featured nationally in publications, such as the Investment Guide magazine.
As an avid researcher, Gregg concentrates on leveraging what institutional and big money players are doing to move the market and create seasonal trend patterns. Using custom research tools, Gregg identifies stocks that are optimal for stock and options traders to exploit these trends and find the tailwinds that can propel stocks to levels that are hidden to the average trader.
Related Posts
Why Moderna Shares Climbed 228.3% in the First Half
Is Grubhub Stock a Buy?
Why Seattle Genetics Shares Climbed 48.7% in the First Half