For a couple of years, I have been hearing and reading about the impending rush into "Mobile Payments"… with experts predicting the ebbing of desktop and laptop-based E-Commerce … as a mighty rush of folks started to shop and initiate transactions via "mobile" smartphones and tablets (M-Commerce).
Why was this going to happen? Because consumers were looking for quicker, more convenient ways to get themselves through retail checkout lines, as well as carrying less credit cards and cash when they shopped!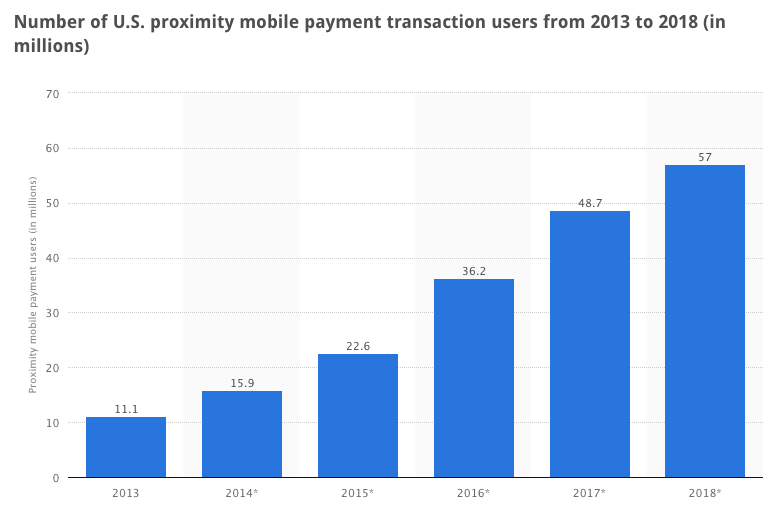 And of course a growing number of users paying via "Mobile" would lead (inevitably) to rapidly mounting volumes of payment transactions: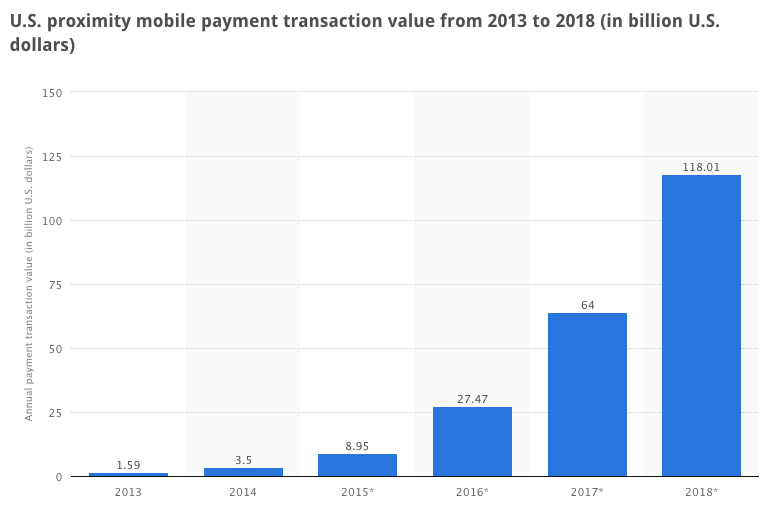 That sounded terrific in theory… but I kept asking myself: "Are people crazy or what?!… Smartphone theft is one of today's most rapidly growing crimes. Enabling the phone to carry credit information will only compound the problem by adding credit fraud to smartphone theft!" 
Be patient, my dear reader! Yes, I was uninformed… but I am confident that I reflect the thought process of tens of thousands of "average" folks as they hear more and more about "Mobile Payments". We'll work through the facts surrounding this technology as we proceed forward from here.]
Credit providers and retailers were foaming at the mouth regarding the prospects for exponentially growing M-Commerce. More and more surveys and studies were establishing that consumers who paid through mobile technology were among the consumers most coveted by the largest spectrum of retailers:
1) Younger
2) More affluent
3) Willing to spend more money. (As you see below, that means mobile payers are likely to spend 50% or more than those who don't pay by mobile)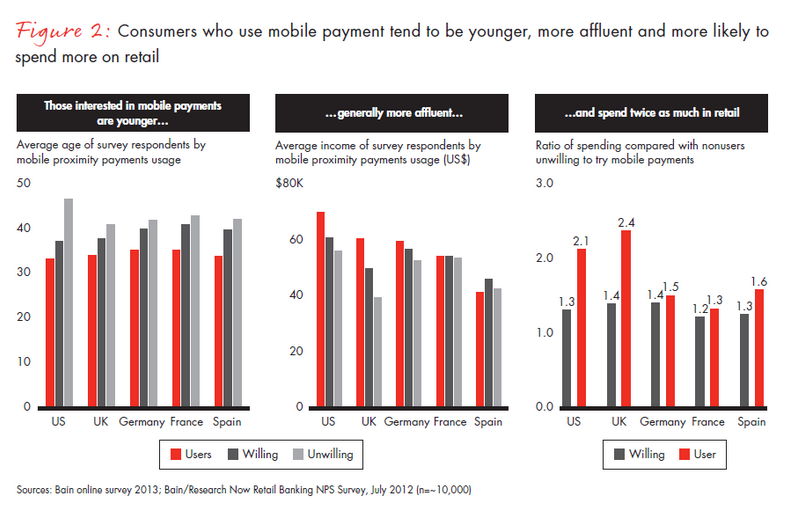 Those metrics (of course) gave a "rocket boost" to corporate efforts to focus on developing an appealing, dependable, user-friendly Mobile Payment System. And of course, the overarching requirement for any such system was SECURITY… to cut down on the ever-growing epidemic of identity theft and credit fraud! 
In our first article on this topic [see: https://www.markettamer.com/blog/investing-in-security-convenience-progress-in-the-mobile-revolution] we explored the existing Payments Space – dwelling on the economic cost (on the economy) and emotional trauma (on impacted consumers) of credit fraud and identity theft.
We also outlined the existing steps within the U.S. credit transaction process and identified the multiple exposures to criminal theft that currently exist within it.  Then we contrasted the U.S. process with the dual security "Chip and PIN" technology mandated in Europe (as well as nations such as Brazil and Mexico). That system is head and shoulders superior to the aged and vulnerable "magnetic strip" technology used in the U.S.
Finally, we moved on to explore (in some detail) the development by Google (GOOG, GOOGL) of the free Goggle Wallet touch and pay system.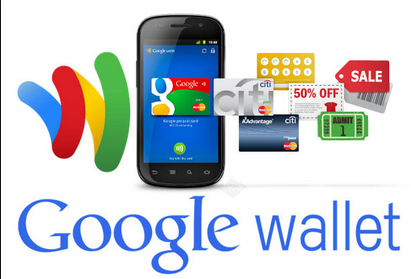 And we highlighted some of its most significant pluses, as well as a number of the issues that has stunted its development and growth.  The most notable "symptom" of that stunted growth is the fact that even though the Wallet process is much more secure than the most commonly used processes (involving the magnetic swipe), after almost four years in existence, the Wallet has only captured an approximate 4% market share within the digital payments space!
Obviously, consumers are looking for something more.
Based on metric trends thus far, consumers have found that "something more".  And one of the fascinating dimensions of this story is the SOURCE of that something more!!
Clearly, a Mobile Payments Solution is a "Service" … albeit one that integrates programming, process, Internet, and hardware. There is a major U.S. corporation whose international brand (with massive consumer recognition around the globe) has been built on the basis of elegantly designed and engineered hardware offering superior technological performance[1].  However, their reputation within the "services" area has left much to be desired!
Most of you guessed the source of this new, impressive Mobile Payments Service many paragraphs ago. Now the rest of you will know who has created this new mobile solution through the following list of this company's past "failed" services: 1) Ping[2], 2) Apple Maps[3], 3) iTunes Radio[4], and even 4) Siri [5].
I can't imagine that any of you missed the news about the rollout of Apple Pay in October. Heaven knows that it was all over CNBC, Bloomberg, Fox News, Barron's, the Wall Street Journal, USA Today and business sections across the country. By the time all the talking heads, supposed guest experts, and columnists finished gushing about Apple Pay… one could be forgiven for forgetting that the iPhone 6 and iPhone 6 Plus were rolled out on that same day!!
Regular readers know what a skeptic I can be about Wall Street hype!  So let's take a look at what Apple Pay is and does. 
Step 1:  SET-UP
Using an iPhone 6 (or 6 Plus), iPad mini 3, iPad Air 2, or Apple Watch, a user enters her/his credit card data into the Apple Pay link.
Said data can be entered manually… OR one can elect to snap a photo of a credit card, which will then input the number electronically… [Security Note: AAPL says that the photo will not be stored on your phone!!]
Once the data is "in" Apple Pay, that data is encrypted and sent to AAPL servers, where the data is de-crypted to discern the identity of the card network/issuer.
At that point, AAPL re-encrypts the data with a key that only the cardholder's payment network will be able to unlock!! 
Then (as the Apple Pay support pages detail) AAPL "sends the encrypted data, along with other information about your iTunes account activity and device (such as the name of your device, its current location, or if you have a long history of transactions within iTunes) to your bank. Using this information, your bank will determine whether to approve adding your card to Apple Pay." [Note: that process may sound ominous… but it is not unlike the standard process used in an initial authorization of a traditional credit card payment.]
A key component to the elegance of Apple Pay is that what we have just covered is the only time a consumer's actual credit card information is passed through cyber space (between AAPL and an issuer)!
Step 2: CARD NETWORK PROCESSING
Once the credit card information gets to the network, it is de-crypted… at which point the network issues a token called a "Device Account Number" (DAN). [The service site indicates that the DAN is device-specific… "duh!"].
Then the network sends the DAN to AAPL, along with other information, the most important of which is "the key used to generate dynamic security codes unique to each transaction."
Step 3: AT A RETAIL TERMINAL
Apple Pay uses the "state of the art" standard for its service – the E.M.V. Standard (described in some detail in our previous article.)[6]  This ensures that Apple Pay is already fully compliant with the Mobile Payments standard that is mandated for full implementation no later than October of 2015!
For a transaction to actually be initiated from a "touch to pay" register… the iPhone (or iPad or Apple Watch) must be within the range of the Near Field Communication (NFC) equipment… and the consumer must confirm the purchase through the "Touch ID" feature on the mobile device (applying their fingerprint) [which is a key part of the system's security protocol].
A blog named Bank Innovation offers a helpful description of the security provided each transaction through this "dynamic security code" process:
The chip in the phone interacts with the merchant's terminal to "generate a cryptogram—the transaction's security key. That is attached to the consumer's personal account number (PAN).
The cryptogram is then sent back to the issuing bank, which processes the transaction. Because the bank/network holds the purchaser's data and lies behind the DAN and PAN…  the bank/network is responsible for the quality and security of the cryptogram…. and the transaction.
IMPORTANT NOTE: Do you recognize the genius of AAPL's service yet?
1) It uses a "secure token" instead of the actual consumer credit card number to generate a transaction;
2) The token is device specific … so in theory, the process should not be vulnerable to replication within another (think "thief's") device.
3) AAPL is not burdened with the liability of holding a lot of additional sensitive financial information on its servers.
4) AAPL has managed to transfer full fiduciary responsibility (liability) for the security of the token, cryptogram and process to the card issuer/network.
5) And yet… AAPL still garners a portion of the Interchange Fees that we described in the first article (about 2% of the transaction value).
MasterCard (MA) executive, Sherri Haymond offers this description of Apple Pay:
"What Apple's role is here is they're the technology platform provider, they're interacting with the consumer, but they're not in the middle of the payment flow at all. All they're doing is facilitating their assets to be transferred."
I found some enlightening streaming vids covering Apple Pay:
1) AAPL CEO Tim Cook outlining the whys and wherefores of Apple Pay (well worth your time)
https://www.youtube.com/watch?v=5ExcCyS1ZH8 
2) A very quick illustration of Apple Pay at the register.
                           https://www.youtube.com/watch?v=KqMFhuy7rFw
 3) An informative and amusing demonstration of how to correctly use Apple Pay at some retail locations (I kept wanting to say … "Dude" … throughout the whole vid)
         https://www.youtube.com/watch?v=_TA4qXSlJ4U 
If you prefer text content to streaming video, here is a great summary regarding Apple Pay:
http://www.macrumors.com/roundup/apple-pay/
OK. I've covered the basics and provided you with videos that demonstrate just how incredibly easy using Apple Pay truly is!  [Author note: You don't even need to open an "app"!  In fact, you don't even need to have your device awake to use Apple Pay. And you don't need a wallet, a purse, a PIN, or anything but your device and your own genuine fingerprint!!! What could be easier?] 
What lies behind the genius of this service? Below is my opinion, based on the voluminous reading I have done regarding Apple Pay. To respect your time, I will try to be concise in outlining my thought process:
1) The first key was that AAPL did not try to "rush to market" in order to match the timeline of Google Wallet. We saw how GOOG struggled in its efforts to organize a sufficiently broad partner network and infrastructure compatible with the Wallet (see the prior article).
a) In sharp contrast, AAPL took time to build an imposing network and an impressive list of strategic partners… including
       i) Card network mega giants: Visa (V), MasterCard (MA), and American Express (AXP)
       ii) Credit/Debit Card issuer mega giants: JP Morgan Chase (JPM), Bank of America (BAC), Capital One (COF), and Wells Fargo (WFC).
      iii) Big merchant partners: Panera (PNRA), Whole Foods (WFM), McDonalds (MCD), Macy's (M), Walgreen's (WAG), etc. 
2) Because of this impressive work of infrastructure and network building, AAPL can now accurately assert that Apple Pay is accepted at over 220,000 retailers.
3) AAPL already holds an approximate 42% share of smartphones in the U.S.  While most of those are not the iPhone 6 or 6 Plus… it is fair to assume that a sizable number of those users will upgrade at some point during the next few years.  And as the payments infrastructure rushes toward that October 2015 E.M.V. standard deadline … the incentive to upgrade will be even greater.
4) AAPL waited until they had a service product that they could assert (with integrity) provides security, simplicity and convenience unmatched by any other alternative. 
5) [Here is the point with which many of you will quibble and quarrel]… The watershed moment in the development of this service was the day (toward the end of Tim Cook's first year as CEO) that Cook fired one of Steve Jobs' most exalted and trusted executive team members — Scott Forstall. 
Forstall had managed iPad and iPhone software development. In addition, responsibility for the poorly received Siri and totally disastrous Apple Maps rollouts was generally attributed to him.
However, the biggest reason Cook fired Forstall was his lack of interpersonal skills and his unwillingness to fully commit to true teamwork.
"]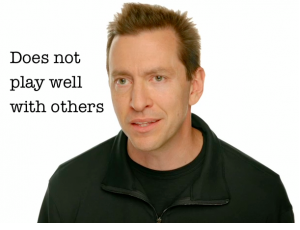 Forstall was known as a divisive force and contributed to a "fiefdom" environment within which different key focus areas did not exchange key information.
Following that firing, Cook laid out his plan to break down walls within AAPL and extinguish infighting. In his words:  "The things we should be doing at Apple are things that others can't."  That required a new and different type of modus operandi … and you can bet that after Forstall was fired, a lot of AAPL employees woke up and took notice that things were going to change (so they had better adopt a new attitude and a new way of working.)[7]
Now folks….  do you remember when I wrote (toward the beginning of this article) that I thought anyone who counted on using their phone as a "digital wallet" was crazy? 
Well, I admit that I have been converted… freed of my built-in prejudice against mobile payments. 
The explanation for this transformation is simple:
1) My financial information is not "in" the phone;
2) My fingerprint must be used to authenticate each transaction (so I had better keep my finger attached to my hand);
3) My financial data is not bandied about to and fro through cyberspace like it is with other payment methods; and
4) Here is the piece de resistance … [From the Apple Pay support site:]
"What happens if my phone is lost or stolen?
"If your phone is ever lost or stolen, you can lock down Apple Pay remotely. Just visit Find My iPhone on another Apple device or from your browser, and put your Device into "Lost Mode." Apple Pay will be suspended, and your phone will be locked to keep would-be thieves."
WHAT HAS THE IMPACT OF APPLE PAY BEEN SINCE OCTOBER?
Interestingly, the "halo" surrounding Apple Pay has actually boosted Google Wallet!  According to arsTechnica, the Google Wallet service has seen the number of users almost double, with a 50% increase in weekly transactions during the past couple of months!
As you remember, although it was rolled out in 2011, Wallet has captured (only) about 4% of mobile payments transactions. So with that as context, let's look at the very recent data compiled by data intensive InfoScout – which tracked the shopping patterns and opinions of its select 170,000 household consumer panel (all of whom own an iPhone 6 / 6 Plus and shopped at a retail store that accepts Apple Pay during the most recent Black Friday weekend.)
FINDING #1:
Fact: Just over 9% of these consumers who shopped over the Black Friday weekend have ever tried to use Apple Pay at a checkout.  Among that select 9% of "experienced users", there was just a 50/50 chance they'd use it over the Black Friday weekend.
Could that signal a problem with the service?
InfoScout followed up by asking how those consumers rate Apple Pay compared with "swiping a card". 
FINDING #2: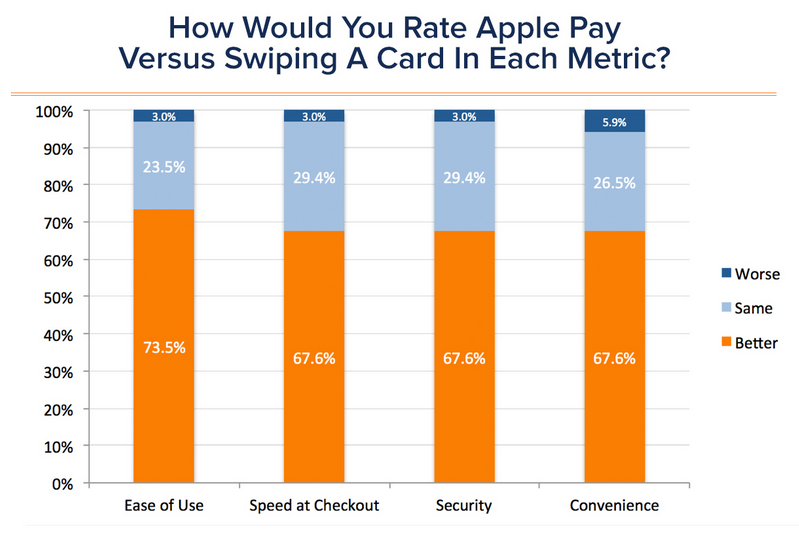 WOW! Apple Pay received a resounding endorsement!!  So why wasn't Apple Pay penetration higher during Black Friday?
FINDING #3: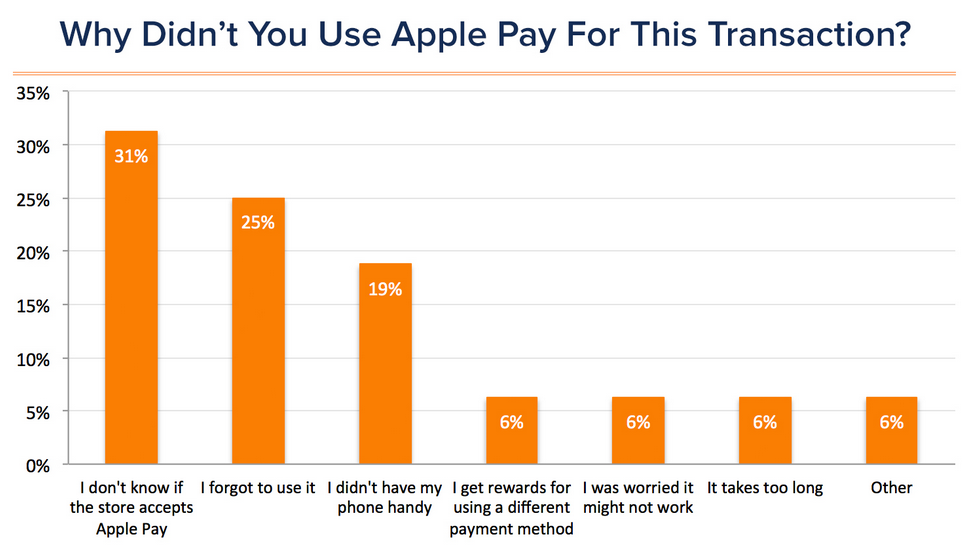 It seems as though human inertia, forgetfulness, and uncertainty about Apple Pay being accepted at particular locations was responsible for lower penetration. 
How about all the iPhone 6 (and 6 Plus) owners who have not yet tried Apple Pay. What gives?
FINDING #4: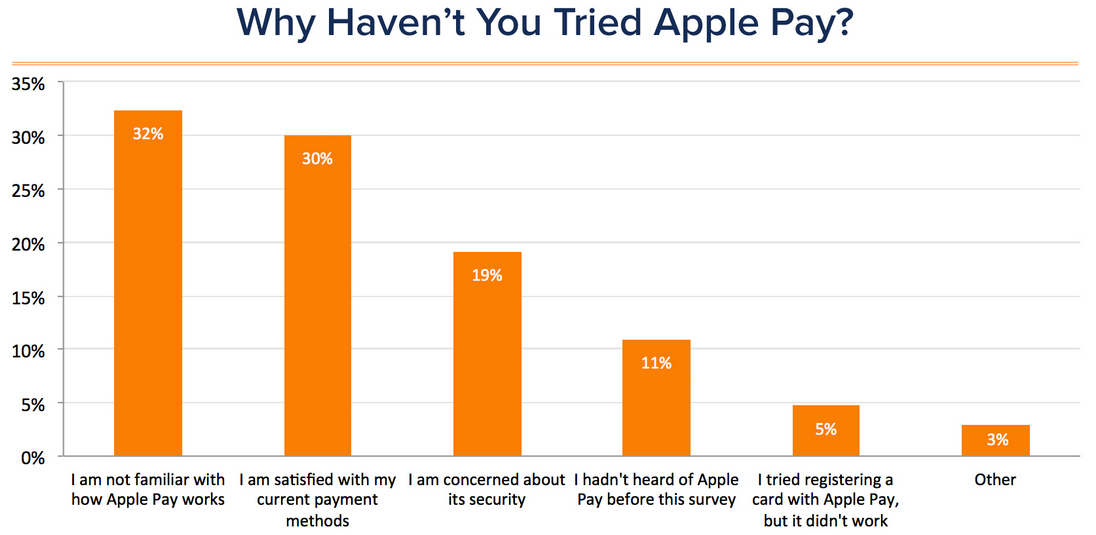 As we see above… once again the reason for a lack of greater penetration is the (ever present) challenge of education (32%, plus the 19%, 11%, and 5% respondents) and changing human behavior patterns (30%).
Now here is what I find to be the most incredible metric: 
Despite the challenges clearly outlined above by InfoScout … the mobile payments research firm, ITG, reported that Apple Pay accounted for 1.7% of all mobile payment transactions during November – just one month after rollout. That is 42.5% as much share as the (almost) four year old Wallet!!
This metric will inevitably grow exponentially as more iPhone 6 units are sold… folks will see other folks using Apple Pay… and AAPL will amp up its educational efforts.[8]
In addition, take a look at this poll among business insiders from just three months ago: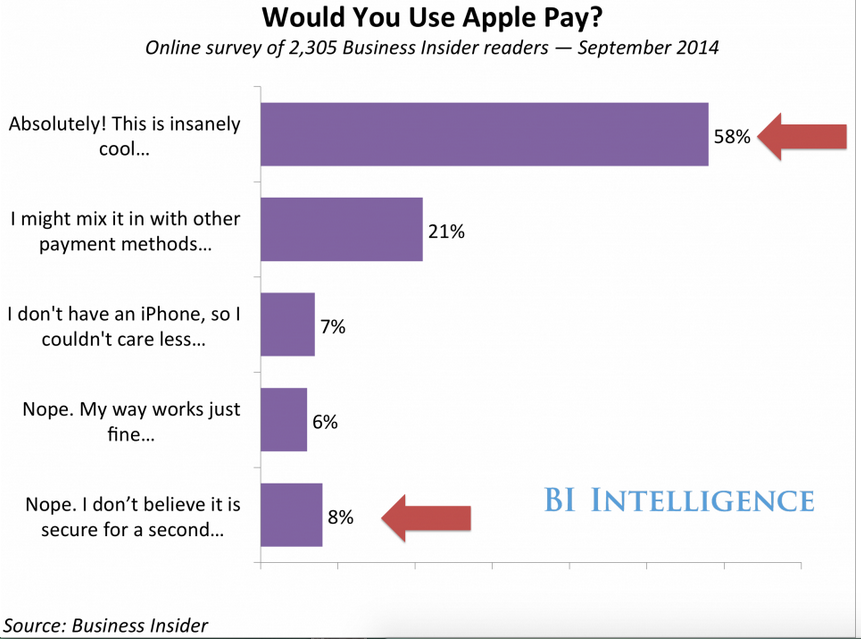 Seriously, folks, can any of you present a compelling case why Apple Pay is not inevitably destined for exponential growth during the months and years ahead?  I feel confident in asserting that Apple Pay has met the most important consumer criteria for adoption of any mobile payment service: 
SECURITY
SIMPLICITY
CONVENIENCE (including saving time and hassle)
As its base of iPhone 6 (& 6 Plus), iPad mini 3, iPad Air 2, and Apple Watch owners grows, certainly the use of Apple Pay will grow correspondingly. 
As a bonus just for you, our treasured readers, I am including an APPENDIX that will provide intriguing results from the recent IBM Digital Analytics Benchmark Reports related to results from 2014 Black Friday shopping and payment activity.
[Spoiler alert: Among the most "headline worthy" data included therein are the following –
1) Mobile device traffic drove over 50% of all online shopping browser activity on Thanksgiving Day for the first time ever (outpacing PC browsing);
2) Comparing smartphone and tablets to one another… smartphones outpaced tablets in browsing activity, but tablets executed more actual purchase transactions than smartphones.
3) IOS devices far outpaced Android devices vis-à-vis online shopping traffic, online digital transactions, and the average value of digital sales.
INVESTOR TAKEAWAY
At the risk of sounding like Aesop[9], AAPL has proven to be absolutely correct in its decision to not rush into the Mobile Payments market until it got all of its (considerable) "ducks in a row" by creating its vast, impressive, and formidable network of partner card networks, card issuers, and merchants… and perfecting its secure technology across several of its upgraded platforms. AAPL lost almost four years to GOOG by so doing; but as we have seen, within just two months following rollout, AAPL has already captured market share that is well over 40% of Google Wallet's share!!  Needless to say, Apple Pay has captured great momentum!
I am tempted to suggest that you re-read this article, but I know that you are extremely unlikely to do that. However, if you actually did re-read it, you would be able to more clearly see how ingenious AAPL's design for this service has been. All the pieces "fit together" to create a seamless, incredibly simple, convenient, and (most importantly by far) secure means for mobile payment transactions!  And AAPL has managed to ensure that fiduciary liability for the transactions entered into remain the responsibility of the card issuers and networks – including responsibility for zealously guarding sensitive consumer financial information residing on corporate servers from hackers!![10]
Now that I may have managed to get you all enthused about the economic benefits of Apple Pay, I regret to say that I am obligated to inform you that the "Investment Thesis" tied to Apple Pay is very targeted and rather limited.[11]
Let me explain through bullet points: 
1) The direct net revenue/profit accruing to AAPL from Apple Pay is a relative pittance when compared with the total revenue and profit generated by AAPL each day, much less each year. 
a) Well-known "Payments Vendors" such as PayPal and Braintree garner an average of $3.50 on every $100 transaction executed through its network.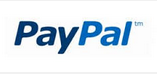 b) In sharp contrast, because of the unique design of Apple Pay as detailed above (remember that AAPL technology merely enables each transaction) AAPL will only receive $0.15 from each transaction (covered by the bank issuers, who have deemed the "value added" by AAPL to be worth reducing their own take on each transaction).[12]
c) This does not prevent that fee from increasing in the future, if/when card issuers ascertain that the revenue gained per transaction from Apple Pay is substantially higher than the value per transaction from non-Apple Pay purchases that it dawns on them that a "premium" will need to be offered AAPL to ensure that the "Golden Goose" keeps growing. But for now, it is just $0.15 per transaction.
d) This also does not account for any advertising revenue gleaned by AAPL from its sites tied to Apple Pay, or revenue derived through joint marketing efforts between AAPL and any/all of its major merchant partners. [Thus far, the highest volume and value of Apple Pay transactions has come from WFM… which I find telling on multiple fronts.]
2) Thus far, Apple Pay is available only in the U.S…. even though we know that there is a huge infrastructure of iPhones, iPads, etc. around the world.
         a) However, do not fear! iClarified spotted on online job summary for a new position focused upon international expansion of Apple Pay.[13]
         b) Of course, AAPL has a penchant for playing cards close to the vest. Therefore, the job summary was removed from the Internet once it was exposed!
         c) But international expansion is both inevitable and promising. After all, $0.15 per transaction may not be much… but multiply those transactions around the world and across an inevitably burgeoning smartphone/tablet/"Watch" infrastructure and (as Everett Dirksen might say) soon you have "Real Money".
3) Ultimately, the true success of Apple Pay will be measured by the volume of "Apple Pay-capable" hardware that it helps to sell!!  And when one considers this new service from that perspective, the "Investment Thesis" becomes more compelling.
         a) On what basis do I say that? Although I confess that I am offering you what may be the poorest rationale for an investment thesis you have ever been offered in your life… consider this:
                  I was deadest against mobile payments before I started these articles!
I cannot emphasize enough how "deadest against" I was!!!
In sharp contrast, I am now actively considering buying an iPhone 6 just so I can downsize my bulky wallet and move to Mobile Payments through Apple Pay.
In fact, I wish Tim Cook would expand Apple Pay to include all those bloody irritating little "loyalty cards" that beset and bedevil me… as well as my library card, driver's license, etc.
But I digress!!!
4) Finally, friends, I suggest that we watch to see if Apple Pay is the first step in an evolutionary process that could carve out an identifiably "Tim Cook Stamp" upon the culture, character, and future of AAPL!!
a) I believe that if Cook is able to roll out future products and services that are as appealing and compelling as Apple Pay … and demonstrate a synergy among various platforms and focus areas within AAPL… it will validate Cook's gutsy firing of Forstall and establish his ability to help move AAPL beyond the Steve Jobs era! And it will do that without in any way invalidating the genius of Jobs and the rich heritage left by Jobs for AAPL and for us!
DISCLOSURE: The spouse of the author owns shares of AAPL.  The author has (at many point s in the past) owned AAPL shares and/or options. The author owns an antiquated AAPL laptop and iPhone… as well as a non-Apple Pay capable iPad.   Nothing in this article is intended as a recommendation to buy or sell anything. Always consult with your financial advisor regarding changes in your portfolio – either subtractions or additions.
APPENDIX
FROM:
IBM Digital Analytics Benchmark Reports:
Black Friday Results 2014
Highlights from Black Friday 2014:
       Historic Mobile Milestone Spurs Online Shopping: Thanksgiving Day mobile traffic accounted for 52.1 percent of all online traffic – the first time mobile devices have outpaced their PC counterparts for online browsing.
Black Friday mobile traffic reached 49.6 percent of all online traffic, an increase of 25 percent over last year.
Black Friday mobile sales accounted for 27.9 percent of total online sales, up 28.2 percent over 2013.
       Top Five U.S. Cities for Online Shopping: New York City claimed the top spot for Black Friday online shopping followed by Washington, D.C.; Atlanta, GA; Los Angeles, CA; and Chicago, IL. (New York City shoppers spent on average $121.91 per order on Black Friday.)
Smartphones Browse, Tablets Buy: As the new digital shopping companion for many consumers, smartphones drove 34.7 percent of all Black Friday online traffic, more than double that of tablets, which accounted for 14.6 percent of all traffic.
Yet, when it comes to mobile sales, tablets continue to win the shopping war – driving 16 percent of online sales compared to 11.8 percent for smartphones, a difference of 35.5 percent. Tablet users also averaged $126.50 per order compared to $107.55 for smartphone users, a difference of 17.6 percent.
iOS vs. Android: iOS once again led the way in mobile shopping this holiday season, outpacing Android across three key metrics on Black Friday:
             Average Order Value: iOS users averaged $121.86 per order compared to $98.07 for Android users, a difference 24.3 percent.
             Online Traffic: iOS traffic accounted for 34.2 percent of total online traffic, more than double that of Android, which drove 15 percent of all online traffic.
             Online Sales: iOS sales accounted for 21.9 percent of total online sales, nearly quadruple that of Android, which drove 5.8 percent of all online sales.
The Desktop is Not Dead: When consumers did choose to use their PC or desktop, they spent more with an average order value of $135.33 compared to $116.02 for mobile shoppers, a difference of 16.6 percent.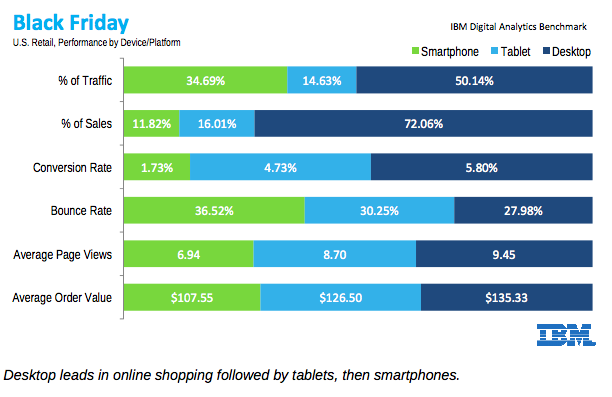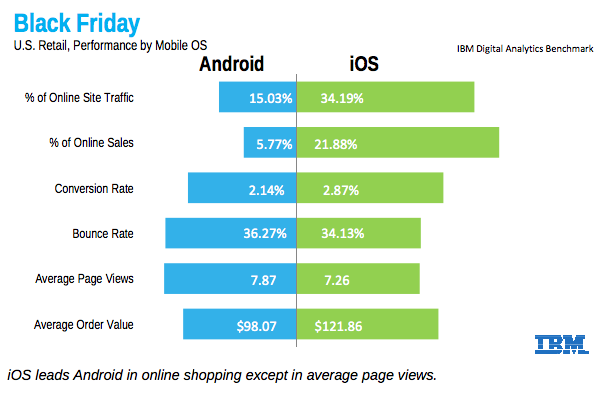 FOOTNOTES:
---
Related Posts
La-Z-Boy Terminating 10% of Its Workforce
Aurora Cannabis Sells Out of Stake in Alcanna
Inovio to Start a Phase 1/2 Study of its COVID-19 Vaccine in South Korea