Can you feel the excitement in the air? Are you enjoying that special tingling that can energize us at certain times of the year?  Don't the nuances, shades, and colors just amaze you?!
What's that? Oh, so you do love autumn – colors bursting everywhere, the crunch of leaves underfoot, that crisp chill in the air re-invigorating your mind and body!!
Oooops! Evidently, I owe you an apology!  I wasn't referring to autumn, or colorful trees, or chilly temperatures. I was just sure you'd know I was referring to "IPO Season" – with particular reference to the impending Twitter, Inc. IPO, tentatively scheduled to begin trading on November 15th, on the NYSE[1].
Isn't the excitement just electric and overwhelming? Well, OK, it isn't that exciting. But I can guarantee you two things: 1) CNBC will do everything it can to make it sound exciting; and 2) news about the IPO will be much less distressing and disgusting than the 24/7 cycle of news about Washington D.C. with which we've been inundated lately.
As I thought about how to present you with the "pluses" and "minuses" tied to the Twitter IPO, I immediately thought about those medication commercials that appear on TV so often – the ones that always finish by listing a seemingly interminable list of possible negative results for those who ingest the pills.[2]
Here are the visuals of such a commercial for Twitter:[3]
1)    Picture Lloyd Blankfein of Goldman Sachs (GS) and Jamie Dimon of JP Morgan Chase (JPM) as the well-dressed spokespersons;
2)    They are videoed in studio, with a well-manicured background image of the typical Twitter screen;[4]
3)    You can divide the "script" (below) up between these two however you prefer (tweedle dee/tweedle dum)
SCRIPT:    "Hello to all of you investors, traders, and Twitter fans. We want you to know about an extraordinary money making opportunity that we are making available to you starting November15th!  If you participate in the gala Twitter, Inc. IPO on that day, you will take advantage of the unparalleled opportunity to own a part of the following:
1)    A piece of history: Twitter (originally named "twttr") had its origin on a San Francisco playground, when Jack Dorsey first discussed "an idea so simple that you don't even think about it – you just write it!" Twitter was made available to the public on July 15, 2006 – so it is just a bit older than 7 years old.[5] And yet, despite its "youth", Twitter has transformed the Internet world and become an integral and indispensable part of the "Social Media" space!  It even won the 2011 "CRUNCHIE AWARD" for "social impact"!!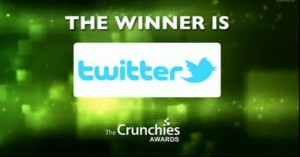 2)    A money-generating machine: Third quarter revenue was up a whopping104% from the same period one-year ago!
a.   Through the first nine months of 2013, Twitter aggregated $422.2 million of revenue!
b.   So far this year, Twitter is on track to exceed $500 million in advertising and licensing revenue – a huge leap from 2012, when it pulled in just $317 million!
3)    A news-making tool: everybody who is anybody uses Twitter as a vital communication tool, including President Barack Obama, Pope Francis, Oprah Winfrey, President Hassan Rouhani (Iran), Carl Icahn[6], Warren Buffett, TV network personalities, (seemingly) most professional athlete stars, etc.
4)    A compelling growth story: As of September, Twitter boasts 232 million users – up 6.4% from June's user base!
a.   Twitter measures revenue through an "advertising revenue per timeline view" metric.
b.   As of September 30th, the global ad revenue per timeline view was $0.97[7] — up a massive 49% from the 3rd Q of 2012, and up an impressive 22% from this past June!
c.   Research firm ComScore reports 62.3 million unique visitors in August, up 12.3% in just six months (compared with February's 55.5 million).
5)    A social media powerhouse ramping up its "path to monetization": By now, everyone knows that the key for businesses in the social media space is monetization!
a.   To accelerate that strategy, Twitter just hired J.J. Hirschle, an experienced 'Googler' (GOOG) to lead its increased emphasize on selling ad space to retailers.
b.   In an acquisition coup, earlier this year Twitter purchased MoPub – the world's leader in mobile ad exchange.
i.   Through MoPub, companies trade eyeballs on mobile phones for a fee – and do so millions of times each day.
ii.   This acquisition will empower Twitter to help shape how mobile ads are purchased.
iii.    We all know that "mobile" is the wave of the future; over 70% of Twitter revenuers comes from the mobile space.
iv.    This puts Twitter in the vanguard of how mobile, Web, and social ads interact!
6)    Skilled Innovation: Twitter continues to take steps to enhance its user-friendliness.
a.   It has added a "Discover" section highlighting tweets from celebrities that it thinks might be of interest to new users.
b.   It has added shortcut buttons to execute common tasks such as "re-tweeting" someone else's message.
c.   In 2012, the Wall Street Journal named Jack Dorsey the "Innovator of the Year" in technology!  (See his intra-company "twttr" in March of 2006, to the right).

7)    Potential for significant ancillary revenue: recognizing that "Big Data" is a growing tool in corporate America, Twitter has been selling some of its data to third parties.
a.   The Wall Street Journal recently reported that Twitter has reaped over $47 million from such sales to companies that analyze the data for insights into news events and trends.
b.   In the event that Twitter users ever express a desire to gain access to a more focused Twitter feed[8], the company could net significant incremental revenue by charging a modest monthly subscription fee.
i.   For example, if just 3% of users paid $3/month (less than the cost of one Starbucks coffee), the incremental revenue would be about $250 million!
8)    A force for Democracy in America and the world![9]
"As everyone can see, this is a unique and compelling opportunity for investors to buy a piece of the future of 'Internet Social Media'!!  Don't miss out! Contact your broker or the internet-links provided on your TV screen right now and grab your right to a part of this incredible offering!"
Well, there you have it — the positive side of the Twitter IPO! In the interest of balance (and full disclosure – as in the medication ads) what follows is my best effort to provide you the "rest of the story" (obviously, Blankfein and Dimon would not be narrating these counterpoints! So, as long as we are dealing with a fantasy ad, perhaps Mary Jo White (SEC Chair) could do it, or my favorite purveyor of common sense, Jiminy Cricket!):
"Anyone considering participating in the upcoming Twitter IPO should consider the following:
1)    A much bigger social media IPO from just a year and one-half ago (Facebook) was a disaster. Following that IPO, shareholders with a basis equal to or above the IPO price held a loss until over 12 months later;
2)    Over its seven-year life, Twitter has yet to earn a profit;
3)    Recently, its losses have increased – having lost $133.8 million during the first nine months of 2013, an increase of 89% compared with 12 months ago;
4)    The active user growth for Twitter has been declining;
a.   During the first quarter of 2013, the number of users jumped 10.2%;
b.   In the second quarter, user numbers moved up only 6.8%;
c.   For the most recent quarter, user growth was only 6.1%.
5)    The Twitter S-1 filing lists "risks" for those buying Twitter, including:
a.   An admission that its business plan depends on a rather exclusive group of high-profile movers and shakers to Tweet, including "world leaders, government officials, celebrities, athletes.  If users, including influential users, do not continue to contribute content to Twitter, and we are unable to provide users with valuable and timely content, our user-base and user engagement may decline."
b.   "New users may initially find our product confusing."[10]
c.   [Like Google (GOOG)} Twitter warns that early employees with low priced stock options that surge in value following the IPO may lose focus; in addition, sudden disparities of wealth within the rank and file could result in intra-company tensions.
d.   It also includes the standard, boilerplate warnings about currency fluctuations and litigation.
6)    Social Media sites have a history of suffering from a clientele that can be fickle. Remember that MySpace.com used to be the social media site for musicians, but is now almost abandoned by them.
7)    During the most recent quarter, the company has ramped up its expenses by increasing its workforce (adding 300 employees as well as that new executive from GOOG). That is a 15% increase in one quarter.
8)    Twitter is growing much faster internationally than domestically, and yet international sources of revenue account for only 26% of the total. (The AP reports that 77% of users live overseas).
9)    The company's cash has dwindled (at 9/30/13) to $321 million (from $375 million in June).
10)  The three underwriters have a powerful self-interest to stretch the IPO stock price upward, even if it means stretching the company's valuation beyond reason (as was done with Facebook).
a.   The lead underwriter is Goldman Sachs (GS), so they stand to get the highest fees;
b.    However, proving that "conflict of interest" is an unknown concept on Wall Street, the two other underwriters each own a sizable stake in Twitter, only serving to heighten their potential lack of objectivity (and steepen their profit curve if the IPO price is higher).
c.   The JP Morgan Chase (JPM) underwriter actually owns a 10.3% stake in Twitter[11].
d.   The third underwriter, Morgan Stanley (MS) owns just $40 million worth of the company.
Keeping my earlier promise to highlight a "barrier to entry" for potential new Twitter users, a major (and continuing) hurdle for Twitter moving forward can be sensed through the following vignettes and snippets:
1)    The conventions and mechanics of Twitter messaging are not intuitively obvious; many folks find the system awkward and time consuming;
2)    There are a high number of "Twitter Quitters": folks who become curious and try Twitter, but later (often quickly) bail from the service. (High "churn" rate.)
3)    Even creator/co-founder Jack Dorsey recognizes this type of issue. Back in 2011 he told students at Columbia University's Graduate School of Journalism: "We have a lot of mainstream awareness, but mainstream relevancy is still a challenge."
4)    Millions of folks know what Twitter is, but countless numbers of those individuals don't know how or why they should use it.
a.   Go to Google Search and enter "I don't get Twitter" and you'll get over 5 billion "results".
5)    Consider the reaction of Brynne Delerson – a 24 year old piano teacher who should be in the wheelhouse of Twitter's target demographic.
a.   "It's just not as intuitive as Facebook for me" (referring to @handles, hashtags, and retweets.
b.   Comparing Twitter with other options in the space, she said: "I feel like Twitter is probably the hardest for me to understand. I feel like I need a walk-through tutorial."
6)    Then there is another "ideal" Tweeter who is not sold on the benefits, Julius Harper (30-year old digital strategist, no less).
a.   Twitter is "my least used of all the social networks."
b.   Julius accesses Facebook as often as 50 times in a day. He also has accounts with Tumblr, YouTube, Reddit, and LinkedIn that are used daily.
c.   "Twitter to me is just schizophrenic. Everybody is just talking back and forth at each other. You can't see the conversation and the context."
For what little it may be worth, whenever I think of Twitter, I immediately think of the following:
1)    I am astounded by the frequency with which a public person gets in serious trouble (in the press) for something she/he wrote in one or more tweets;
a.   As often as not, these controversial tweets come from athletes, and frequently serve only to distract them from optimum preparation for their next game/tournament, etc. Obviously, that is detrimental to those folks and to their sport.
2)    I am always skeptical when I read a tweet "from" a famous person;
a.   Knowing how much time good tweeting takes, I just assume a "hired hand" is handling the content, in order to give the illusion that the person whose name is on the tweet is "relevant", "chic", and "in the conversation".
3)    I become very angry and frustrated when a tweet comes out that moves markets significantly, only later (after a trading loss) to discover that the tweet had not been legitimate, or was purposely designed to manipulate prices.
4)    I am impressed by the number of investment professionals suffering from harsh, undeserved abuse through Twitter.[12]
a.   Such abuse has often resulted in she/he deciding to significantly curtail (or eliminate) their Twitter activity!
As one simple illustration of the complexity of "projections" of future corporate success (and hence, "valuation"), consider the "yin and yang" of the following:
Unlike Facebook (ie. Mark Zuckerberg), Twitter is not vulnerable to an overly dominant shareholder! In fact, current projections are that only one individual will become a "billionaire" following the IPO. Here is a list of the top shareholders (from the S-1 filing):
Evan Williams (the former CEO, no longer with the company): 56.9 million shares;
Jack Dorsey (creator and current Executive Chairman): 23.4 million shares;
Peter Fenton (venture capitalist that sits on the Board): 31.6 million shares;
Dick Costolo (Current CEO): only 7.5 million shares.[13]
Because of the above, an "optimist" would suggest that Twitter is more democratized and mission-driven, being thereby spared the dangers of a single overarching (over reaching) person!
However, given the very same accounting of "facts" as seen above, a "pessimist" could suggest that, at least within Silicon Valley, the "model" of a dominant, visionary entrepreneur with a concentrated stake in the company has proven quite successful (and perhaps hard to beat). The pessimist would refer to Zuckerberg, Reed Hastings (Netflix (NFLX), as well as Larry Page and Sergey Brin (Google).
Obviously, that particular point can be argued ad infinitum.
Let's wrap up by reviewing what an objective analyst suggests as "fair value".[14]  Recently, Professor Aswath Damodaran (see below) was interviewed on CNBC and handled the typically superficial interview questions with uncommon skill. In response to the query, "What is the value of Twitter?", he replied (as I would have)  "[That] really depends… on what you call yourself. If you're a trader, then all bets are off. You're betting on price!" [Author commentary: BINGO!]
He continued: "If you're an investor and you think about value, I think at $20 billion, an awful lot has to go right for that $20 billion to be a break-even… forget about making money!"[15]
"I'm a realist. I know that an IPO is a pricing game… that it's all about mood and momentum, and promise and potential.[16]  And everything's about multiples and comps. But I think we need to get a sense of the underlying reality here."[17]
"My estimate is this: To get a $10 billion value, they have to deliver about $12 billion in revenue in a decade. That's not easy to do!"
When I saw that, I thought to myself: "Wow. Insightful, succinct, data-driven, realistic… no puffery[18]… no sleight of hand!  CNBC should fire a couple of the current on-air "stars" and hire Dr. Damodaran!"
The CNBC summary of Damodaran's analysis included the following:
1)    Revenue Growth: reach $11.5 billion in 2023;
2)    Operating Margin: 25%, slightly lower than for Facebook;
3)    Assuming the above, one arrives at $9.97 billion value ($17.36/share).
As a "takeaway" for investors, Damodaran suggested this simple "key" for valuation:

What do I think will happen? I suspect that the underwriters will end up persuading Twitter to try for an IPO price that is beyond the "reasonable range" outlined above.  Despite that, the underwriters, Wall Street, and the financial media will talk up the IPO enough to ensure its "full subscription".
INVESTOR TAKEAWAY:  The most important paragraph in this article was the paragraph in which Dr. Damodaran asserted that the actual "value" of Twitter depends entirely upon who you are and what your perspective is!  I am not here to suggest that you should not participate in the IPO; nor am I even remotely hinting that you should participate.
I will be entirely satisfied if you agree that I have succeeded in apprising you of a wide range of strengths, weaknesses, opportunities, and challenges within the Twitter story!  Do not (under any circumstances) fall under the spell of the "salesmanship" for which Wall Street (and its minions) is legendary. Do not let even one pang of anxiety pass through your mind if you hear anyone assert that this IPO is a "once in a lifetime opportunity" to make big money.  Do not let any interviewee on Bloomberg, Fox, or CNBC convince you that Twitter is a "screaming buy"!
Keep your wits about you. Consider all the details about which you learn with cool detachment. Then (and only then) decide what you want to do with regard to Twitter!
DISCLOSURE: The author does not own any Twitter shares. Nor does the author currently own any shares of the other stocks referred to above. Nothing in this article is intended as a recommendation to buy or sell anything. Always consult with your financial advisor regarding changes in your portfolio – either subtractions or additions.
---
[1] The choice of the NYSE exchange (over the NASDAQ) for this new "listing" was giant news in the financial world. It was a interpreted as an implicit rebuke of NASDAQ's massive mishandling of the Facebook IPO last year – the mishandling that earned the deep ire of Wall Street and thousands of buyers of shares on that opening day (both big and small). It was a nightmare for all!  It was so fouled up that the SEC fined the NASDAQ $10 million, the largest fine ever levied against an exchange!  Recently, the NYSE has been attracting a number of new tech companies – a "niche" that was formerly dominated by NASDAQ!
[2] Often ended with the ominous "up to and including death!.
[3] I find it fascinating that, prior to the final IPO announcement, Las Vegas actively ran odds on what the Twitter ticker symbol would be! The odds on favorite was "TWTR" (which was the winner).  My favorite choice ("TWIT" – need I say more) came in second in Las Vegas.  "BIRD" and "EGG" each came in at extremely long odds.
[4] In case you don't know, the now famous Twitter Bird is named "Larry" – yes, exactly, as in "Larry Bird", the legendary Boston Celtics basketball immortal. Christopher Isaac (Biz) Stone (co-founder) was a huge Celtics fan growing up.
[5] On that inaugural day, Biz Stone transmitted this blog post: "Twttr is a new mobile service that helps groups of friends bounce random thoughts around with SMS."  During an interview in 2011 (5th anniversary) Stone said: "We showed Twttr to Jason Goldman (product manager of "Blogger") he called it 'present tense blogging'. That's a great way to describe it. It's fun to use because it strips social blogging down to its essence and makes it immediate!"
[6] Who discovered the power of Twitter during his battle with Michael Dell over Dell's low bid to take Dell private and now wants to create a Twitter powerbase for future such fights.
[7] Per the official amended S-1 filing with the SEC.
[8] "More focused" means the removal of advertising noise from one's Twitter feed.
[9] In the S-1 filing, the following claim is included: "By developing a fundamentally new way for people to create, distribute, and discover content, we have democratized content creation and distribution, enabling any voice to echo around the world instantly and unfiltered."
[10] This admission is a gross under representation that I will address in more detail shortly.
[11] Through its Digital Growth Fund
[12] Often laced by obscenities.
[13] This means that Williams owns 12%, Dorsey owns 4.9%, Fenton owns 6.7%, and Costolo (and a long list of others) owns less than 2%.
[14] I confess to not knowing anything about Aswath Damodaran other than his status as a professor at the Stern School of Business (New York University) – teaching corporate finance and valuation. He is the author of at least nine books in the field. I consider him "objective" because he comes from academia, specializes in the field, and appears to not be "in the pocket" of a broker or of Twitter. For the record, I don't consider brokerage house analysts "objective".
[15] I have run across a couple of different company suggestions on its valuation: the first was $10 billion; the second was $12.8 billion. You can bet than the underwriters, if they can, will "upsell" that valuation to between $15 and $20 billion.
[16] Just as I described in the hypothetical Blankfein/Dimon TV ad.
[17] Such as the "under lyings" referred to by the "virtual" Mary Jo White or Jiminy Crickett.
[18] Recall that Goldman Sachs recently, in court, admitted to "puffery" when making representations about securities!
Related Posts