When I grew up during the era of the TV Western, I often imagined myself as a part of the show – always (of course) as one of the good guys: Marshall Matt Dillon (Gunsmoke),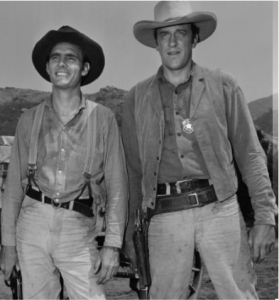 Matt Dillion and his deputy, Chester, were long time fixtures on "Gunsmoke" during the glory years of the TV Western!
Marshall Wyatt Earp (creator and user of the famous Buntline firearm) (Wyatt Earp), Marshall (and Gambler) Bat Masterson (Bat Masterson), and former Texas Ranger Reid (The Lone Ranger — with the best theme song in TV… ever![1]).
Ah, those were the days! Those were the days when you could distinguish the good guys from the bad guys. But they were also the days when what little "law" there was in the West was roundly ignored by the outlaws… and the only real means of "law enforcement" seemed to be via the gun.
Image below: Wyatt Earp's Buntline Special handgun.

This is the firearm made famous by Wyatt Earp!
Right about now you must be wondering: "Huh? What stock is THIS article going to cover? A new media production company that plans to rejuvenate all the classic old TV Westerns?!"
Sorry to disappoint you. That does sound like a fascinating focus for a Market Tamer article; however, I am not aware of any such company.
Instead, I think the "Wild West" is the best way to characterize the current environment within which one unique U.S. industry operates – the Marijuana Industry [2]!
I say this for at least these reasons. To say that the legal status of marijuana is "unsettled" would be an amazing and quite misleading understatement:
1.  Federal government law lists cannabis as an illegal drug. Currently, over half of U.S. states consider all use of marijuana as illegal. However, in our increasingly ambiguous world, that same government declares that states can decriminalize cannabis … conditioned only upon doing so within a controlled, regulated, legal structure.
Hmmm… let's think about that for a moment. Consider this:
All states are covetous of increased revenue;

"Regulated Industries" mean the potential for increased fees/taxes/revenues;

Like magnets are irreversibly drawn to iron or steel… states have become compellingly drawn toward pot legalization.

Twenty states (and the District of Columbia) have legalized cannabis for "medical" use [3]


  (see map at the end of story).

Colorado [4] and Washington have legalized cannabis for recreational use [5].
2.  It would not be surprising if (sooner than later) that legal hodgepodge of cannabis regulation becomes (at least largely) resolved in favor of legalization. If you doubt that, consider these financial metrics:
a. $17.4 billion: Is the estimated annual cost to the federal and state governments of enforcing cannabis prohibition (per a 2010 Harvard University study);

b. $1.53 billion: is the projected market value of the "legal" marijuana industry (according to a San Francisco industry group named

ArcView Market Research

;

c. $10.2 billion: is the estimated value of the "legal" national U.S. marijuana market five years from now (also per

ArcView

).
3.  As long as there is no standard set of Federal guidelines tied to cannabis… each state will have relatively unique regulations and enforcement parameters [6]
Such inconsistency across state lines will make significant "scaling" within the industry extremely challenging – if not entirely unrealistic;

Therefore, most companies within the "Pot Stock Space" tend to be on the smallish side;

And, of course, Pot Stocks are in their (so-called) "infancy".
4.  For those "in the know", that can foster the dream of increased (potential) profits.
However (and more significantly) this also means that the "Pot Space" is a fertile field for the modern day equivalent of "Wild West Outlaws";

A fascinating article from earlier this month by

Abdalla Al-ayrot

 [7] identifies such outlaws as involving three interrelated type of "participants":

Toxic financiers: schooled in manipulating key channels of obtaining capital;

Corporate leaders: skilled primarily in presenting a "believable face" for any particular company;

Stock Promoters: experts in multi-channel hyping of any particular stock, with few (if any) scruples regarding limiting what they represent about a company to only that which is factual and demonstrable.

In return for "promoting" a stock, such participants are granted deeply discounted shares (or even at "no cost") – sellable when their promotion efforts are completed.

One technique sometimes used in this "Wild West" arena of equities is to (cheaply [8]) obtain a public corporate "shell", create some appealing "optics", hire promoters, have titular leaders in place, and then attract as much investor capital as possible. [9]

One "tell" through which the most astute investors can identify potentially shady "story stocks" is a newer company with few (if any) operating assets that (nonetheless) has entered into a "Securities Purchase Agreement" [10] which is complex and practically unintelligible to anyone except the most cunning attorneys. [11]
5.  A widespread reality within the existing "Pot Space" is financial weakness! [12]
If you audit the top players in the cannabis industry, they are losing money (lots of it);
Peter Leeds

is a "penny stock" expert (the market within which so many existing Pot Stocks are traded) reports: "These companies are financial train wrecks. They have tens of millions in debt, and they have no way to repay it."
6.  A less repulsive dimension of the current state of the "Pot Space" that any potential investor must keep at the forefront of her mind is the daunting difficulty of discerning which company or companies will be a longer term "survivor"!
Which personal computer company would you have purchased 30 years ago?

No, no, no… penalty flag!! You picked

Apple, Dell,

and

IBM

. You aren't taking this "quiz" seriously! For this quiz you must transport your imagination back in time to 1983-84! What computer stock might you have purchased back then?

REALITY CHECK

: in those days, two of the industry leaders were Osborne and Commodore.

i) You very likely would have considered buying either one (or both) of those stocks!

ii) They no longer exist!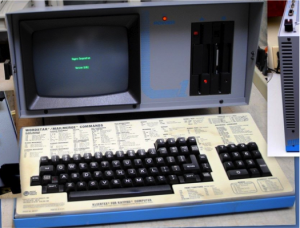 The KAYPRO computer was one of the first affordable PC's available… manufactured by Osborne Computer.
7) What happened as the Wild West reached a certain level of "scale" with regard to population, consumer markets, industrial development, and capital? The legal infrastructure became increasingly expansive, mature, and effective… and states, larger companies, and the railroads started to exercise larger circles of influence and control. That slowly (but effectively) "tamed" the Wild West.
As more and more states transform existing laws regarding cannabis, much the same trend is likely to manifest itself within the Pot Space.

One possibility this presents is that, at some point in the future [13], the cash rich national/international powerhouses that currently dominate the Tobacco Space will shift their expertise, marketing, capital, and power into the Pot Space.

That would be a "game changer" up and down the spectrum of existing Pot stocks … a risk each investor needs to recognize.
Currently, there are at least fifty publicly traded stocks related to cannabis (some pretty indirectly related). If I have not already made you anxious about any/all existing Pot stocks, let me offer some interesting aspects regarding a few of those 50 companies. Below is a small list of current cannabis related stocks that I have culled from a wide range of reading within the industry:
Cannavest Corporation (CANV)
Fusion Pharm, Inc. (FSPM)
GreenGro Technologies, Inc. (GRNH)
GW Pharmaceuticals (GWPH)
mCig, Inc. (MCIG)
Medbox, Inc (MDBX)
Medical Marijuana, Inc. (MJNA)
GrowLife Inc. (PHOT)
Medical Cannabis Payment Solutions (REFG)
Terra Tech Corp (TRTC)
The penny stock expert (and pot industry observer) to whom I referred earlier (Peter Leeds), is quite opinionated regarding which of these stocks is truly worth a serious review by investors:
1) GW Pharmaceuticals (GWPH): this company is headquartered in London. GWPH has received approval to develop and sell pharmaceutical treatments for multiple sclerosis (MS) and epilepsy that are derived from cannabis. It has an existing request for approval from the U.S. Federal Drug Administration to market those drug treatments within the U.S. As we alluded to earlier, GWPH is far from a financial titan – although it boasted $44 million in revenue during 2013, it lost $7 million.
2) GrowLife (PHOT): the primary product of this company is hydroponic growing systems [14]  and companion indoor lighting (an essential aid to plant growth). PHOT hydroponic systems are in use nationwide by both growers and (medical) pot dispensaries. Recently, it invested a Canadian plant [15] that is projected to produce as much as 1.3 million pounds of medical pot each year! [16] The California-based company garnered $2.9 million in revenue during the first 9 months of 2013… but lost $4.6 million.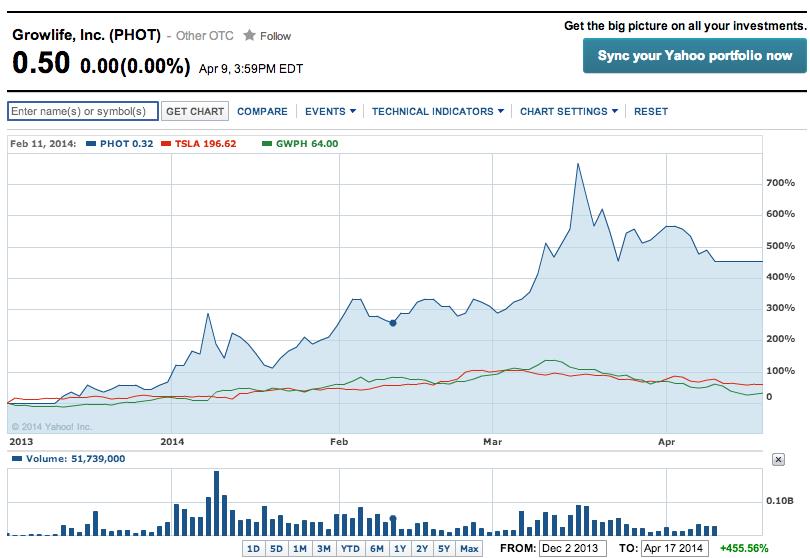 Here is a price graph (from YahooFinance.com) of these two pot stocks since December 2, 2013 (before the advent of legal recreational pot in Colorado). PHOT is in Blue; GWPH is in Green; and my "poster child" for volatility Tesla (TSLA)) is in Red. PHOT makes TSLA look like a stock for widows and orphans… while GWPH keeps pace with the notoriously volatile all-electric car company's stock.
What has been the impact of investor's excessive interest in cannabis stocks due to the inauguration of Colorado's legalization of recreational pot? Here is the beginning of a hint of an answer to that question:
i) When PHOT's current CEO, Sterling Scott (a former partner in the D.C. law firm of Jenner & Block) joined PHOT in mid 2012, the company had just 300 shareholders. By mid 2013, it had 7,800 owners; now it has about 20,000 shareholders.
ii) As alluded to earlier, PHOT has recently entered into two joint ventures through the issuance of new shares. As a result, the diluted shares number approximately 1.36 billion… therefore valuing the company at over $1 billion at the time its shares were at their peak in mid-March. (Review the revenue and loss figures I offered earlier!)
Granted that the company continues to take several seemingly insightful steps (it owns and operates seven hydroponic stores in California, Colorado, Massachusetts, New Hampshire, and Maine that offer gardeners ALL of the tools they need for their passion)… that market valuation still sounds like the very definition of "over valuation!"
Recently, the company was trading at 135 times its sales!! Perhaps more telling, the PHOT balance sheet has just over one quarter million dollars in cash but carries over $1.72 million in debt! And approximately 60% of PHOT's total assets are identified as "Good Will" and "Intangible". Good luck with that!
Because of such overvaluation, Leeds indicates that he would not buy either company at current levels!
Another well-known penny stock expert, Timothy Sykes (based in Miami) is even more negative and opinionated: "GrowLife is a blatant penny stock 'pump' whose stock has increased thanks to the help of many compensated promoters. They're now all raking it in because they're in the right place at the right time, but it's not sustainable."
By the time I came close to completing my research, I was extremely disappointed. I had gotten myself (literally) "pumped up" about the prospects of PHOT. When that occurs, it is very disillusioning to discover that, as likely as not, you've "been had" by expert "investment outlaws"… as referred to by Sykes and Al-ayrot.
But I was not yet ready to "give up". I discovered Terra Tech Corp (TRTC) — also engaged in the hydroponics space… but for a longer time (since 2008). Their primary brand, Edible Garden, already has an extensive sales distribution network for its non-cannabis produce… incorporating a number of well-established retailers. [17]
Edible Garden is the biggest brand within the product portfolio of Terra Tech
The corporate strategy at TRTC is much different than at PHOT – focusing upon the development of immediate revenue without significant dilution to shareholders. It has aligned itself with urban farmers who want to cultivate using Terra Tech's standards and hydroponic expertise. During 2014, TRTC expects over $10 million in revenue from herbs and other hydroponic produce… quite apart from any future cannabis revenue.  Most recently, TRTC inked a deal with Heartland Growers for the development of a line of Edible Garden hydroponic produce that will be distributed throughout the Midwest. TRTC also locked in a deal with Gro-Rite Greenhouse & Garden Centers for an 8,000 square foot hydroponic grow facility for retail herbs and plants… with plans for an additional 27,000 square foot facility in 2014. Finally, two months ago it announced its concerted effort (using powerful lobbyists) to secure a Medical Cannabis permit in Nevada!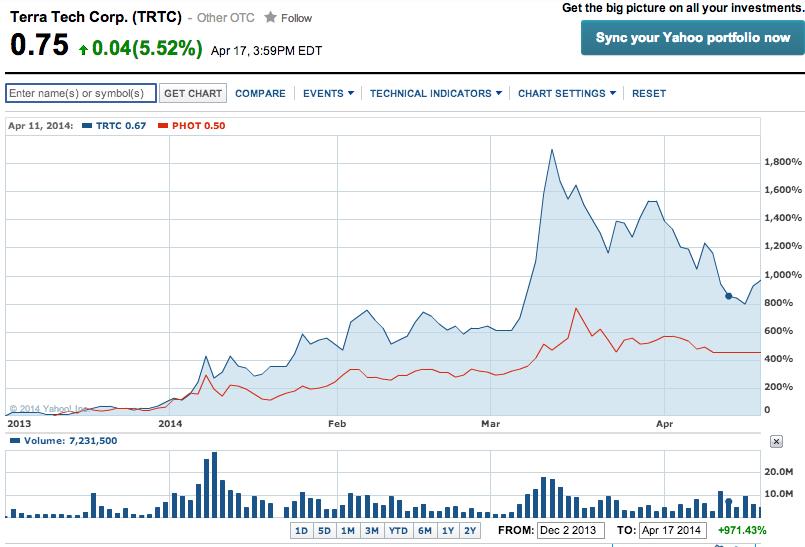 Nonetheless, despite my growing enthusiasm for TRTC, one look at the price chart since December 1st of last year (see below… with TRTC in Blue and PHOT in Red) convinced me that I risked going "from the frying pan into the fire" if I purchased TRTC!!
There is one strategy that might be worth considering for those investors who have a real affinity for Las Vegas and the action available only in a casino! Keep your eyes attuned to news regarding the impending advent of legal sales of cannabis in one or more states.
It has been clearly established that Pot Stocks move on "news", social media hits, etc. [18]  In fact, that article I referred to earlier by Abdalla Al-ayrot [19]  offers a report on research he did to discern the impact of certain "Google Searches" on the price of this stock group!
Take a look at the graph below, showing how Al-ayrot's "Cannabis Index" (Red) follows the action in his "Cannabis Retail Interest Index" (Blue) [20].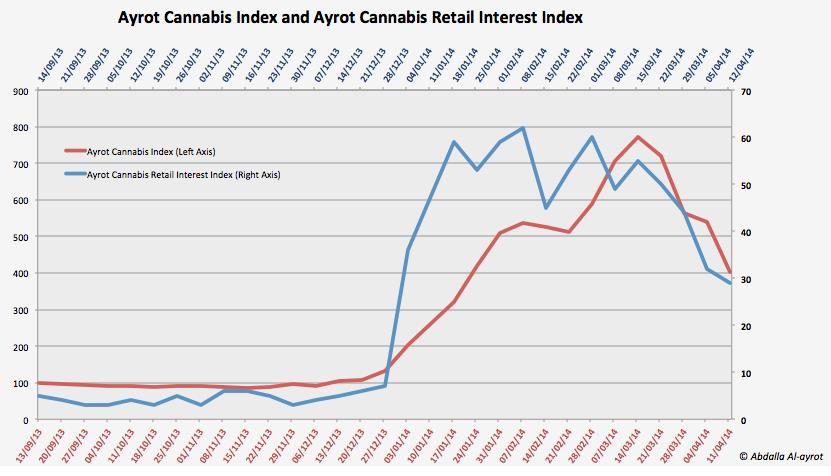 Here is the chart showing the relationship between Google searches of key "Cannabis" terms (Red) and the price of Cannabis stocks (Blue)!
Therefore, since cannabis stocks are clearly driven by public consciousness and "pot news", once a date has been announced for the beginning of legal pot sales in a new state, look for an opportune time to buy your favorite Pot Stock about one month before that date! Once you have done that, sell that stock after the networks and cable (including CNBC) have hyped the story of new pot outlets opening to exceedingly high demand! For your information, as of April of this year, twelve states had pending legislation related top the legalization of cannabis: Florida; Kansas; Kentucky; Minnesota; New York; Ohio; Pennsylvania; South Carolina; Tennessee; West Virginia; Wisconsin.
INVESTOR TAKEAWAY: I would be willing to bet a steak dinner that it is easier to motivate an investment news consumer to peruse an article on Pot than an article on most any other topic. However, I would be equally willing to wager that such investors are not equipped with nearly enough knowledge (and skepticism) to invest in Pot stocks without taking undue risks!
Within the entirety of the reading that I undertook for the preparation of this article, I think the most insightful single observation I found was from the Al-ayrot article. He pointed out that the greatest vulnerability for investors within the "Pot Stock" Space is: "What they don't know… that they don't know!"
Therefore, my friends and fellow traders/investors, if you do not remember anything else about this article, please remember that (in my opinion) the small universe of Pot Stocks most closely resembles the "Wild West":
1) There are an awful lot of "outlaws" out there who care absolutely nothing about "the law";
2) They'll do or say (or promise) anything to get your money;
3) And you should never, ever (ever) count on a modern day Matt Dillon or Wyatt Earp to come to your rescue and save you from being (figuratively or financially) "blown away"! Be careful out there!
APPENDIX:
Review these facts that illustrate the complexity caused by a total and complete lack of consistency among the various states with regard to Pot regulation:
1) Of the 20 states that have approved legalization of Medical marijuana, 17 limit marijuana use to treating specific diseases. Some allow state agencies to expand its use. Three states are more lenient. California allows use for "other chronic or persistent medical conditions." Nevada allows use for a "medical condition that produces pain." And Massachusetts permits use for unspecified "other conditions," as proposed in Florida.
2) Fifteen of the 20 states allow users to grow their own marijuana, but limit the amount. In some states, licensed growers and dispensaries provide the pot. New York, which is considering legalization, may allow marijuana use only in hospitals.
3) Marijuana is not a discrete compound, but a mixture of over 400 chemicals, the amounts of which can differ from strain to strain and batch to batch.
4) The "legal limit" for purchase/use of legal pot differs widely among the 20 medical-use states. For example, Oregon allows possession of 24 ounces, while Connecticut limits possession to only 2.5 ounces a month.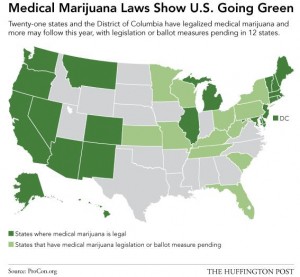 Here is a map showing those states within which the use of Cannabis for medical use or recreational use is legal!
DISCLOSURE: The author does not own PHOT, GWPH, MDBX, or TRTC. If the author ever does buy a pot stock – it will be for recreational purposes only! Nothing in this article is intended as a recommendation to buy or sell anything. Always consult with your financial advisor regarding changes in your portfolio – either subtractions or additions.
FOOTNOTES:
[1] Do you remember what it was?  https://www.youtube.com/watch?v=hxIuIxqo2So
[2] Also known as the "Pot Industry" or "Cannabis Industry"
[3] From the Huffington Post earlier this month: $105 million: The estimated annual sales tax revenue derived from pot dispensaries in California (per the Marijuana Policy Project, a Washington, D.C.-based group that supports legalization.
$142.19 million: The estimated size of the medical marijuana market in Arizona in 2014, according to the ArcView Market Research report, up from $35.37 million last year. Arizona has a record 80 medical pot dispensaries currently open. More are surely on their way.
[4] From the "Gimme a Break Newsdesk": who knew there was a statewide "Pot Holiday" in Colorado: April 20th! http://news.yahoo.com/colorado-pot-holiday-tries-mainstream-074215765.html
[5] $6.17 million: The amount of tax revenue collected in Colorado on legal marijuana sales in just the first two months of 2014; $98 million: The total tax revenue that Colorado could reap in the fiscal year that begins in July, 2014. $190 million: The amount in taxes and fees expected to flow from legal marijuana in Washington during the next four years.
[6] See the APPENDIX for some details!
[7] http://seekingalpha.com/article/2147683-a-cannabis-stock-risk-management-tool
[8] You can find some online for less than $100,000.
[9] Authorities stepped up years ago to identify this same "outlaw" model through tracking overlapping majority ownership within such shell-like stocks. However, outlaws can be like mutating bacteria… constantly adapting their methods to escape detection and extinction.
[10] A particular financing strategy.
[11] A matchless case in point that powerfully illustrates the "Wild West" nature of the Pot Space is an article on Medbox, Inc. found in Seeking Alpha. Pay special attention to the COO, who got caught offering legal advice without a law license; and recently, claiming profitability when (just over one week later) an official filing reports that it lost money!    http://seekingalpha.com/article/2028521-busting-medbox
[12] That is putting it mildly!
[13] Particularly if and when the Federal government legalizes Cannabis.
[14] Systems developed years ago for the general vegetable/vegetation market that have been quite easily adapted to/for the growing of Cannabis.
[15] Whether for good or ill, the plant was obtained through the use of restricted stock.
[16] We did not refer to international legal issues earlier… but when a company considers the import or export of Cannabis, there is a separate quagmire of regulations to slog through – including quite different rules applying to medical Cannabis versus recreational Cannabis!
[17] Including ShopRite, Fairway, BJ's, Gro_Rite Garden Centers, and Market Basket (that offers 70 stores).
[18] We've already established they DON'T move on fundamentals!
[19] http://seekingalpha.com/article/2147683-a-cannabis-stock-risk-management-tool
[20] The "Interest Index" is based upon certain key words/phrases often used by newbie purchasers of Pot Stocks… the "Index" is based upon numbers of "hits" on said search terms in a given week!
Submitted by Thomas Petty MBA CFP
Related Posts
3 Reasons to Invest in Crypto — and 3 Reasons Not To
3 Stocks I Will "Never" Sell
Can This COVID Vaccine Stock Help Make You Rich?