The Dow, S&P 500, NASDAQ, and Russell 2000 all closed at several-year, if not all-time highs yesterday. However, the volume in each case was below average or just average.
There were two sectors that did show stronger characteristics.
Energy…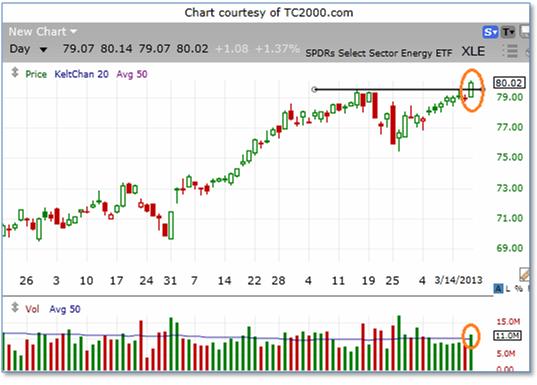 and Financials: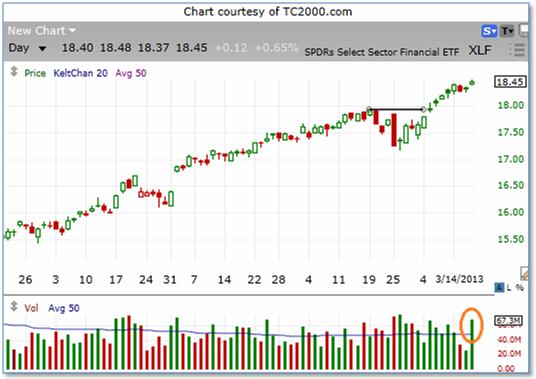 Seasonally, the major indexes don't have much bias (track record of net movement one direction or the other) over the next several weeks. For instance, the S&P 500…


and the NASDAQ Composite…

The XLE (Energy ETF) track record over the next 5 weeks looks better. But a close examination shows good, positive gains, say at least 3%, in only 7 out of the past 14 years: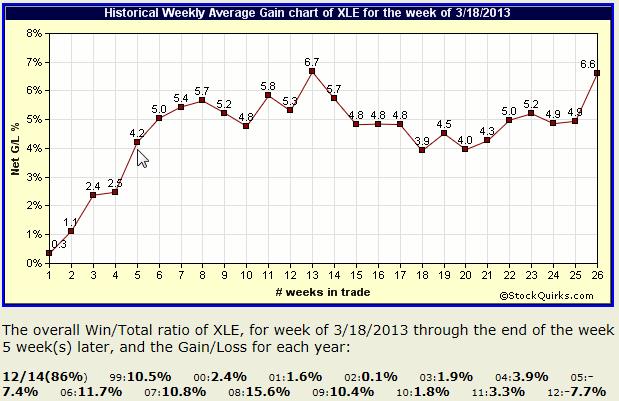 The same time period with XLF (the Financials sector ETF) shows a below-50% track record of at least 3% gains over the next 5 weeks: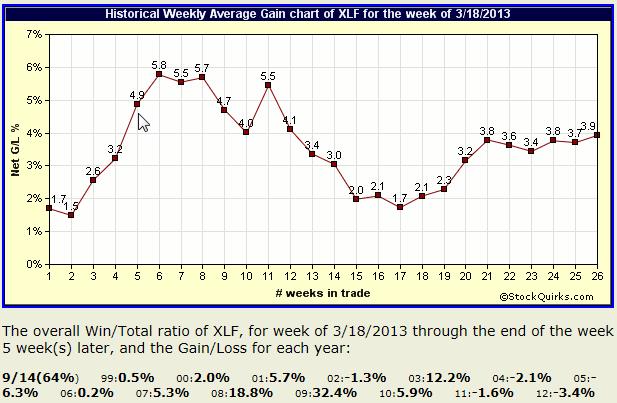 The markets are losing seasonal justification for further rises in the near future, and they are losing volume. Certain sectors are doing better currently, but don't have consistent track records of solid gains over the next several weeks.
Look at dozens to hundreds of individual stock charts and you'll find a mixed story of participation in this recent market advance. Not everyone boarded this train, and more are getting off at each stop.
Of course, there's much more you need to know and many more stocks you can capitalize upon each and every day.  To find out more, type in www.markettamer.com/seasonal-forecaster
By Gregg Harris, Market Tamer Chief Technical Strategist
Copyright (C) 2013 Stock & Options Training LLC
Unless indicated otherwise, at the time of this writing, the author has no positions in any of the above-mentioned securities.
Gregg Harris is the Chief Technical Strategist at MarketTamer.com with extensive experience in the financial sector.
Gregg started out as an Engineer and brings a rigorous thinking to his financial research. Gregg's passion for finance resulted in the creation of a real-time quote system and his work has been featured nationally in publications, such as the Investment Guide magazine.
As an avid researcher, Gregg concentrates on leveraging what institutional and big money players are doing to move the market and create seasonal trend patterns. Using custom research tools, Gregg identifies stocks that are optimal for stock and options traders to exploit these trends and find the tailwinds that can propel stocks to levels that are hidden to the average trader.
Related Posts
HeartFlow: A Deep Dive
Here's Why Avalanche's Cryptocurrency Is Skyrocketing
Why Berkeley Lights Fell Again Today, Despite Bullish New Analyst Notes