Consider this imaginary setting:  It is the first week of January, 2012, and you are sitting at a meeting of investors and Wall Street fund managers listening to me offer my preview of key investment "ideas" for 2012. One of my most controversial talking points is that the May 18Facebook (FB) initial public offering (IPO) will turn out to be a much weaker investment than the Manchester United (MANU) IPO on August 10.
You join virtually every other attendee in stunned silence – every one of you are instantly convinced that I am not just horribly wrong, but actually in need of serious treatment for dangerously impaired judgment.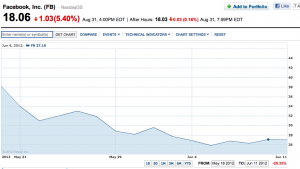 After a short pause, many of you start telling me reasons why I cannot possibly be correct: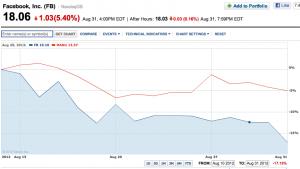 1)     Facebook is the biggest ever social media site, both in the U.S. and around the world – with over one billion users;
2)     Mark Zuckerberg is the "next Steve Jobs" – an innovative genius and the prototype of the "new corporate leader";
3)     Facebook's fame and powerful "reach" will enable it to, in conjunction with its standing as a Wall Street and media  "darling", promote its IPO to unprecedented levels of hype and investor demand.
4)     Manchester United, on the other hand, is merely a British football (soccer) sports franchise (albeit one of the most successful teams in history – with 19 league titles);
5)     Publicly traded stock of sports teams have a history of being poor performers (Boston Celtics IPO in 1986 and Cleveland Indians IPO in 1998 were weak performers, and have since been taken private);
6)     British rail workers founded Manchester United in 1878, and Manchester fans have deeply resented American businessman, Malcolm Glazer (who also owns the Tampa Bay Bucs) since he bought the team and took it private in 2005. They are convinced that he is a throw back to the old "robber barons", manipulating the team's affairs to line his own pockets instead of guaranteeing a championship team on the field.
7)     The large amount of debt with which Glazer has saddled the team (including adding more debt as part of the proceeds from the IPO) has served to further incense Manchester fans – who fear that Glazer's focus on personal fortune will deny fans the "next George Best" – a Northern Irishman who terrorized defenders throughout his career who was recently voted as Manchester United's all-time best player, The Northern Irishman terrorized defenders throughout his amazing career (many experts regard him as the most naturally talented player who ever played).
8)     Fan resentment reached a crescendo when crosstown rival, Manchester City, bested Manchester United this year.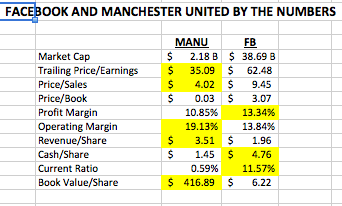 Well, now that both IPO's are now in the record books, was I as deranged as you and the other January meeting attendees thought?  The answer to that is a resounding "No"!  Take a long look at the accompanying slide show for graphs and worksheets comparing the stock performance of Facebook and Manchester United, as well as the standard measures of stock performance and value.   When you are through, you'll be convinced (once again) that Morgan Stanley and Facebook callously ripped investors off with their IPO.  No wonder most news articles these days are critical of Zuckerberg – who has definitely lost his "next Steve Jobs" luster.
LINK: http://www.examiner.com/article/manchester-united-trounces-facebook-on-wall-street
Submitted by Thomas Petty
Related Posts
La-Z-Boy Terminating 10% of Its Workforce
Aurora Cannabis Sells Out of Stake in Alcanna
Inovio to Start a Phase 1/2 Study of its COVID-19 Vaccine in South Korea