I don't often focus on a stock for just a stock trade. I like leverage, because with the high probability setups I look for, I'm comfortable using appropriate option strategies. But today I'm focusing on a simple stock trade.
You know Wolverine, they make boots, among other things. This is Wolverine's '1000 Mile' boot. That claim uses miles because they are made right here in the USA. The ladies will know you are a no-nonsense man who goes for quality and dependability when you show up in a pair of these. And it can work both ways. You ladies can make a statement as well – they have smaller sizes.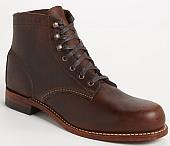 Wolverine caught my attention today, due to the stock's response to Wolverine's earnings announcement yesterday morning – a 5% leap on volume 260% above the average level.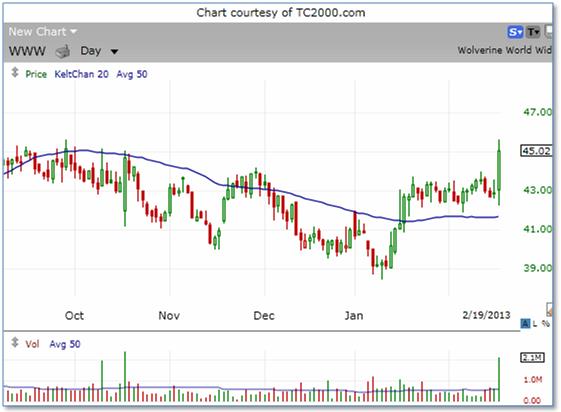 Wolverine has completed the acquisition of four brands. Blake W. Krueger, the Chairman and CEO, said "With the addition of Sperry Top-Sider, Saucony, Stride Rite, and Keds, our portfolio of global brands has never been stronger.  We are diversified across most consumer groups, distribution channels and geographic regions, and have multiple brands in the portfolio that are delivering accelerated growth.  We are focused on delivering excellent growth, strong profitability and impressive returns to our shareholders, and we look forward to building on our brands' momentum in 2013 and beyond."
Wolverine's earnings report produced a 60% increase in revenue and earnings 54% higher than expected. You can see why the buy buttons were being clicked on WWW trade screens all day.
You know me, I just have to check the seasonal track record of every stock that catches my attention. WWW has a strong seasonal pattern. It has increased an average 9.2% over the next 9 weeks, with gains in a whopping 90% of the years. That's 26 out of the last 29 years.

What if you had just bought the stock at the same time each year and sold it nine weeks later? How many trading systems have you seen that have averaged a 9.1% gain per trade, a worst case drawdown of 11.4%, a win/loss ratio of 8.7, and a 265% gain in just 29 trades?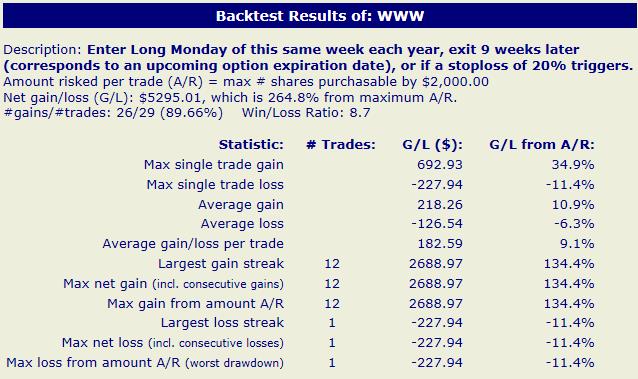 Wolverine's options are not popular. They have low Open Interest and Volume levels and wide Bid/Ask spreads. Buying the stock is pretty much the only reasonable strategy. Wolverine does pay a small dividend, about 1.1% currently.
On rare occasions I do covered calls on stocks like this – stocks with low OI and wide Bid/Ask spreads. What I do is buy the stock, then as soon as I'm filled I place an order to sell calls a little above the mid-point of the Bid/Ask spread. If it fills, fine, I get some income. If not, no loss. I'll do this only on a stock I don't mind being called away. With low OI/volume levels, I don't ever want to try to buy back the short call. It will be unlikely I'd get a good fill, so I do this only on stocks where it's 'expire worthless or the stock gets called away and I say good-bye'.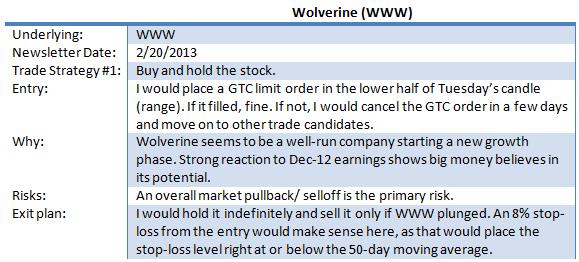 Of course, there's much more you need to know and many more stocks you can capitalize upon each and every day.  To find out more, type in www.markettamer.com/seasonal-forecaster
By Gregg Harris, MarketTamer Chief Technical Strategist
Copyright (C) 2013 Stock & Options Training LLC
Unless indicated otherwise, at the time of this writing, the author has no positions in any of the above-mentioned securities.
Gregg Harris is the Chief Technical Strategist at MarketTamer.com with extensive experience in the financial sector.
Gregg started out as an Engineer and brings a rigorous thinking to his financial research. Gregg's passion for finance resulted in the creation of a real-time quote system and his work has been featured nationally in publications, such as the Investment Guide magazine.
As an avid researcher, Gregg concentrates on leveraging what institutional and big money players are doing to move the market and create seasonal trend patterns. Using custom research tools, Gregg identifies stocks that are optimal for stock and options traders to exploit these trends and find the tailwinds that can propel stocks to levels that are hidden to the average trader.
Related Posts
Peloton Stock Is the Netflix of Fitness
How Your Spending Is Likely to Change as a Retiree
La-Z-Boy Terminating 10% of Its Workforce