Let's talk divergence. it isn't quite visible yet in the Dow Jones Industrial Average. It isn't quite visible yet in the S&P 500. The NASDAQ Composite is the strongest of the major indexes, but only by a hair.
That leaves the Russell 2000, the index comprised of smaller cap stocks (actually, there are several other major indexes, like the dollar, bonds, gold, and so forth, but why ruin a good story with details). And even with the Russell 2000, it isn't true divergence, but I'm going to fly with it.
Instead of several smaller charts, let me fill up your iPad with one big one. IWM, the ETF based on the Russell 2000, clearly shows what is forming in many of the major index and ETF charts. We see a series of lower highs, although just barely, and lower highs on stochastics, lower highs on On Balance Volume (a strength indicator), and so forth. Volume on down-close days is vastly overwhelming volume on up-close days.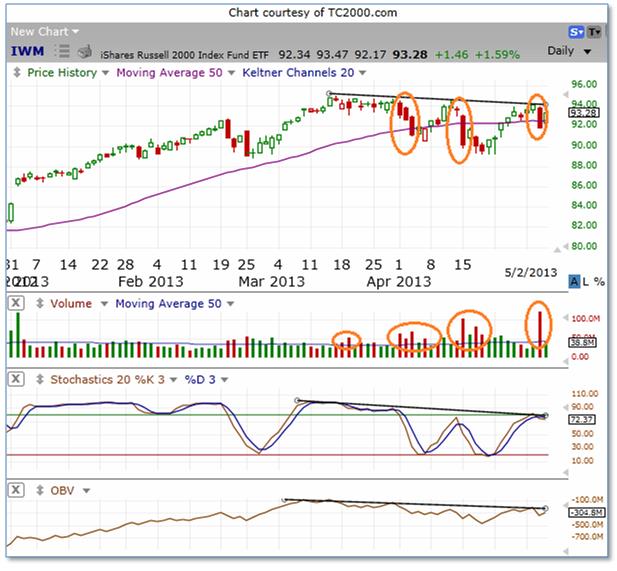 If IWM doesn't go below mid-April's low, this could just be churning, a purging of nervous sellers. This market's strength has been surprising most of us.
The monthly jobs report is due out this morning. If the report doesn't meet expectations, the markets could use it as an excuse for a more serious sell-off.
Pay close attention to the report, the opening of the markets, and all your current positions.
Of course, there's much more you need to know and many more stocks you can capitalize upon each and every day.  To find out more, type in www.markettamer.com/seasonal-forecaster
By Gregg Harris, MarketTamer Chief Technical Strategist
Copyright (C) 2013 Stock & Options Training LLC
Unless indicated otherwise, at the time of this writing, the author has no positions in any of the above-mentioned securities.
Gregg Harris is the Chief Technical Strategist at MarketTamer.com with extensive experience in the financial sector.
Gregg started out as an Engineer and brings a rigorous thinking to his financial research. Gregg's passion for finance resulted in the creation of a real-time quote system and his work has been featured nationally in publications, such as the Investment Guide magazine.
As an avid researcher, Gregg concentrates on leveraging what institutional and big money players are doing to move the market and create seasonal trend patterns. Using custom research tools, Gregg identifies stocks that are optimal for stock and options traders to exploit these trends and find the tailwinds that can propel stocks to levels that are hidden to the average trader.
Related Posts
Outta Here! How to Write a Retirement Letter (With an Example)
If You Invested $5,000 in Tesla's IPO, This Is How Much Money You'd Have Now
Here's What Higher Earners Will Pay for Medicare Part B in 2020