Gold and Silver prices are moving up strongly. Silver, as evidenced by the SLV ETF, is showing a lot of strength: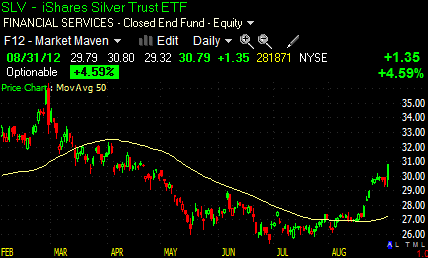 Silver stocks are following closely. Silver Wheaton, SLW, is very strong right now, showing healthy volume on up-close days:
Besides individual silver stocks and the silver ETF itself, there is another way to participate in the move.
AGQ is a 'Leveraged ETF' based on the price of silver. From its description, "ProShares Ultra Silver seeks daily investment results, before fees and expenses, that correspond to twice (200%) the daily performance of silver bullion as measured by the U.S. Dollar fixing price for delivery in London." This means that moves in the price of silver are amplified. For any given move in silver, gains will be larger, but so will losses.
AGQ formed a high probability chart pattern. It based for three months on low volume, but has recently broken above resistance on a gap-up with sharply increased volume. A slight pullback would offer a better entry point. It's looking pretty strong though, so there may not be much of a pullback. Another caution to keep in mind is that this ETF is still thinly traded, meaning fills may be poor on larger purchases and sales.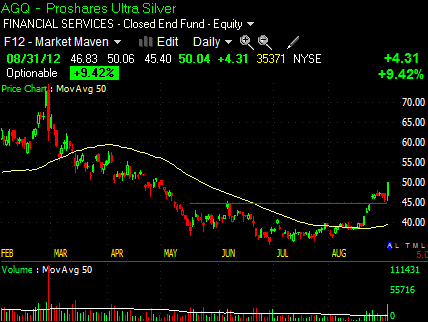 Remember, the advantage of a leveraged ETF such as AGQ can also work against you. If the price of silver starts falling, AGQ will give up gains, then rack up losses quickly. A leveraged ETF position needs to be closely watched and managed.
Timely analysis by Gregg Harris, MarketTamer Chief Technical Strategist
Copyright (C) 2013 Stock & Options Training LLC
Unless indicated otherwise, at the time of this writing, the author has no positions in any of the above-mentioned securities.
Gregg Harris is the Chief Technical Strategist at MarketTamer.com with extensive experience in the financial sector.
Gregg started out as an Engineer and brings a rigorous thinking to his financial research. Gregg's passion for finance resulted in the creation of a real-time quote system and his work has been featured nationally in publications, such as the Investment Guide magazine.
As an avid researcher, Gregg concentrates on leveraging what institutional and big money players are doing to move the market and create seasonal trend patterns. Using custom research tools, Gregg identifies stocks that are optimal for stock and options traders to exploit these trends and find the tailwinds that can propel stocks to levels that are hidden to the average trader.
Related Posts
Aurora Cannabis Was the Hottest Big Marijuana Stock in May — but Will Its Sizzle Soon Fizzle?
Are Moderna's Coronavirus Gains Over?
Debunking Americans' Most Pressing Social Security Concern