A few days ago I showed a chart of TLT. It looked like it regularly cycles up and down and spends little time dawdling at short-term highs.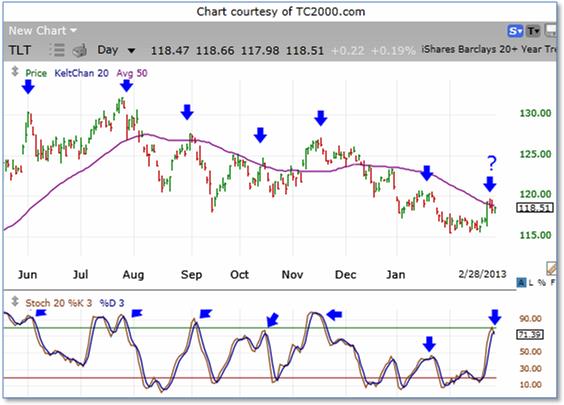 I suggested a way to trade the current setup, which looked like another possible short-term high. Instead of shorting this $120 ETF, I mentioned the March 124 in-the-money puts had very little time value in them. They would be a cheap way to play even a brief pullback. At the open on March 1st, the March 124 puts could have been bought for $5.05.
TLT came through.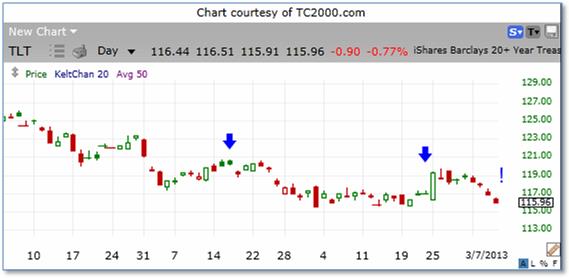 At last night's close, that put was trading for about $8, a 59% gain in 7 days. Trading cycling stocks can be very profitable. The best way to find them? When you have a chart on the screen and  you start wondering if it is a good cycler, stand up. Step back several feet. If from halfway across the room you see regular well-defined highs and lows, you've got yourself a good cycler. It's hard to spot them when you're only a foot from the screen. It's a forest-versus-trees thing.
Of course, there's much more you need to know and many more stocks you can capitalize upon each and every day.  To find out more, type in www.markettamer.com/seasonal-forecaster
By Gregg Harris, Market Tamer Chief Technical Strategist
Copyright (C) 2013 Stock & Options Training LLC
Unless indicated otherwise, at the time of this writing, the author has no positions in any of the above-mentioned securities.
Gregg Harris is the Chief Technical Strategist at MarketTamer.com with extensive experience in the financial sector.
Gregg started out as an Engineer and brings a rigorous thinking to his financial research. Gregg's passion for finance resulted in the creation of a real-time quote system and his work has been featured nationally in publications, such as the Investment Guide magazine.
As an avid researcher, Gregg concentrates on leveraging what institutional and big money players are doing to move the market and create seasonal trend patterns. Using custom research tools, Gregg identifies stocks that are optimal for stock and options traders to exploit these trends and find the tailwinds that can propel stocks to levels that are hidden to the average trader.
Related Posts
HeartFlow: A Deep Dive
Here's Why Avalanche's Cryptocurrency Is Skyrocketing
Why Berkeley Lights Fell Again Today, Despite Bullish New Analyst Notes