With the major indexes and ETFs sitting at or near new highs, the phrase 'too-far-too-fast' keeps eating away at me. Especially bothersome to me is that recent highs are being set on below-average volume.
In situations like this, I look for are setups on stocks/ETFs that have worked well in the recent past.
EEM, the iShares ETF based on the MSCI Emerging Markets Index, periodically forms well-defined channels and trading ranges. Breakouts from those ranges often make good, low-risk trades.
Back in early December, EEM broke above an almost three month trading range: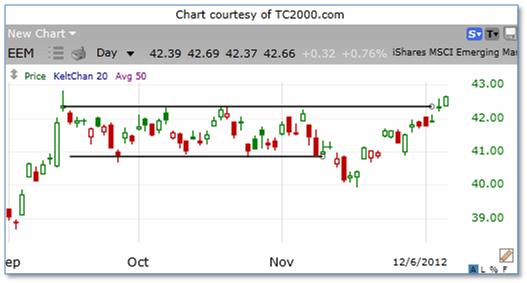 That December 6th breakout went on for a 6.3% gain over the next 17 trading days.
That January 2nd close turned out to be the high for the near term. EEM has steadily see-sawed downwards, forming a well-defined channel. But Friday, EEM gapped up out of that channel on above-average volume: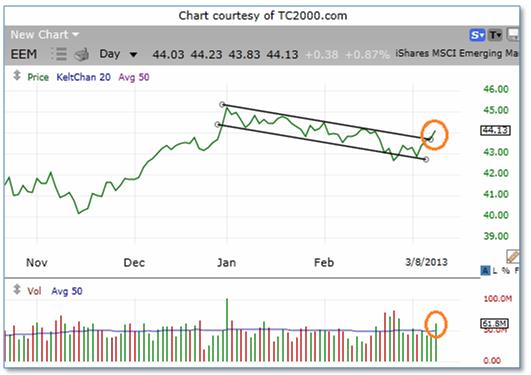 Is another 6% run possible? Over the next 20 trading days, EEM has averaged a 6.7% gain, with 6% or greater gains in all but 2 of those years: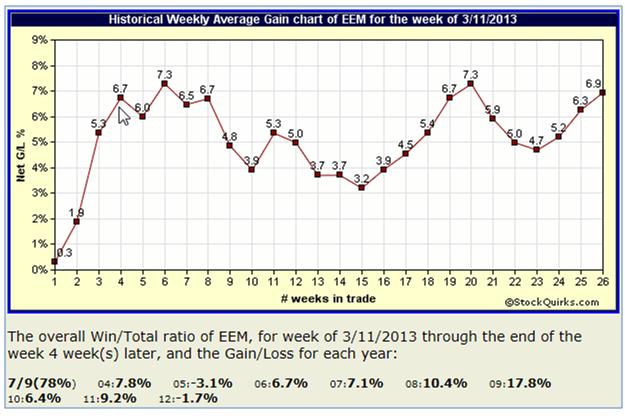 Incidentally, EEM's Stochastics has recently given a buy signal. So has MACD, and On Balance Volume shows accumulation is pushing up the stock.
But perhaps you would rather bet on the DOW hitting that 14,500 level: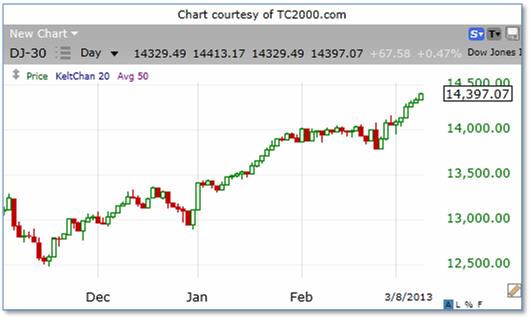 I know which trade I would prefer taking.
Of course, there's much more you need to know and many more stocks you can capitalize upon each and every day.  To find out more, type in www.markettamer.com/seasonal-forecaster
By Gregg Harris, Market Tamer Chief Technical Strategist
Copyright (C) 2013 Stock & Options Training LLC
Unless indicated otherwise, at the time of this writing, the author has no positions in any of the above-mentioned securities.
Gregg Harris is the Chief Technical Strategist at MarketTamer.com with extensive experience in the financial sector.
Gregg started out as an Engineer and brings a rigorous thinking to his financial research. Gregg's passion for finance resulted in the creation of a real-time quote system and his work has been featured nationally in publications, such as the Investment Guide magazine.
As an avid researcher, Gregg concentrates on leveraging what institutional and big money players are doing to move the market and create seasonal trend patterns. Using custom research tools, Gregg identifies stocks that are optimal for stock and options traders to exploit these trends and find the tailwinds that can propel stocks to levels that are hidden to the average trader.
Related Posts
HeartFlow: A Deep Dive
Here's Why Avalanche's Cryptocurrency Is Skyrocketing
Why Berkeley Lights Fell Again Today, Despite Bullish New Analyst Notes