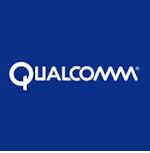 Our regular readers will recall that I wrote about Qualcomm Incorporated (QCOM) so recently that the price graphs I included were as of November 15th, when the stock price stood at $72.17.  I am proud to report that, as of Noon today (November 26nd) the price stock at $72.96.  As I'm sure you have quickly calculated in your head, 1.95% increase in 11 days equates to over 60% on an annualized basis. Even I am impressed by how I can move the markets! Move over, Carl Icahn, make room on that mountain for me!
Friends, let me hasten to assure you that my tongue is planted totally in cheek as I wrote the paragraph above!  I know that I don't move markets… I don't even nudge them![1]
As I researched QCOM for that first article, I was extremely impressed – impressed enough, in fact, that I stored up some fascinating material for this Part II on the company. I found the history of the company, and its place at the forefront of mobile technology, to be so significant and engaging that it is well worth my time (and yours) for some of that story to be shared here![2]
I must add (parenthetically) that I had already decided upon the importance of this "extended" QCOM story days ago, but my "mission" to share this information was radically confirmed this past Sunday when I discovered[3] (while asking during the numerous commercial breaks of their respective Sunday NFL football games) that my "technology specialist" wife, my AP History (high school) teacher daughter, and my very tech savvy college graduate son[4] do not know who either Irwin M. Jacobs or Dr. Paul E. Jacobs are — or even what QCOM is!![5]
With all due respect to them, given how dependent we have become (on a daily basis) on technology, I think it makes a lot of sense to develop (at a minimum) a basic, updated knowledge of tech developments and trends! And as an extremely cool "bonus", this technology material is absolutely fascinating![6]
So let's do some quick review:[7]
1)    QCOM was founded in 1985 in San Diego, CA. – so it is still "under 30"!
2)    Dr. Irwin M. Jacobs (B.S. in Electrical Engineering; and S.M.[8] Sc.D.[9] in Electrical Engineering and Computer Science) was a university professor for over 13 years before co-founding Linkabit (a pioneer in commercial satellites that enhanced/expanded land-based communication tech. By 1985, he and some colleagues were ready to found QCOM.
3)    Under Jacobs' leadership, QCOM became a pioneer and innovator in the (rapidly) evolving mobile technology space. In a few moments, we will start reviewing some of those innovations.
4)    Along the way, Irwin raised four boys with his lifetime wife, Joan.
a.   Two of those boys went into "the family business"
i.   Paul E. Jones declined the temptation to take the "easy road" to business success.[10]
He earned a bachelor's, master's, and doctor's degree (Ph.D.) in Electrical Engineering (the Ph.D. included "Computer Science")
He started at QCOM from the lower levels and worked his way up.
ii.    Jeff Jacobs has worked his way up to Chief Marketing Officer at QCOM.
iii.    Oldest son, Gary, runs the High Tech High Charter School (HTH) in San Diego.
iv.    The second oldest son, Hal, has ventured into several areas, including athletics and the arts (he is a co-producer of Jersey Boys).
5)    Irwin and Joan have joined Warren Buffett and Bill Gates in making the "Giving Pledge".[11]
Let's move on to the technology! Take a quick look at the references below. How many can you readily identify and describe:
Omni-TRACS                            Von Neumann Architecture           Zeroth                                      CDMA                                          2NET Hub                                        Geofences
M-Health                                     NPUs                                                HSPA & HetNets
GIMBALL                                     Contextual Awareness
WCDMA                                       Neighborhood SmallCells           SDL Video
HSPA                                           Augmented Reality
If you scored 13 out of 16 (or higher), you get an "A+"! If you know 10-12 (or more), good for you! If you looked at the list and thought: "Huh??!", then you are especially lucky today!!  Why? You are lucky because you will benefit the most by reading (or at least skimming) through the rest of this article.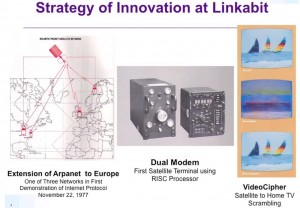 LINKABIT: to the left you see some images related to this fledging firm's work[12] in satellite encryption devices. Consider how big (and strange looking) the first modems were!
OmniTRACS: one of Jacobs' next major accomplishments made its first public appearance in October of 1988. The image below illustrates the basic functioning of the OmniTRACS system – at the time, the world's most "technologically advanced two-way mobile satellite communications and tracking systems."[13]
The system applied more efficient technology to maximize communication bandwidth, offering significant performance/capacity improvement via-a-vis the (then) existing TDMA technology. Jacobs helped develop this new engineering standard[14] and named it Code Division Multiple Access (CDMA). If that term sounds familiar, it should be. In Part I we learned that CDMA is the predominant mobile standard today and is the single biggest source of QCOM revenue.
As the image suggests, the system linked land-based management offices with mobile traffic (mainly trucks) and (through GPS) enabled fleet tracking that helped maximize quality customer service and efficient fleet management.
In its first iteration, OmniTRACS was a text-based notification system using a roof-mounted directional antenna. Needless to say, 25 years later the system is much different, greatly improved, and the most widely used system of its type in the United States.
Not surprisingly, given the emerging dominance of smartphones and tablets within the QCOM product ecology, QCOM just passed its foundational business on to Vista Equity Partners this past August for $800 million! Commenting on this historic business and its sale, "Overdrive" magazine published this quote by a longtime industry observer: "Qualcomm getting out of the electronic logging device business is like Kleenex no longer making, well, Kleenex!"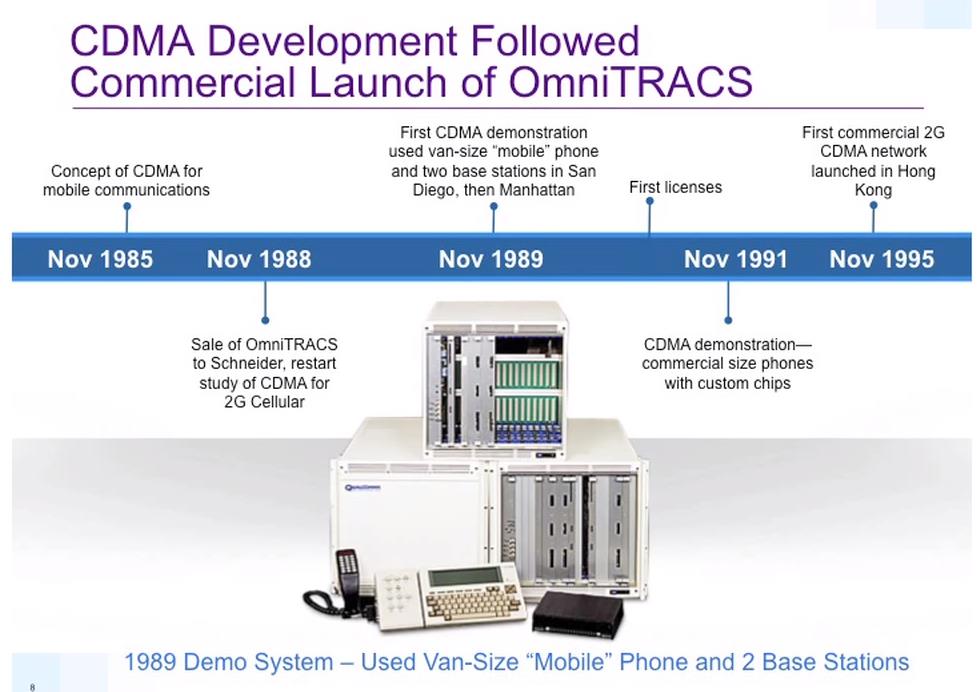 The intimate relationship between CDMA and OmniTRACS can be seen in the next graphic. What may surprise you the most (compared with present day tech development) is the pace of the full emergence of CDMA – which may strike you as torturously slow!  However, we have the unfair advantage of knowing how history "unfolded". Neither Jacobs nor anyone else in that day could have been quite as certain regarding how mobile technology would ultimately work out.
The fascinating truth is that, when CDMA was actually adopted within products, there was significant controversy! In 1996, no less an authority than the Wall Street Journal published an extremely unflattering story about CDMA and Jacobs (read these excerpts below): [15]
"A multibillion-dollar technology gamble taken by some of the biggest names in telecommunications would never have happened without a tireless champion named Irwin Jacobs.
"The question is whether he should be celebrated — or blamed.
"Dr. Jacobs, chief executive of Qualcomm Corp., is a rare corporate hybrid: Pathbreaking engineer and aggressive marketer. In the late 1980s, he invented key parts of an advanced digital-wireless system known as CDMA. Ever since, he has been promising that his invention will vastly expand the capacity of cellular-phone systems and usher in an era of cheap digital super-phones.
"Telecommunications giants like Lucent Technologies Inc. (formerly part of AT&T Corp.) and Motorola Inc. have poured $2 billion into developing CDMA-related equipment and are planning to invest billions more. That is on top of the $18 billion the industry paid the Federal Communications Commission for rights to radio spectrum for digital services like those envisioned for CDMA.
"There is [also] a worst-case possibility: that CDMA doesn't work on the massive scale required, an outcome that would inflict billions of dollars of losses on the equipment makers and network operators that have bought into Dr. Jacobs's promises. That would cause more delays in the spread of digital-wireless phones in the U.S.; there are 16 million digital phones in Europe, compared with about 1.5 million in the U.S.
"They've got fundamental technical problems that they don't know how to solve," says Don Cox, a professor of electrical engineering at Stanford University.
"There is no one in the business smarter than Irwin Jacobs, but smart guys make mistakes too." George Schmitt, president of Omnipoint Communications Inc. of Mountain Lakes, N.J., and a former chief executive of wireless giant PrimeCo Personal Communications LP of Westlake, Texas, says Dr. Jacobs "sold the market a lot more than he delivered."
"Whatever the final answers, Dr. Jacobs's crusade is an illuminating study of the challenges of commercializing high science. CDMA and rival technologies are numbingly complex; suffice it to say that by using radio spectrum more efficiently, they promise leaps in cellular capacity. Dr. Jacobs originally claimed that CDMA — which stands for Code Division Multiple Access — could cram up to 40 times as many calls onto a network as old-fashioned analog systems can. (Most cell phones in the U.S. use the analog system.)
"Dr. Jacobs also said CDMA would have about 13 times the capacity of its main digital rivals, TDMA and its variant known as GSM. TDMA stands for Time Division Multiple Access, and the predominant companies that use the technology are LM Ericsson of Sweden and Lucent Technologies. Ericsson also dominates the market for GSM, which stands for Global System for Mobile communication.
"CDMA would be impossible for cell phones if Dr. Jacobs hadn't tamed one of its top bugs — fluctuations in power — with patented control devices he has timed to the ten-thousandth of a second. Qualcomm expects to make money by licensing CDMA technology and building phones; it has an agreement with Sony Corp. to make three million CDMA handsets this year alone, with plans to sell them to big U.S. and foreign digital-wireless companies.
"Dr. Jacobs already had a reputation for turning science coups into cash. With partner Andrew Viterbi — an engineering professor with his own shelf of patents — he formed Linkabit Corp. in 1968. They developed military-satellite technology and sold the company in a 1980 deal that netted Dr. Jacobs about $25 million.
"Early on, Dr. Jacobs, who holds an engineering doctorate from the Massachusetts Institute of Technology, established a reputation as soft-spoken but hard-driving. "He's mellowed out a lot since those days," says Cliff Vaughan, a sales executive with Oki Semiconductor Inc. in Sunnyvale, Calif., a unit of Japan's Oki Electric Industry Co. Mr. Vaughan recalls arcane price squabbles with Dr. Jacobs. "He used to know everything. Now he just knows half." Tall and lanky and a fearsome basketball player, Dr. Jacobs sometimes settled Linkabit engineering disputes with arm-wrestling matches.
"However, none of the CDMA claims have borne out in the real world; some critics say CDMA is no more robust than TDMA. The big claims were "a little bit of hope and a little bit of hype," says David Twyver, former president of the wireless-network division of Northern Telecom Ltd., a CDMA backer in Mississauga, Ontario."
WOW! I wonder if Wall Street Journal journalists ever suffer from "writer's regret"… asking her or himself years later: "How could I have been so blind, so wrong, or so ________ (fill in your own adjective)?" At any rate, you can see that CDMA was, at the time of its inauguration, a huge "leap" in technology… but it also entailed commensurately huge risks![16]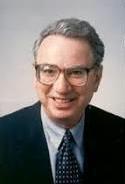 I know your time is precious, but skimming through either of these retrospectives on CDMA, Qualcomm, and Irwin Jacobs (image below) would be well worthwhile. You've already had a hint in the Journal article above that an engineering genius can be a rather complex[17] human being. In these videos, you can determine on your own what sort of person Irwin Jacobs is!!
In the first video, Jacobs delivers an enlightening, personalized lecture on mobile tech at John Hopkins University. Skip through the first four and a half minutes[18] and move ahead to (approximately) the 5:00 mark. Included in his recounting of history is the skepticism he had to overcome regarding the viability of CDMA: https://www.youtube.com/watch?v=vtplxf6L_PE.
The second video is more of a "biopic" about Jacobs.  Those that prefer "human interest" stories might prefer this video: https://www.youtube.com/watch?v=EGaG1S4-D6o.
By 2009, Irwin was ready to pass on the day-to-day reins of QCOM to his very capable son, Paul. The younger Jacobs shares his father's drive, intellect, imagination, and communication skills. By 2012, Paul had developed sufficient industry respect and gravitas that he was the keynote speaker at the Consumer Electronics Show (CES) in Las Vegas. The video that records his presentation is extremely engaging and informative, but (as you'll see) it is long. I personally suggest you skip through the beginning and start at about the 7:00 minute mark:[19]
http://www.qualcomm.com/media/videos/ces-2012-opening-keynote-qualcomm-chairman-and-ceo-dr-paul-jacobs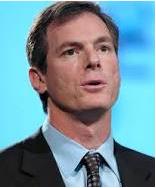 The image to the left of QCOM CEO, Dr. Paul E. Jacobs.
Keep in mind that his speech was presented as the first agenda item on the morning of the opening day of the CES! Talk about a challenging responsibility – be topical and technical as well as cutting edge, but also energetic and inspirational enough to keep everyone awake early in the morning!
As you will see (according to the video) Dr. Paul Jacobs has accumulated forty patents and (as was his father) he has developed a reputation as an industry visionary. Among many other things reported by Dr. Jacobs are these intriguing facts:
1)    QCOM employs some 22,000 employees in 172 locations around the world;
2)    QCOM has had (in its history) 7 billion chipsets deployed around the globe;
3)    Mobile is the largest tech platform that has ever existed in the history of the world!
4)    Most people look at their phones 150 times each day – or an average of 6.5 minutes during every waking hour.[20]
To recap some highlights from his presentation:
1)    He is excited that Windows works on Snapdragon (the cutting edge QCOM chipset);
2)    He finds it fascinating and invigorating that one of QCOM's fiercest competitors (Nokia) is now a strategic partner with QCOM;
3)    Working with medical providers to expand and enhance M-Medicine is a passion of Jacobs (he likens it to "bringing to life" some of the tech we all saw in Star Trek TV shows and movies in years past.)
4)    Working with Sesame Street and Big Bird on education projects is a privilege and treat;
5)    It has been exciting to help develop the Android-based Snapdragon-equipped Smart TV!
For those with a short attention span, or an utterly unmanageable calendar, here are two very brief "recap" videos of the CES keynote presentation:
http://www.qualcomm.com/media/videos/ces-keynote-recap-qualcomms-paul-jacobs
http://www.qualcomm.com/media/videos/recap-ces-2012-opening-keynote
WCDMA: Wide-band Code-Division Multiple Access:
As mobile technology evolved and expanded, Jacobs and others pressed for improvements that could improve quality, expand capacity, and extend battery life.  WCDMA is a 3G technology provides benefits in each area. Here are very brief videos on the technology:
http://www.qualcomm.com/media/videos/wcdma-demo
http://www.qualcomm.com/media/videos/wcdma
EVOLVED HIGH-SPEED PACKET ACCESS SUPPLEMENTAL DOWNLINK OTA:
This brief video demonstrates the level of enhanced throughput provided through improved HSPA+ technology of SDL video:
http://www.qualcomm.com/media/videos/hspa-supplemental-downlink-ota
HIGH-SPEED PACKET ACCESS and HETNETS:
New developments/enhancements are steadily expanding the load capacity of broadband transmission. Lacking any more commonly understandable explanation, these enhancement "increase the size of the mobile pipes" that transmit voice and data through mobile networks:
http://www.qualcomm.com/media/videos/hspa-hetnets-0
NEIGHBORING SMALL CELLS:
Extending neighborhood small cells extends coverage reach and increases/enhances capacity, both indoors and outdoors:
http://www.qualcomm.com/media/videos/hspa-hetnets-0
M-HEALTH:
As you saw/heard during Jacobs' CES keynote speech in 2012, M-Health is a passion of Dr. Jacobs! Most of us have heard of at least one or two "Mobile Health" (Wireless Health) technologies at some point. However, the scope of "M-Health" imagined by key industry insiders is startling. Statistics show that approximately 50% of Americans have some type of chronic medical condition (eg. asthma, diabetes, arthritis, an endocrinology disorder, or just obesity). Wireless devices could provide safe, convenient, accurate monitoring from home (or anywhere).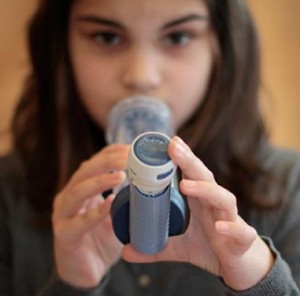 Health "metrics" gadgets that can be used as an integral part of M-Health can include something as traditional and elementary as a weight scale to a more sophisticated devices such as: a) the inhaler device produced by Propeller Health (formerly Asthmapolis). It is equipped with a GPS sensor and Bluetooth radio so asthma/COPD patients can track the locations (and times) they accessed their inhaler. Paired with a smartphone, this device allows access to a full record of past locations (and dosage levels) for the patient and/or a physician[21]; b) CleverCap is a provider of medicine bottle caps that track precise intake times/dosages of;[22] the device flashes/beeps when the prescribed time has come for a pill(s) to be ingested and the system maintains a record of when (and how much) medicine was actually taken; c) the Garmin heart-rate monitor (strapped across chest) transmits the devices blips/beeps wirelessly.These three examples are just "the tip of the iceberg";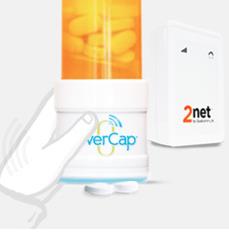 As revolutionary as these devices are, the technology is still evolving and needs to be migrated toward some narrower protocols. For example, the three devices above each utilize a different communication protocol. As every QCOM shareholder would hope, the company is at the forefront of creating and deploying software and protocols that are capable of rationalizing the M-Health network, and enabling more consistent and reliable transmission and storage of medical metrics. A two-year old division, Qualcomm Life, is charged with responsibility to innovate and pioneer in this still nascent subcategory within the technology space.
As pointed out above, one challenge that patients face when she/he needs to track and share medical data is the actual setup of the device for full functionality – which requires linking a wireless communication device with each medical monitoring device (called "pairing"). According to the head of Qualcomm Life: "If you've ever paired anything, it's not a complex process, but there's a very high failure rate."
That need inspired Qualcomm Life's first product: the 2Net Platform – a plain looking white box the size of a large nightlight that plugs into an electrical socket. You can actually view the 2Net above in the image of the med container monitor!  The system supports the four most commonly used radio protocols[23] and provides the consumer/patient user with "plug and play" convenience. Among devices that currently work with the 2Net hub are a thermometer, blood pressure cuff, pulse oximeter, and glucose monitor. Experts project that by 2020, over 25 billion M-Health devices will be transmitting data. These types of tech development innovations will (eventually) cut down on unnecessary visits to doctors and health facilities, significantly improve the efficacy of medicine ("smart pills"), and help the "system" function more efficiently. PriceWaterhouseCoopers projects a potential savings for developed countries of $400 billion by 2017!
As a footnote, QCOM acquired Healthy Circles earlier this year – a "software-as-a-service" platform that utilizes social-networking ideas within the coordination of health care. No, this doesn't mean you start taking medical advice from friends on Facebook (FB)![24] Instead, Healthy Circles enables patients to send self-gathered data to a Web portal that stores medical records, current meds and updated lab reports. Within this system, designated nurses, doctors, pharmacists, etc. can "stay on the same page" with any given patient without violating HIPPA![25]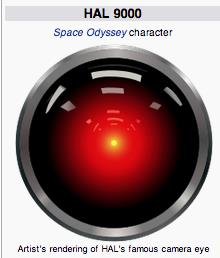 NEURO-INSPIRED CHIPS:
Anyone who remembers the HAL 9000 artificial intelligence (AI) computer from the classic movie, 2001: A Space Odyssey[26] will appreciate the fact that QCOM is on the verge of joining with strategic partners in designing and building chips that mimic the neural structure and processing systems of the human brain!
Today's computer systems are built in accordance with the long established Von Neumann Architecture – depending upon separate units that store information and process that information sequentially.  In sharp contrast, the human brain processes information in a distributed, parallel manner!
QCOM has already developed software tools that simulate brain activity – modeled in accord with the processing done by human brain neurons that convey information through precisely timed spikes. With this software, QCOM has been creating a class of processors calls Neural Processing Units (NPUs). It expects/projects NPUs that are parallel, reprogrammable, and capable of cognitive tasks:[27] According to QCOM CTO, Matt Grob: "We want to make it easier for researchers to make a part of the human brain."[28]
As a part of this effort, QCOM has been working with Brain Corp[29] to create hardware and algorithms that mimic human brain processing – calling the program Zeroth[30].  Here is a vision of what will lies in the future, offered by Grob: "What is new now is the ability to drop down large numbers of these structures on silicon. The tools we can create are very sophisticated. The promise of this is a kind of machine that can learn, and be programmed without software – be programmed by the way you teach your kid!"
GEO-FENCES:
This technology is growing in the range of its applications. It combines GPS with telematics software and hardware to enable the user to designate (draw) zones around places of residence, work, customer sites, secure facilities, etc. for use within whatever "system" the user needs. The "Geo-fence" can be a predefined set of boundaries or it may be generated dynamically (eg. a particular radius around a store).
Whenever a "location-aware device" (connected to a location-based service)(LBS) crosses into or out of an area marked by a Geo-fence, one or both of two things can happen: 1) the user who created the Geo-fence is notified of the event, 2) the owner/user of the location-aware device (eg. smartphone) is sent one or more messages containing germane information.[31]
Some of the simpler applications of this technology include child location (to warn if a child has strayed beyond a "boundary"), pet location (same thing), transmission of an alert if a vehicle is stolen, or notifying a forest ranger when wildlife has strayed into farmland.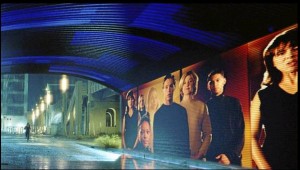 GIMBAL: [32]
As my wife and daughter passed through the massive Woodfield Chicago suburban shopping mall last weekend, there were several posted signs offering mall "coupons" when you texted a certain number. The Gimbal platform serves the purpose of automating the offering/transmission of such information. Rightly or wrongly, I liken Gimbal to the scenes from "Minority Report" in which Tom Cruise is bombarded with messages targeted specifically to him!![33] (see an image from movie to the left) .
The system is gently referred to as a "Contextual Awareness" technology. I suggest it is the next step in the growth of "Big Brother" [34]. If you are put off by the specter of the NSA eavesdropping on your conversations or email, then consider the fact that properly-equipped retailers can record when you are in the mall, what you are shopping for, how long you stay, etc.!!!
There are countless tech system/products that can do bits and pieces of the above, but Gimbal is a rather all-encompassing platform – incorporating "interest sensing", geofencing, proximity detection, communication, analytics and privacy protection![35]
The good news is that a Gimbal platform can enable vendors to do the following:[36]
+ While Carrie tries on a coat at Burberry, her smartphone receives a digital coupon for a matching pair of shoes from her favorite shoe brand.[37]
+ As Will sits in the stands at a Chicago Blackhawks (Stanley Cup winners!) hockey game, his phone receives notice that he can get a free Budweiser if he buys himself and his date a sandwich at the concession stand nearest him.
+ While Linda walks through the Salem Witch Museum, the museum sends to her phone some multimedia content – describing the particular historical artifact she is viewing and suggesting other such objects of interest in the museum.[38]
+ As Tom passes by a digital kiosk within the Galway (Eire) airport, his phone receives signage and advertisements personalized in accordance with his profile.[39]
See the material at these links for more information:
http://qualcomm.com/media/videos/gimbal-use-case-scenarios
http://www.qualcomm.com/sites/default/files/document/files/advantages_of_gimbal_white_paper.pdf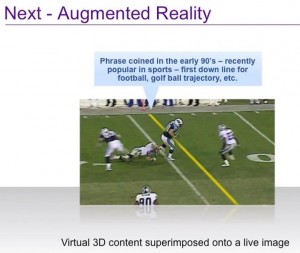 AUGMENTED REALITY:
If you are a NFL sports fan, you see "AR" every week – that yellow marking on the TV screen that designates the yard line which the offense needs to reach or exceed in order to get a "first down". It has become such a natural part of watching a NFL game that it is easy to forget that the yellow line is only a virtual yard line marker – it does not exist on the field!
Augmented Reality has way too many applications to touch upon very many of them here – much less all of them. Let's just say that, from tourism to education (and beyond) Augmented Reality can be a powerful tool.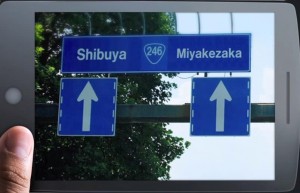 For example, let's say you are driving in Japan and need to find the road to Shibuya… but the city names on the blue road sign overhead appear only in Japanese characters!  You are in deep trouble… unless your smart phone has Augmented Reality! Just ask your passenger (navigator) hold up your smartphone to view that sign and (magically) the phone screen translates the road sign for you!
Or imagine you are walking up a street in a strange city and need to find a restaurant you and your companions can all agree upon.  Hold up your smartphone and suddenly a world of information pops onto your screen!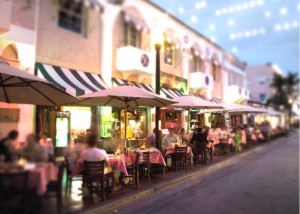 Here are some cool augmented reality resources:[40]
1) Education: http://www.qualcomm.com/media/videos/augmented-reality-enhance-education-san-diego
2) Many of these technologies can be used to enhance life within emerging market countries… from education in the less accessible western regions of China, elder care (here or overseas), HIV/AIDS in Africa, health care in Peru (or anywhere), and even economic endeavors such as fishing:


3) Overall: http://www.qualcomm.com/research/projects/augmented-reality
4) The future of Augmented Reality: http://www.youtube.com/watch?v=tnRJaHZH9lo
Finally, for "extra credit", you can view this video presenting a dialogue between Irwin Jacobs and Venture Capitalist Bill Stensrud (Juniper Networks) on the "Future of Technology":https://www.youtube.com/watch?v=3TTYAx0WaOs
If nothing else, by now you should have gleaned a much greater understanding of the full significance of the following chart, with which we began Part I of our QCOM article!!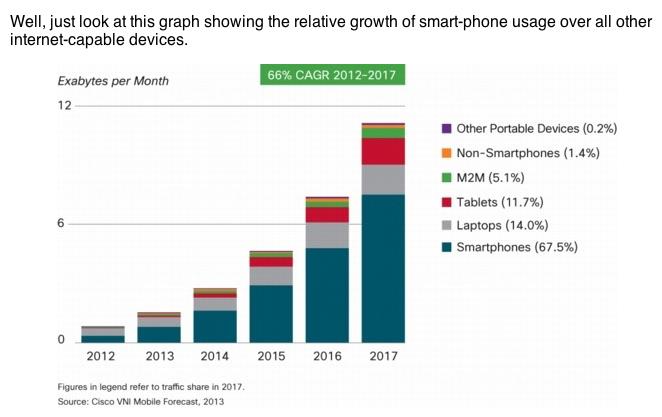 INVESTOR TAKEAWAY: I hope you have noticed that most of my references, footnotes, etc. have their source from within the Qualcomm website. I am impressed that QCOM has placed a priority upon technology education and insights for consumers, students, shareholders, etc.
I am also impressed that QCOM has not (at least yet) become so "comfortable" that it is resting on past laurels. History has shown us that one of the quickest and surest ways for a tech company to wither and die is to become "satisfied" or overly confident. Corporate history is littered with the names of formerly solid tech companies that lost their "hunger" for innovation and new achievements! I have the sense that QCOM management continues to model a vision that insists upon never-ending innovation… and an investor can never truly quantify the value of such leadership!
Surely by now, everyone[41] is familiar with Warren Buffett's investment rules:
"Rule No. 1: Never Lose Money.
Rule No. 2: Never Forget Rule No. 1."
I would suggest parallel "rules" for technology companies:
Rule Number One: Never let up on the process of innovation!
Rule Number Two: Never forget Rule Number One!
As an overly simple example, most of what I have read about the Microsoft Surface Tablet has impressed me. I had it on my "radar" to buy once bugs were out and a second iteration of tablet was released. In that spirit, while I trekked through the Chicago Loop yesterday with Carrie and Will, we stopped in at the big "Microsoft Store" on Michigan Avenue to test them out. Based on our experience, the Surface is no longer on my list. There are so many things that Microsoft (MSFT) could have done with the new X-box (we saw it demonstrated by a young man who knew less about it than my son and did not own one) and the Surface that are simply not reflected in the devices because of the segmented, isolated way within which the systems were designed (ie. no ongoing "big picture" coordination between platforms due to separate "turf" boundaries). And go figure why the lower cost Surface includes Microsoft Office but the upgraded "pro" version does not!! All three of us walked away unimpressed, wishing we had gone into the Apple Store instead (which is always instructive and enjoyable).
MSFT is a fantastic "cash cow" and will continue to be so for years to come, but somewhere along the way, "innovation" became secondary to too many other things!  That is truly unfortunate, because MSFT should be trying very hard to excite young adults in the 20-35 age demographic group – not turn them off (as were my two young adults).[42]
Let's all hope that QCOM never lapses into the rut that has evidently gripped MSFT! I have a sense that Irwin Jacobs and his son, Paul, would both totally agree with my "Rules" for technology companies:
Rule Number One: Never let up on the process of innovation!
Rule Number Two: Never forget Rule Number One!
DISCLOSURE: I confess to being one of those persons who read the Sunday "Comics" section of the Chicago Tribune every week[43] and never imagined that Dick Tracy's watch/radio would ever become "real" in my lifetime!  It has been a real "trip" to have a front row seat to witness the mind-blowing (and sometimes explosive) unfolding of the technology that has driven "the Information Age"!
I have owned stock and/or options in QCOM, INTC, MSFT, AAPL, etc. and currently own them through mutual funds and ETFs.  However, as always, nothing in this article is intended as a recommendation to buy or sell anything. Always consult with your financial advisor regarding changes in your portfolio – either subtractions or additions.
Submitted by Thomas Petty MBA CFP
---
[1] Although I do confess that there are weeks when I am convinced, no matter which stock I buy, it will inevitably move downward as soon as my order is filled!
[2] I say "some" because it would take a book to lay it all out!
[3] To my surprise and embarrassment
[4] Each of them uses QCOM chipsets quite a bit during each day…
[5] I was appalled.
[6] And this commendation comes from a guy who has degrees in a BA in Political Sociology, a MDiv in Theology, a MBA in Accounting/Finance, and is a Certified Financial Planner… nary a tech or engineering course within any of them!!
[7] A much fuller company intro can be had by reading Part I: https://www.markettamer.com/blog/what-stock-powers-the-mobile-trend
[8] Master of Science
[9] Doctor of Science
[10] That is, he declined to rely on his father's wealth and reputation and reached for success "the old-fashioned way" – he earned it!
[11] This refers to about forty American billionaires who have agreed to pledge 50 percent or more of their wealth to philanthropic causes.
[12] In the late 1960's and 1970's.
[13] According to the W.P. Carey School of Business: http://knowwpcarey.com/article.cfm?cid=25&aid=1163
[14] One of his 14 patents.
[15] I urge you to read the entire article at http://www.siliconinvestor.com/readmsg.aspx?msgid=29112823
[16] To borrow a not so eloquent, but surely infamous, phrase from the U.S. vice president: "It was a big f—ing deal!"
[17] Sometimes "prickly"
[18] It is the usual higher education academic "formal, polite, and flowery introduction" – hardly illuminating. [Besides which, the president, Ronald J. Daniels, most closely resembles an eager and earnest college senior trying to make a good impression rather than the CEO of a major U.S. university!]
[19] The only thing you will miss is conclusive evidence that, contrary to the experience and opinion of many, electrical engineers can have a sense of humor and appreciate the fine arts!!
[20] Clearly, that far undershoots the metrics for the average "Valley Girl"!
[21] http://propellerhealth.com/
[22] The Center for Disease Control reports that as much as half of all meds are not taken in accordance with prescribed dosage/frequency.
[23] Obviously including Wi-Fi, Bluetooth, and the USB port.
[24] Can you imagine medical advice from Miley Cyrus or Robin Thicke – that would be living dangerously!
[25] That is very cool!
[26] HAL 9000 is the AI computer system that controlled the spaceship's entire mechanical and environmental system. It is also the main antagonist in the movie – killing one astronaut and taking over the ship.  became such a "presence" in the movie that the American Film Institute named it the 13th greatest villain in American film!
[27] Such as prediction and classification.
[28] Quote from Qualcomm CTO, Matt Grob.
[29] A separate company in which QCOM has invested.
[30] The term is derived from Isaac Asimov's "Zeroth Law of Robotics"… specifying that robots are prohibited from harming humanity! Asimov, of course, is an internationally known science fiction author.
[31] If a smartphone has entered the Geo-fence of a secure area, the notification can be a warning; if the phone has crossed into the Geo-fence of a retail location, the message can announce sales, special offers, or coupons that are available.
[32] No friends, this is not the name of the New York retailer that competed with Macy's in the beloved Christmas movie: "Miracle on 34th Street".
[33] Cruise is greeted by a holographic greeter at "The Gap" and is bombarded by electronic billboards personalized for him by scanning his retinas.
[34] Reference from the futuristic novel, 1984… more and more of which is becoming reality each year!
[35] I confess that I initially inserted "hah hah" after "privacy settings. I then thought better of it. However, I am looking forward to the day when Larry Page and Mark Zuckerberg finally publicly "own up" to the reality that any trust we place in "privacy settings" is likely terribly naïve!!
[36] Studies in Japan revealed that users were three times more likely to click through and respond to contextually aware notifications/offers (compared to non-contextualized offers).
[37] On second thought, having just been dragged into the Chicago flagship store of this chain and seen the prices and business model, I suspect that "couponing" may not be a marketing tool utilized by the store. Price didn't seem to be any object at all to its customers!
[38] Of course, the museum also adds the wish that the visitor will not discover that a long ago ancestor was convicted in Salem of witchcraft!
[39] Mysteriously, most of the ads tout the ambience and fabulous menu choices available at various local pubs, including a coupon for a shot of Midleton Irish Whiskey
[40] As a Postscript (actually, it would be a Pre-Script), during the 1960's and early 70's as I wended my way through college, we had our own very low-tech version of augmented reality… usually incorporating rock and roll music. Here is a taste of such augmented reality… https://www.youtube.com/watch?v=R3rnxQBizoU
I strongly suggest that you turn your speakers up and give yourself the "How many of these images can I identify" test. If you can't get at least half of them, you definitely need to brush up on American history! Enjoy!
[41] "and their monkey"
[42] Carrie is even desperately in need of a new laptop of tablet, so a motivated potential customer walked out the door, convinced not to come back![43] In the era when "Sunday Comics" were "full size", eight pages long, with magnificent color and type set.  They included such classics as "Dennis the Menace", "Little Orphan Annie", "Blondie", "Pogo", and "Dick Tracy"… and later, the genesis of "Doonesbury". As I read "Dick Tracy" – I just couldn't imagine that I would ever live long enough to have a watch through which I could communicate with folks far away. That illustrates what a lack of "tech vision" I had!!  I suspect that contributes significantly to the degree to which I find the story of Qualcomm so fascinating!
Related Posts
Here's Why Arcus Biosciences Stock Gained as Much as 15.9% Today
Merck's Keytruda Better Than Chemotherapy for Certain Colon Cancers
Should You Buy Hertz Stock Now?