Can a classic rock and roll song doom a namesake restaurant chain to a lingering, painful death?  Of course not, silly!
However, two corporate developments revealed within separate U.S. Securities Exchange Commission (SEC) filings on Monday, October 28th grabbed my full attention immediately because they (although hardly unprecedented) conveyed a startlingly negative tone – the very tone that corporate PR professionals are paid high salaries to avoid![1]
These two startling announcements involved the Maryville, Tennessee restaurant chain RUBY TUESDAY (RT) – a casual dining chain that was founded over 40 years ago by Sandy Beall, who ran the company as CEO and Chairman until December 1, 2012, when the Chief Marketing Officer at (competitor) Darden Restaurants, James. J. Buettgen (aka "J.J.") replaced Beall after a six month national search. The Chairman of the RT Board at the time of the national CEO search was an intriguing young man from Texas named Matthew A. Drapkin, J.D.[2] (aka "Matt"). One could presume that Matt thought hiring J.J. was a sound strategic choice.[3]
To review briefly the setting within which Beall decided to retire (he announced in midyear of 2012), Mr. Beall was between the fourth and fifth year of an effort to reshape, reinvigorate the chain's "image".[4]  The strategy had not "flopped", but it had not clearly "caught on" either.  Price charts you'll see later show a big "blip" downward in July of 2012, but the 1st Q (2013) results (reported in October 2012) offered some encouragement:
a)    For the first time in seven quarters, company owned RT stores reported a same store sales increase (1.9%) (even with reduced couponing);
b)    Total revenue increased by 1% to $332 million;
c)    Earnings per share (EPS) was the same $0.05/share as one year earlier;
On the downside, store traffic was relatively flat and average check size was just marginally higher. In addition, the first portion of "CEO Search" costs detracted from comprehensive earnings (which fell to $0.04/share). Mr. Beall, who had poured his life into RT from the beginning, was upbeat with analysts (his final earnings call): "We have much work ahead of us. We know that. We also know our business is stable!"[5]  Then Beall tried to encourage and energize "his "team", upon whom he had depended for many years (they were his lieutenants, and even "family"): "I would like to thank all of our 36,000 team members, all the people who have helped, who have been through all the challenges of the last five years as we figured out how to make this brand stronger and how to keep it rolling for another 20, 30, hopefully 40 years and create value for our shareholders. Ruby Tuesday has a lot of opportunities and it's a solid brand!"[6]
Obviously, someone within the RT Board thought that RT's biggest need was stronger marketing, since the board choose a CEO whose professional life had been focused upon marketing (not finance, not development, not administration). The Board also evidently saw value in anointing someone thoroughly trained in the ways and strategies of Darden Restaurants (DRI) – the $6.7 billion mega-chain that includes Olive Garden, Red Lobster, Bahama Breeze, LongHorn Steakhouse, Capital Grille, Seasons 3, Eddie V's, and Yardhouse.
Taking over on December 3 of 2012, Mr. Buettgen immediately began to reshape RT – something that was hardly surprising. Buettgen started that reshaping work at the management level[7]. Here is a list of the top-level changes I found by scouring Nation's Restaurant News (nrn.com). [Note that the first date is definitely "out of order" (ie. prior to Buettgen's arrival) but the development will (as you'll see) have relevance later]:
April 23, 2012: RT named Michael Moore as Executive Vice President and CFO!  This was prompted by the fact that long-time RT CFO, Marguerite Duffy, had earlier announced her retirement effective June 5, 2012.  Three details are of special interest regarding Moore's hire: 1) Mr. Moore is a veteran CFO, having served several decades in a number of different financial executive roles; however, none of those companies was engaged in the restaurant business; 2) Mr. Moore's LinkedIn still lists Charlotte, N.C. as his home (a 4 hour drive to RT headquarters); 3) RT's employment contract with Moore includes a "Separation Agreement" that is to continue until April 29, 2015![8]
February 2013: Buettgen's hand was seen at work when Executive Vice President and Chief Branding Officer, Daniel P. Dillon, left RT – no reference was given to Dillon's professional destination (ie. he was cut loose).
In the same month, Buettgen faced analysts in his "first" earnings report conference call. J.J. characterized his reaction to same-store sales (-2.8% at company-owned spots and -1.7% for franchisees) as "disappointed". Interestingly, he announced the decision to reverse Beall's move up the restaurant spectrum (to "upscale casual") and refocus the brand back to its long-lived "casual dining" heritage. In a statement falling just shy of throwing Beall "under the bus", Buettgen pronounced that RT: "may have unintentionally overshot the runway" when it tried to reposition RT into the "upscale casual" category!![9]  So, with regard to Mr. Beall and his strategy, in the words of the company's namesake song: "Yesterday don't matter if it's gone!"
In that same call, J.J. blamed the poor earnings report on "declining consumer sentiment", the hike in payroll taxes, bad weather, and the delayed processing of tax returns![10]
Early May, 2013: Three key positions were filled with Buettgen's chosen executives!
a)    Jeffrey C. Wood was named Senior Vice President and Chief Development Officer! Previously, Wood held real estate development positions at Qdoba Restaurant Corp. (Chief Development Officer), and Dave & Busters, Inc., Brinker International, and T.G.I. Friday's. At RT, he will be charged with supporting RT's repositioning back to "classic casual", developing design elements, and developing real estate strategies for both Ruby Tuesday and Lime Fresh Mexican Grill!

b)    Jill Golder was named Senior Vice President Finance. Previously, she was CFO at Cooper Hawk Winery & Restaurants (very upscale), and held several finance positions at (you guessed it) Darden Restaurants.
c)    Mark Bibby was named Vice President of Culinary and Beverage, Executive Chef.
Previously, he held the same position at Smokey Bones Restaurants. He has more than 35 years of restaurant experience.
At the time of these announcements, Mr. Buettgen released this statement: "Their skills, in tandem with our existing leadership team, will help facilitate our plans to reposition Ruby Tuesday to a more lively and approachable brand position."[11]   But J.J. was not done!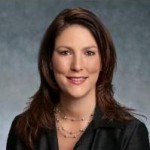 June 2013: By June 7th, J.J. had moved President Kimberly Grant out (see her photo to the left)[12].
RT announced that, as of June 10th, Todd Burrowes was serving as President, Ruby Tuesday Concept/Chief Operations Officer.
During the prior five years, Borrowes was Executive V.P. of Operations at (yes) Darden's LongHorn Steakhouse brand. Prior to that, he was regional director of operations at Corner Bakery Café and a vice president of operations at Saltgrass Steak House.
Buettgen buttressed the appointment with this statement: "Todd will be instrumental in leading our efforts to reposition the Ruby Tuesday brand, creating a more lively and approachable guest experience."
Based on Mr. Buettgen's first seven months as CEO, one might think that all Ruby Tuesday needs is to become more like Darden Restaurants (DRI)! Let's consider that for a moment. Here is a graph of the relative performance of RT and DRI during 2012 (reflecting Buettgen's service as Chief Marketing Officer at DRI):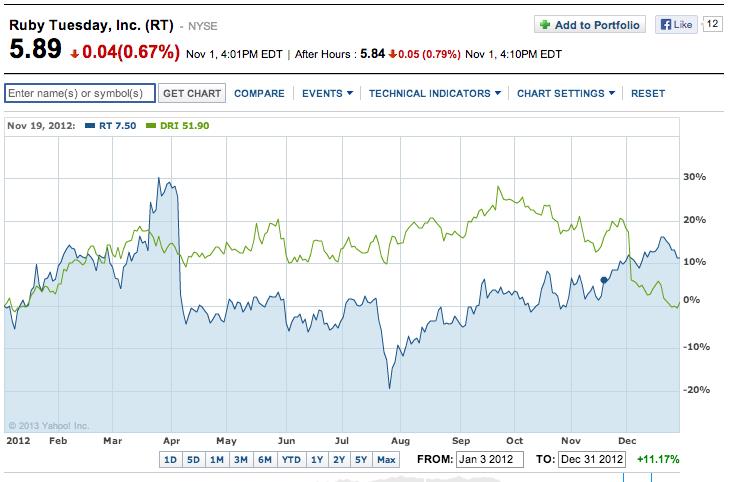 During the 2012 calendar year, DRI was flat while RT moved upward by 10%!
We know that the first RT earnings report in 2013 was hardly stellar. What happened in July? In a word, it was "BAD"! Revenue was down, same store sales were weak, and without "adjustments" RT lost $0.50/share!  That does not mean that Beall and Buettgen were in any way incompetent. They actually took some steps that, under different circumstances, held some promise:
1)    Over two years, RT paid down $45 million of debt;
2)    RT repurchased $30 million of its common stock shares;[13]
3)    To conserve capital (and energy) and intensify focus, RT sold off its non-core brands: Marlin & Rays, Wok Hay, and Truffles Grill.
However, when addressing analysts in July about the poor report, Buettgen reverted to attributing poor performance to: 1) a bad economy (really?); 2) increasing competition pressuring them through aggressive promotions; and 3) the 2012 Lime Fresh Mexican Grill acquisition was not performing in accordance with the original projections![14]
No matter Buettgen's excuses, RT share prices took a dive in July (see chart below contrasting RT and DRI through 2013: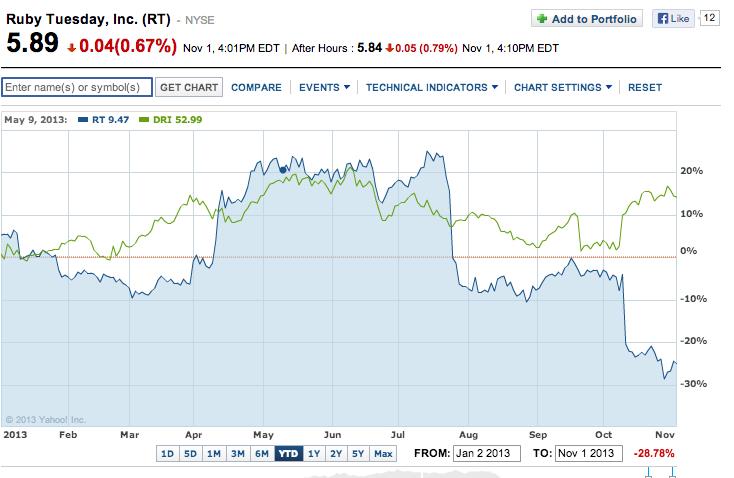 From its 2012 low (July 26, 2012) through July 15, 2013, RT leapt upward by almost 73%. However, because of that July earnings report, it crashed downward by July 30th (losing over 25%!).
It lost a bit more (almost 4%) in August before recovering by 11.5% at mid September (9/17).
If only these pesky little earnings reports would just go away! When the 1st Q (2014) results were revealed in late October, RT shares lost another 28.7% (from the 9/17 close).[15]   Here is a simplified summary of that report:
1)    Zacks had pegged "consensus" EPS at -$0.05/share; RT delivered -$0.26/share;
2)    Same store sales fell 11.4% (company-owned spots) and 8.4% (franchisees);
3)    RT repurchased $12.9 million of high yield bonds at a slight premium to par; it prepaid $9.9 million of mortgage debt (both positive!);
4)    RT attempted to reduce couponing, but had to re-implement it in order to lure customers into the slightly refashioned concept;
5)    RT opened three new company Lime Fresh stores and two Lime Fresh franchise locations (one is out of the U.S.!);
6)    Because it is in transition, RT declined to offer the usual forward looking "guidance" to Wall Street!
It does not require rocket science expertise to note the obvious near-term challenge facing RT – pulling more customers into an eatery going through the re-evolving of its concept (menu, etc.), each of whom will produce (on average) a lower average "check" total.  Therefore, comps over the next several quarters will be quite difficult.
With regard to Mr. Buettgen's analysis of results, let's see if we can guess his top "excuse". He identified:
1)    The failure of the economy to improve;
2)    Fewer TV ads in the quarter (and who decides that?);
3)    The challenges involved with creating a more "vibrant" atmosphere; they plan to introduce a new "music mix";
4)    The inherited RT is not a great place to "hang out" (example: the bar isn't set up to promote a "social atmosphere" and it is a tough spot to watch sports)[16]
Are you developing a sense of what dynamics are currently at work within RT? If you are, you still may not be prepared for this next development – the very one that inspired this story in the first place!  Here it is:
On Monday, October 28th, it was announced through a SEC filing that RT Board Chairman, Matthew (Matt) Drapkin resigned, effective immediately! (Drapkin is pictured below in the only photo I could find of him on the Internet; he is seated on the left, next to departing RT chairman/founder, Sandy Beall.)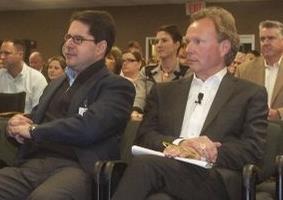 If one considers Drapkin's resume, and his rather speedy ascendancy within the RT Board ranks[17], as well as his youth (40), education (MBA and JD), and impressive range of financial/investment experience[18] (he founded his own firm, Becker Drapkin Management LP in 2009), this sudden, mysterious, unplanned, ungracious exit is a genuine anomaly! As we know, corporations prefer to project a positive image. Even when intra-board strife is brutal, public announcements inevitably endeavor to "spin" whatever changes have occurred as a matter of "spending more time with family", "opportunity to pursue other professional offers", "a way to resolve differing viewpoints on future strategies, but all parties express mutual respect for one another", etc.  In addition, in these instances, the company's board (and/or CEO) usually issues a public statement expressing "great appreciation for the hard work, commitment, and selfless service of our departing colleague".
The announcement on October 28th was not accompanied by any such attempt at spin, grace, or further explanation. As has become common within the "immediacy" of our Internet world, web profiles were abruptly edited. Here is Drapkin's:


And this is from the RT website:
The company website lists J.J. Buettgen as "Chairman of the Board"!  WOW!  CMO at Darden Restaurants in November of 2012; President of Ruby Tuesday on December 3, 2012; suddenly Chairman of the Board at Ruby Tuesday on October 28, 2013!  That is an impressively compacted "rise to the top!"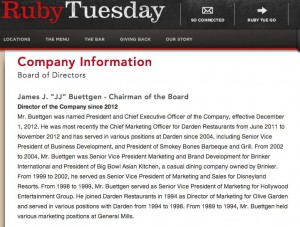 This is startling enough, correct?! However, it is not nearly the full story. Another SEC filing has revealed that Drapkin unloaded all of his RT shares on October 24th and 25th… in two big, separate orders. To satisfy your curiosity, the closing price of RT on 10/24 was $5.93 and on 10/25 $5.97. Volume on those days was five times normal!  So the very financially adept Mr. Drapkin sold all of his shares (1.45 million) at very close to the lowest price shares have been during the past several years!  I won't conjecture exactly what happened to prompt all of this activity.  However, I think I am safe in suggesting that whatever the issue was, it was big, and it made Mr. Drapkin want to "get out" as quickly as possible![19]  In the spirit of the company's namesake song, Drapkin was offering both it and the world a very emphatic: "Goodbye, Ruby Tuesday!"
If there was a stock market regulation that required a warning label on a stock similar to the type of warning labels on medicine and cigarettes, I invite you to imagine what "warning label" might be appropriate on Ruby Tuesday stock! I have decided to resist the temptation to add my own imagined warning label, in an effort to ensure that your imagination can "run free"!
Is RT a hopeless stock story? No! As is the case with so many companies that have a business model incorporating company-owned property, there is a significant "real property" asset base that accrues to each share of common stock. Indeed, part of the task of Buettgen and RT's CFO will be to "unlock" or "maximize" the value of that real estate in the years ahead! The relative importance of this part of RT's business success is a major reason behind my strong suspicion that Ms. Golder will replace Mr. Moore (see section on new officers above) before April of 2015.[20]
Before I offer an estimate of real estate asset value, allow me to offer a monumental caveat. The numbers I provide below[21] assume that any given property's value is considered under average (reasonable) business conditions. What this means is that, as RT manages to restore customer traffic to 2012 levels (or better), any/all its properties will command a much more solid offering price![22]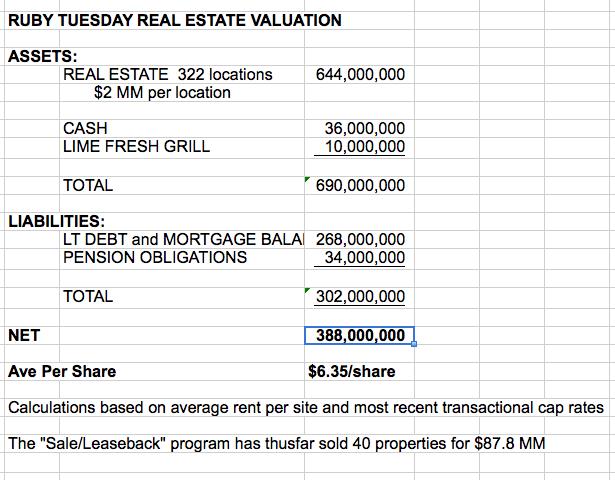 This "base value" provides RT shareholders with some longer-term comfort.  However (as pointed out in the caveats) these values are in no way guaranteed!  It is also helpful that management has been paying down debt.  However, we all know that Wall Street has all the patience of a four-year old just before Christmas. The general spirit projected by the Street just before and after any earnings report is – "we want earnings now"!
As he tries to get to sleep at night, Mr. Buettgen may have visions of "time" in his head – after all, he hasn't been in charge for even a full year yet. He still hopes he enjoys a "honeymoon"! However, I think it is fair to say that Wall Street will be looking for Mr. Buettgen to take the company books and "Paint It Black" very, very soon! Similarly, shareholders will be expecting Mr. Buettgen to take the current depressed stock price (and recent stock candlesticks) and "Paint It Black" as well!  As the months wear on from here, and the Street and shareholders look at RT earnings and candlesticks, if it appears as though Buettgen has "Let It Bleed", I can guarantee that Mr. Buettgen had best disabuse himself (and very quickly, at that) of any illusion that: "Time is on My Side!"  Wall Street and shareholders alike could all too easily be moved to say: "Goodbye, Ruby Tuesday!"
INVESTOR TAKEAWAY: It is fair to say that the "casual dining" space has been under pressure. You have already seen the chart for RT and DRI – neither one has been a wealth builder recently. However, Brinker International (EAT) (Chili's Bar and Grill; Maggiano's) has left both of them in its dust:
For reference, per YahooFinance.com, DRI sports a 4.3% yield and EAT a yield of 2.2% (sorry, RT fans!).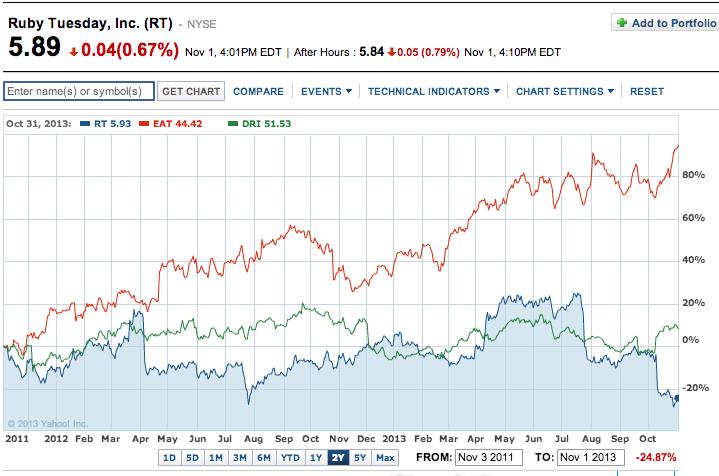 And for those who hunger and thirst for other eatery equities[23], Red Robin Gourmet Burgers (RRGB) and Bob Evans (BOBE) offer additional choices. In fact, as you see below, RRGB "lapped" EAT over the past two-year period, while BOBE nearly caught up with EAT recently.[24]
If you are willing to move "down" to the fast food space, here are two interesting charts.  First, McDonalds (MCD) vs RT One-year):
With apologies to McDonalds management, what this graph illustrates is the advantage of a "steadier" performer over time. Neither company has had a "good year" (MCD recently reported its first quarterly loss in… "forever"!). But during the past 12 months, MCD moved up 10% while RT moved down 20%.  More importantly, the (low) volatility level of MCD has been envied by RT shareholders over this period!
In addition, within that fast food space, if you wonder "where the beef is", it can definitely be found at Wendy's (WEN), easily lapping Burger King (BKW), MCD, and YUM Brands (YUM)[25].  WEN offers 2.3% yield; BKW 1.3%; MCD 3.3%; YUM 2.2%.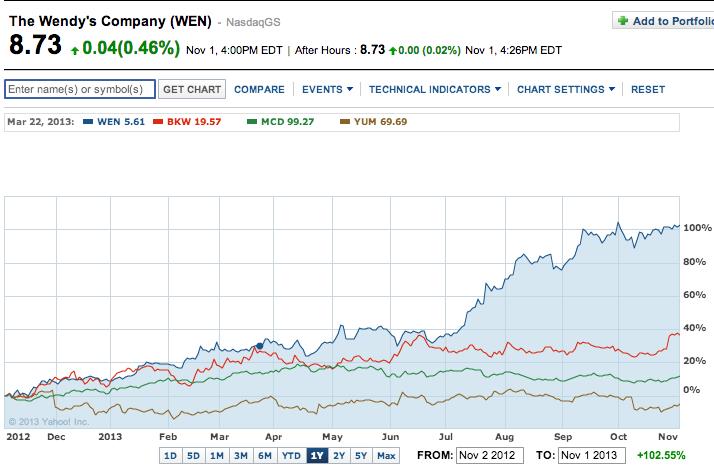 Moving back to RT, Mr. Buettgen will not soon be giving me a call to seek my advice, so the following advice to him has only rhetorical value:
1)    Sir, you need to start assuming "ownership" of the performance of RT. Blaming anything and everyone else except yourself and your team for weak performance has an extremely short half-life.
a.   Analysts are tiring of it;
b.   Shareholders are tired of it;
c.   It doesn't help your team members, employees, and franchisees that you keep evading stronger, surer analysis – ie. stop making "excuses" and start instituting strong game changers!
d.   Remember, "You Can't Always Get What You Want"… but you can redouble your efforts to turn RT around sooner than later!
2)    Forget about your "honeymoon". It's over. By the next earnings report, you'll have been CEO for over a year.
a.   The unexplained events of October 28th merely build upon and add to three quarters of earnings reports that have continued to worsen.
b.   As the lyrics of the name sake rock classic suggest:
"There's no time to lose", I heard her say
Catch your dreams before they slip away
Dying all the time
Lose your dreams and you will lose your mind
Ain't life unkind?
c. With all due respect, sir, if you don't turn things around soon, a whole lot of folks (customers/shareholders) will be singing: "Goodbye, Ruby Tuesday!"
As far as our readers are concerned, I implore you to not be overly captivated by the real estate asset value that appears to place some sort of "floor" on the per share value of RT.  I am not asking you to forget that figure – just don't depend upon it until Mr. Buettgen starts to show some positive results. History shows that a stock can move below "fair value" over extended periods of time when sentiment and performance are abysmal. The sudden departure of Mr. Drapkin only serves to add one more reason to be cautious about RT!
Finally, my friends, in all sincerity I offer the following suggestion:
If you were cursed to not be a "Baby Boomer" through the salad days of Rock and Roll…
If you missed Elvis' first appearance on the Ed Sullivan show…
If you were never blessed with the first-hand experience of watching, hearing, and feeling a James Brown or Janis Joplin take total charge of a sports arena full of falls…
If you never sat outside on Saturday afternoon with thousands of college kids in a university quad listening to an extremely young James Taylor (sporting a head absolutely chock full of jet black hair) singing "Fire and Rain"…
Then do yourself a great favor… broaden your cultural awareness… and grab a hold of as many old CD's or YouTube.com videos of the Rolling Stones singing "Ruby Tuesday" (http://www.youtube.com/watch?v=a00_tPLcE_g), "Gimme Shelter", "You Can't Always Get What You Want", etc. as you possibly can![26]
Yes, I'm sure you noticed references throughout this article to Rolling Stone song titles… but only when the context of the story brought to mind that particular Stones' title!
DISCLOSURE: The author does not currently own RT stock or any other eatery.  In the past he has owned MCD and YUM. Nothing in this article is intended as a recommendation to buy or sell anything. Always consult with your financial advisor regarding changes in your portfolio – either subtractions or additions.
Submitted by Thomas Petty MBA CFP
---
[1] And if such developments can't be "avoided", then the PR staff jumps into "full alert" mode and endeavors to overwhelm the financial media
[2] "J.D." stands for "Juris Doctor" and designates a professional degree which is the first graduate degree related to the study of law.
[3] As background for you, RT commands a modest $354 million market cap; during the past three months, average trading volume has been 637,375 shares/day.
[4] The financial crisis harmed RT as much, if not more, than other eateries, and given stagnate to falling numbers, and the entrance of new "casual dining" competitors, Beall decided to move the chain up one notch to "upscale casual" from "classic casual".
[5] Keep those sentences in mind, please!
[6] Remember this statement, too!
[7] To ensure that the management team was fully "Under My Thumb", J.J. told many existing team members "Get Off of My Cloud".
[8] If RT terminates Moore for any reason other than "cause" during this period, he will be paid one-year's base salary as "severance".
[9] Here is where you recall what Beall said in 2012 (footnotes 4 and 5!)
[10] Remember those excuses. They will recur… much as a certain administration spent years blaming bad economic numbers on the mess it inherited.
[11] Isn't that interesting?!  Reposition RT to a: "more lively and approachable brand"….
[12] Her LinkedIn profile indicates she is not currently holding a position.
[13] Alas, it would have been so much better to have used the $30 million to buyback shares at it's current, greatly reduced share price!!!!
[14] Lime Fresh Mexican Grill competes head on against Chipotle (CMG). In response to Buettgen's bellyaching, I am moved to respond: "Duh! CMG is formidable competition. Lime Fresh needs to be a long-term project!"
[15] Needless to say, that drop caused shareholders to experience their: "19th Nervous Breakdown!"
[16] Note to management: The Darden locations I have visited suffer the same problem!
[17] He became "Lead Director" during 2012, upon the retirement of a longtime board member. He became Chairman of the Board upon Beall's retirement on December 1, 2012.
[18] Investment Banking (Goldman Sachs); Head of Research and Private Equity (Enso Capital Mgt LLC); Sr. VP of Corporate Development (MacAndrews & Forbes Holdings Inc).
[19] Perhaps he was singing "Gimme Shelter"….
[20] Mr. Moore (CFO) has no experience in the restaurant industry; Ms. Golder does; and a major portion of Mr. Wood's (CDO) job description is the optimization of RT property!
[21] For which I owe a debt to Mr. Shaun Currie, CFA, in his article http://seekingalpha.com/article/1741592-ruby-tuesday-updating-the-story-after-quarterly-earnings
[22] The alternative (namely, that a location's business has declined) will make almost any potential buyer leery of making an offer, since part of a normal calculation of value is the likely future generation of revenue.  Any "distressed sale" will result in lower realized proceeds.
[23] Shameless puns entirely intended.
[24] BOBE has 2.2% yield; RRGB yield "N/A".
[25] For the one or two who don't know, YUM owns Kentucky Fried Chicken, Pizza Hut, Taco Bell.
[26] Do not waste your time with recent versions of these songs. Always go back to the "original" soundtracks!!
Related Posts
Tim Hortons Opening 400 Locations in Canada to Truck Drivers
Why Best Buy Stock Lost 30% in March
Etsy Says DIY Masks Will Help Conserve Medical Masks for Doctors