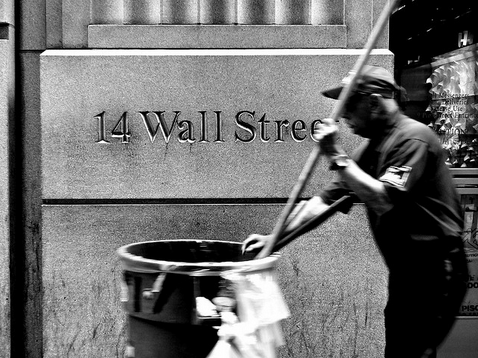 During the past few days I have read quite a bit about a particular company. As I reflected upon that company today, I became overcome by memories of Monty Hall! 
Monty, of course, was the beloved emcee of the long-running (over 23 years) television game show: "Let's Make A Deal".  His success spanned such a lengthy period that his "look" became transformed from that of a used car salesman [below: brown suit]
to someone who would feel completely at home in the Chairman's Suite at Goldman Sachs (GS) [below: black suit].
Unfortunately, in our "what have you done for me lately" world, I am guessing that most folks under the age of 28 don't recall much of anything about Monty…[1], with the exception of those young adults who are so thoroughly engrossed in probability puzzles (or attended a hip business school!) that they are familiar with the "Monty Hall Problem" [honest, I'm not making this up; see the link below.[2]] 
So, my friends, just find yourself a comfortable lounge chair, kick back, and let's play this adaptation of "Let's Make A Deal!"
Behind Door #1, I am offering you a company that boasts these facts:
1) It operates within the Internet Services space;
2) Its customer base has been expanding at about 13% per year and reached about 11.6 million customers during 2013;
3) Its growing base of customers is "loyal"; 85% or so of the company's revenue comes from customers who were also with the company the year before (producing an annuity-like stream of future revenue);
4) Currently, about 26% of its customers are located within international markets – the largest number being in Canada, India and the U.K.;
 5) During this past year, the firm's revenues grew by 24%;
6) During 2013, the company was credited by an industry authority as having four times as much of its "product" in the market as its closest competitor;
So remember, friends, that company is behind Door #1!
Moving on to Door #2. This company includes the following within its description:
1) The founder and Chairman is a 30-year veteran in the Technology/Software space, having sold his first company to a large U.S. firm back in 1994.  Soon thereafter he founded this company, which he describes as…
2) "…The world's largest technology provider dedicated to small businesses";
 3) It sponsors the OpenStack Foundation, a global community of developers who collaborate on Cloud Architecture and an open source Cloud Operating System. [This is a key step in the company's strategy to invest in the most scalable, simple-to-implement and feature-rich "Cloud Technology".
4) Realizing that the U.S. now includes only 11% of global online users, the company has expanded into Latin America, and is currently growing across a wider portion of Europe. The result is that the firm's "product footprint" now spans 42 markets, 44 currencies, and 17 languages;
5) That said, there is still considerable room for growth in the U.S. market – where only half of all existing small businesses currently make use of what this company offers!
6) The company has developed a broad awareness of its corporate name and logo through the use of commercials with "buzz" that carry an extended "half life" (through talk radio and the press).
That sums up your opportunity to buy the company behind Door #2!
Finally, just to complicate your decision-making, here is a description of the company that lies behind Door #3:
1) The company has existed since 1997 and became the market leader in its space by 2005;
2) Annual sales finally exceeded $1 billion during 2013! 
3) The firm filed for an IPO in 2006, but withdrew the offering because the "indicated price" that was projected fell short of management expectations; 
4) Losses are shrinking: from $279.1 million in 2012 down to $199.9 million in 2013;
5) The company carries $133 million in cash and cash equivalents;
6) Current total indebtedness is $1.5 billion;
That summarizes the company behind Door #3!
So, my friends, in which company do you want to own a stake?  The company behind Doors #1, #2, or #3?
It appears that the poll among the first ten readers to respond indicates these preferences: 
Door #1     4
Door #2     5
Door #3     1    [Don't be disgusted! The respondent stipulated that the stock price had to be at the bottom of its                                          long term range.]
OK… now that we've channeled Monty Hall, I have a confession to make. The company descriptions provided for you above… tied to Doors #1, #2, and #3…  were each for the very same company:  GoDaddy.  If your first thought is: "How can all three descriptions 'fit' GoDaddy? It holds a share of the market that is four times greater than its nearest competitor, and it still loses money?  85% of it customers renew each year, and it's revenues are growing at a 24% rate, but it only holds $135 million in cash? Really?  They have sure spent a ton on Super Bowl ads during the past 9 years[3]!!"
What was it that prompted my focus on GoDaddy? During the second week of June, the company announced the filing of a S-1 Form with the Securities and Exchange Commission – indicating that GoDaddy has once again started the ball rolling toward an IPO!  Obviously, no date has been chosen yet, and although the filing refers to a figure of $100 million, that is just an arbitrary ("placeholder") number that will be replaced by an actual number once its underwriters have projected a realistic value for the IPO and an optimum numbers of shares to be offered!
Quite frankly, friends, the more I read about this company, its current financials, and its corporate structure, the more incredulous I became!  I am not sure that even the "used car salesman" version of Monty Hall could bring himself to push anyone into buying this company!
Let's take a closer look at GoDaddy:
Originally known as Jomax Technologies, the company was founded by Robert (Bob) Parsons back in 1997.
Parsons hailed from the Baltimore, Maryland area, and graduated (with honors) from the University of Baltimore in 1975 – earning a degree in Accounting. Parsons was restless (as most entrepreneurs are) and began spending evenings and weekends in Cedar Rapids, Iowa (where he was employed) developing his own home accounting software program. Those efforts resulted in MoneyCounts – a product he sold out of his house (his only "staff member" was his wife, Martha) until it became so successful that he quit his day job to found Parsons Technology 
In a masterstroke of marketing on the basis of the inexorable principles of Economics 101 – Parsons discovered that the price point at which his product became fabulously successful was $12.[4]  One natural consequence of that marketing strategy was that churches near and far began using Money Counts to maintain the church's accounting records! Therefore, holding an exponentially growing database on U.S. churches, Parsons Technology soon leveraged that into an expanding product line that included (what was then) an amazing Scripture Search program named QuickVerse and a membership management system[5] called Membership Plus[6].
Given the company's amazing success, Parsons was able to sell it to Intuit (INTU) and "retire" just ten years after he founded it – for a tidy $64 million.
However, by 1997, Parsons became restless again, deciding to found Jomax Technologies – focusing upon the Internet domain registrar business, and (soon) Web hosting.
At this point, a natural question would be: "Jomax Technologies" isn't a bad name for an Internet Services company. How did it get changed to "GoDaddy". The answer is both extremely simple and somewhat confounding (the account is taken from Wikipedia): 
In 1999, a group of employees at Jomax Technologies[7] were brainstorming and decided to change the company name. An employee said, "How about Big Daddy?" However, the domain name had already been purchased. Parsons replied: "How about Go Daddy?" The name was available, so he bought it. Parsons said the company stuck with the name because it made people smile and remember it."[8]
I think it is fair to say that, since its first Super Bowl ad in 2005, the greatest "buzz" surrounding GoDaddy has been closely tied to both Danica Patrick[9] and less than fully clothed females.[10]  In fact, to be perfectly candid, if anyone had asked me one year ago in which business GoDaddy was involved, I would have guessed: "Either auto parts, auto repair, or automotive technology." That is the conclusion to which I would have come based upon the fact that (seemingly) Ms. Patrick is the "face" of its branding[11] and the commercials feature any number of shapely females reminiscent of the "pin-up calendars" seen in the auto repair bays across the nation.
Interestingly, it appears that this same type of insight finally dawned upon the marketing executives at GoDaddy during 2013 – since its marketing efforts made an abrupt transformations by September, shifting from Danica Patrick to Jean-Claude Van Damme (who is the first-ever male lead in a GoDaddy commercial).[12] The key quote related to this strategy shift comes from the GoDaddy VP of Public Relations, who observed: "We want to be memorable, but gear it more toward what we do and who we do it for." [Author comment: "After 9 years of scantily clad females, you think its finally time to focus on what you do?!"]
Moving on from brand identity to the much more important issue of GoDaddy financial history and its current metrics, the GoDaddy "story" takes on a much more "mixed" texture that you may have sensed in our "Let's Make A Deal" Exercise.
By April of 2005, GoDaddy had risen to the top of its industry space in terms of market share: 1) It became the largest ICANN-accredited registrar on the Internet; 2) It surpassed the prior industry leader (Network Solutions) with regard to the total number of registered domain names.
Just one year later, naturally trying to take advantage of its growing market presence and power, GoDaddy initiated an IPO filing.  However, the subsequent feedback from the consultants upon which GoDaddy depended indicated that "the Market" was not willing to value the company nearly as high as Parsons and his team had expected. Therefore, the IPO was cancelled.  That decision to turn its back on a fresh infusion of capital may or may not have been a mistake, as we will soon learn. However, we will never know for sure if proceeding with the IPO could have resulted in a smoother transition through the coming Financial Crisis 
On the surface, GoDaddy kept its head above water during the abysmal 2007-10 period. It enjoyed a full-year profit of $14.6 million during 2009 [it has not seen a yearly profit since then] on total revenue of $610.3 million. The year 2010 witnessed a modest loss; however, things went downhill from there. 
As the year 2011 wound down, Persons and his team realized that GoDaddy desperately needed a fresh infusion of financing. They sorted through various options and finally settled upon selling 70% of the company to a group of three private-equity firms[13]: 1) Kohlberg Kravis Roberts; 2) Silver Lake[14]; and Technology Crossover Ventures.  The price paid (collectively) by the three firms was $2.33 billion [including just $881.7 million in cash]. By the end of 2011, Parsons had stepped down as CEO, but remained Chairman and held most of the remaining 30% of GoDaddy stock.
What impact did the big buyout have on GoDaddy?  Perhaps the most significant impact was the requirement to absorb huge annual amortization and depreciation expenses!  The magnitude of those expenses served to overwhelm the impressive successes it had managed to achieve, including:
1) It  acquired a number of companies that hold the promise of strategic synergies within GoDaddy's total business network: Outright (2012), Locu (2013), Afternic (2013), SmartName (2013), NameFind (2013), Media Temple (2013);
2) In 2013, GoDaddy exceeded the 55 million thresh hold of domain names under management;
3) They became the largest ICANN-accredited domain registrar in the world – with four times the marketshare of the closest competitor; 
4) The firm reports that its customer base has been growing approximately 13% annually, reaching 11.6 customers in 2013;
5) In April, it announced the launch of business in 21 new markets and 14 new languages (including France, Germany, Italy, Norway, Poland, Russia, etc.).
6) That launch expands the company's global footprint to 42 markets, 44 currencies, and 17 languages; 
7) The company reports that 26% of customers are located overseas; 
8) During 2013, the company broke the $1 billion total sales thresh hold – for the first time ever![15]
9) First quarter revenue for 2014 ($320 million) reflected a 22.14% increase vis-à-vis the first quarter of 2013.[16]
Contrast all of that exciting news with the following data: 
1) The company showed a GAAP[17] loss for FY 2012 of $279.1 million;
2) The loss narrowed during FY 2013 to $199.9 million;
3) The company currently has $133 million in cash;
4) The company carries $1.5 billion in total debt.[18]
5) Immediately prior to the SEC IPO Filing, GoDaddy made a $350 million payment to its investors.[19]
Let's pause for a moment and reflect upon all we have reviewed thus far.  There is no denying that GoDaddy presents a fascinating story – a real mix of elements. Some of them can be quite enticing; others are clearly flashing yellow lights warning investors to be very cautious! 
But there is one more "layer" to add to this story.  The S-1 Form filed with the SEC is an amazing document!  For the experienced reader, the narrative and data provided within that filing make it abundantly clear that the GoDaddy management team feels that it is such a special case that a totally different analytical framework is required to properly understand and evaluate the company.  Let me illustrate:
1) BOOKINGS versus REVENUE: GoDaddy receives money from customers upfront for each two-   year contract.
GAAP requires that company accountants spread that revenue stream over the 24-month period of the contract;
GoDaddy is convinced that, for its business, "Bookings" is an ever so much more accurate metric!  In other words, it prefers to recognize every dime of cash receipts received during any given fiscal year.
During 2013, "Bookings" totaled $1.4 billion; while Revenue was just $1.13 billion.
However, there is a complication!  Unlike the sign in the thrift store that says, "All sales are final", in the GoDaddy world, some sales become "returned" later on.
Specifically, GoDaddy paid out $96.1 million in refunds during 2013 
2)    Adjusted EBITDA versus GAAP EBITDA[20]
With the huge Depreciation and Amortization expenses borne by GoDaddy each year, no one can begrudge the company their right to tout EBITDA.
However, according to GoDaddy management, normal, accepted EBITDA is not adequate in the case of GoDaddy!! Heavens no!
In the filing, GoDaddy  discloses that their "adjusted" EBITDA adds back (in addition to ITDA), "share-based or unit-based compensation expense, change in deferred revenue, change in prepaid and accrued registry costs, acquisition and sponsor-related costs and a non-recurring reserve for sales taxes"!  That is a mouthful!
What was the result? According to the filing, GoDaddy claims an (adjusted) EBITDA for 2013 totaling $199 million!  However, any decent accounting firm would report a GAAP EBITDA of just $11 million!!  That's only a gap of $189 million! Or is it a difference of 94.5%? [Actually, it is both!]
3) Finally, GoDaddy touts "Unlevered Free Cash Flow" (UFCF) as an ideal metric for gauging the company's financial performance. 
As you can guess, UFCF measures a company's cash flow before all interest obligations are paid out!  Remember GoDaddy's "Quick Ratio".  Recall the interpretation I offered: overleveraged?
Investopedia offers this helpful insight:   
"A company that has a large amount of outstanding debt … is more likely to report unlevered free cash flow because it provides a rosier picture of the company's financial health. The figure shows how assets are performing in a vacuum… Investors have to make sure to take into account debt obligations, since highly leveraged companies are at greater risk for bankruptcy."
 A parallel would be if I applied for a personal bank loan but expected the bank to measure my financial ability on the basis of my total income before any mortgage payment was made!
To GoDaddy's credit, I do have to acknowledge that it includes the following warning within the SEC filing: "our substantial leverage could have a material adverse effect on our business and financial condition."[21] 
Several other important items of note include:
1) The proceeds of an IPO will be used, in part, to repay debt and other "general corporate purposes";
2) Neither the total number of shares to be offered nor the IPO price range has yet been determined;
3) No ticker symbol has yet been designated;
4) If the IPO goes through, the common stock and voting structure that will follow affords shareholders precious little influence on how the company will be run;[22]
5) Among the underwriters for the prospective IPO are: Morgan Stanley (MS), JP Morgan Chase (JPM), and Citigroup (C).[23] 
INVESTOR TAKEAWAY: 
I hope you found this article a bit more "fun" than usual. Perhaps you were caught off guard that the companies presented behind all three doors were one and the same. That exercise was designed to remind us that [if GoDaddy proceeds with an IPO] the company that will be promoted by Morgan Stanley, JP Morgan, and Citigroup may not bear much resemblance to the over-leveraged, mature (now 17 years old), money-losing company that we discovered above!
Instead, we can count on the underwriters to focus our attention on such things as: 
1) GoDaddy has four times the number of domain customers as its nearest competitor;
2) About 85% of GoDaddy revenues come from customers who were with the company the year before (producing an annuity-like stream of future revenue);
3) Year-over-Year, revenue is growing at a rate of 24%; 
4) Realizing that the U.S. now includes just 11% of global online users, GoDaddy has expanded into Latin America, and is currently growing across a wider portion of Europe. The result is that the firm's "product footprint" now spans 42 markets, 44 currencies, and 17 languages;
5) That said, there is still considerable room for growth within the U.S. – where only half of all existing small businesses currently have a website. 
6)  Here is a sample image of what may be included in an "Investor Information Packet":
And that's not all. The biggest focus might be upon the Unified Cloud Platform (UCF) that GoDaddy has "in process".[24]   I imagine that any investor presentation will include plenty instances of impressive sounding tech terminology, and such presentations are also likely to include colorful visuals that suggest[25] that GoDaddy has already mastered the UCF!  Since "everybody knows" that "the Cloud is the Future"… and "the Future is in the Cloud"… [26], this will serve much the same function as when a magician distracts our attention away from his "sleight of hand". The goal of course, is to distract us from the company's horrid financial metrics – which it actually has the temerity to openly disguise by offering up "new, improved" accounting measures such as: Bookings, Adjusted EBITDA, and Unlevered Free Cash Flow!
As our most regular readers know, I do not (ever) offer investment recommendations. However, if you have not yet gleaned what counsel I might otherwise offer you regarding GoDaddy (if the company actually proceeds with an IPO) then I have been far, far too subtle.
Suffice it to say that, should you be tempted to participate in any such IPO, ask yourself this question: "Is this a true opportunity for you, a prospective shareholder, to "get in"; or is it primarily an opportunity for KKR, Silver Lake, Technology Crossover, and Parsons, to "get out".[27]
The tagline of GoDaddy (It's Go Time) may be what is on the mind of the current owners of GoDaddy as they plan the IPO!
DISCLOSURE:
Obviously, the author does not own any shares in GoDaddy; nor does he have any web contract with the company. He has never met Danica Patrick in person, nor has he watched her in an actual professional race.  Nothing in this article is intended as a recommendation to buy or sell anything. Always consult with your financial advisor regarding changes in your portfolio – either subtractions or additions.
Parenthetically, I will add that I owned, used, and greatly appreciated MoneyCounts, QuickVerse, and MembershipPlus!!
FOOTNOTES:
---
Related Posts
Your Social Security Benefit Is Already Being Cut — Here's How
Airbnb Targets Renters
Why Zoom Stock Zoomed Almost 7% Higher Today