Anyone who initiates new trades today needs to stay after class. In the U.S., this is a 3-day holiday weekend with the markets closed on Monday. This may be a quiet weekend with no action on Syria and Miley Cyrus staying out of sight. A few dozen cruise missiles may be lobbed at Syria, but having already been warned, Assad is likely taking a vacation on the Riviera and will come back, dust off his desk and light up a cigar. Or, events could take an unexpected turn and all heck breaks loose. You do not initiate trades before a weekend like this.
Then there is the seasonal aspect – not the actual results, but the reputation that will be played up. Already, the Chicken Little articles are coming out, warning that September is the worst month to be in the market, although a close analysis shows it means little for short-term traders who pick appropriate trades.
Going back to 1980, over the next four weeks, the Dow Jones Industrial Average has averaged a 0.6% loss, with losses in 18 out of the past 33 years (55% of the years).
The NASDAQ has a nearly identical record, although the variability of the individual years is higher.
The S&P 500 has averaged only a 0.4% loss over the next four weeks with a nearly 50/50 track record of gains vs. losses. Aside from a few big losses, like in 2002 and 2008, the chart below shows the variability of individual years has not been that significant.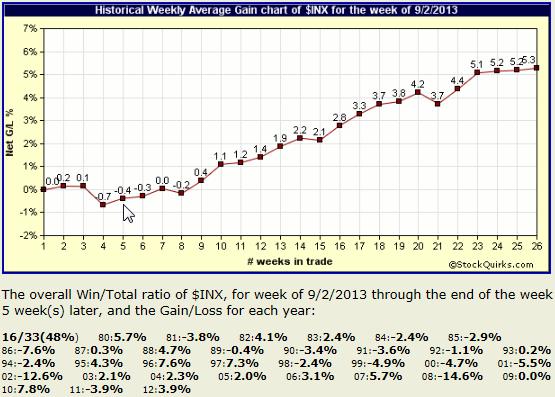 Conversely, good things can happen in September. Amazon (AMZN) presents a strong case with its 8.8% average gain over the next four weeks, with gains in a high 88% of the past 16 years. The only losing years were the Internet stocks crash in 2001 and the credit collapse of 2008: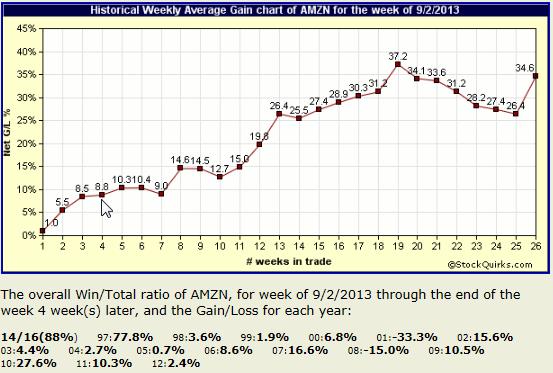 Yahoo (YHOO) is another stock that likes to move up in September: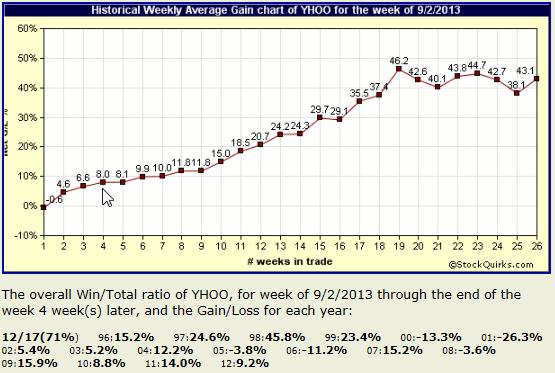 Get past the weekend (and hopefully the Syrian situation), and start September with an open mind.
Of course, there's much more you need to know and many more stocks you can capitalize upon each and every day.  To find out more, type in www.markettamer.com/seasonal-forecaster
By Gregg Harris, MarketTamer Chief Technical Strategist
Copyright (C) 2013 Stock & Options Training LLC
Unless indicated otherwise, at the time of this writing, the author has no positions in any of the above-mentioned securities.
Gregg Harris is the Chief Technical Strategist at MarketTamer.com with extensive experience in the financial sector.
Gregg started out as an Engineer and brings a rigorous thinking to his financial research. Gregg's passion for finance resulted in the creation of a real-time quote system and his work has been featured nationally in publications, such as the Investment Guide magazine.
As an avid researcher, Gregg concentrates on leveraging what institutional and big money players are doing to move the market and create seasonal trend patterns. Using custom research tools, Gregg identifies stocks that are optimal for stock and options traders to exploit these trends and find the tailwinds that can propel stocks to levels that are hidden to the average trader.

Related Posts
One Year Later: 3 Takeaways From the Tilray Bubble
If Roku Goes Down, It Won't Be Because of Xfinity
Netflix's Over $500 Million Seinfeld Deal Shows It Is Ready to Take on Broadcasters