There is a pattern in a lot of the ETFs and individual stocks that strongly suggests institutional accumulation us going on. EEM, the ETF based on stocks in emerging markets, is one good example.
Periodically spaced days on well-above-average volume, often on opening gap-ups, is most likely  coming not from individual investors and traders reacting to Jim Cramer's latest recommendations, but from institutions spacing out their purchases.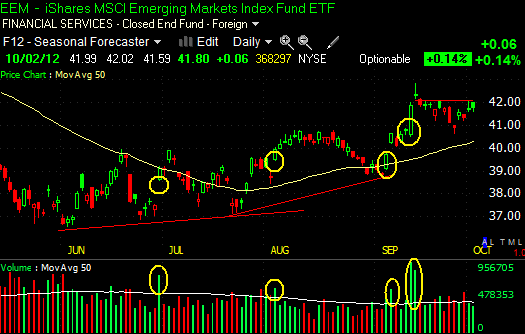 As long as the overall market doesn't suddenly change in character, I expect EEM will soon break upwards again and I expect it will be on above-average volume.
A consumer products company I highlighted a few days ago had a similar pattern – periodic jumps in the stock accompanied by volume spikes: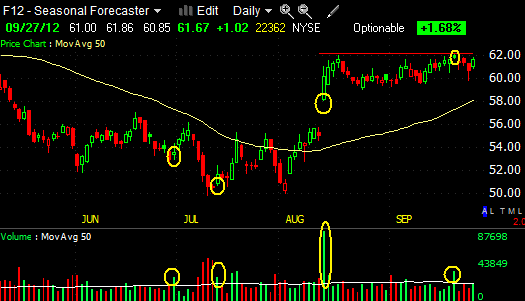 Two days later it was up 2.4% from another surge in buying.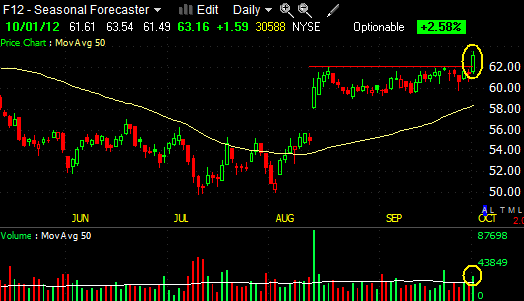 The price chart and volume patterns on the above two stocks match other stocks in the past that followed through with lengthy moves.
Today's full Seasonal Forecaster newsletter covers trades on earnings announcements that can also work well in volatile market environments.
Of course, there's much more you need to know and many more stocks you can capitalize upon each and every day.  To find out more, click here: www.markettamer.com/newsletters
By Gregg Harris, MarketTamer Chief Technical Strategist
Copyright (C) 2013 Stock & Options Training LLC
Unless indicated otherwise, at the time of this writing, the author has no positions in any of the above-mentioned securities.
Gregg Harris is the Chief Technical Strategist at MarketTamer.com with extensive experience in the financial sector.
Gregg started out as an Engineer and brings a rigorous thinking to his financial research. Gregg's passion for finance resulted in the creation of a real-time quote system and his work has been featured nationally in publications, such as the Investment Guide magazine.
As an avid researcher, Gregg concentrates on leveraging what institutional and big money players are doing to move the market and create seasonal trend patterns. Using custom research tools, Gregg identifies stocks that are optimal for stock and options traders to exploit these trends and find the tailwinds that can propel stocks to levels that are hidden to the average trader.
Related Posts