The markets have had quite a run over the past few days. Yesterday's opening left unfilled gap-ups in many sector ETFs and individual stocks.
Remember that market action is the result of human nature, and human nature produces cycles. In many stocks you will see regular cycles. If you can see an obvious cycle in a stock, and you notice a stock has been rising and is about due for another cycle top, do you think it will be a high probability trade to enter a long position?
Merck is a current example. Considering its recent track record, a short-term trade bullish trade may not make sense right now. Investing for the longer term will absorb, and possibly render irrelevant, short-term perturbations. But short-term traders, with 2 to 13-week timeframes, need to look for these patterns and exercise caution.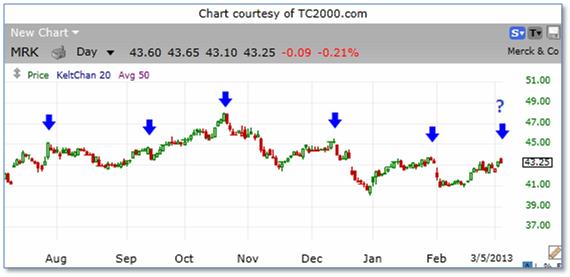 You can see cycles in ETFs as well. XLY, the SPDRs Select Sector Consumer Discretionary ETF, has been cycling back and forth with good regularity. XLF has risen 5.2% in the past 6 days. Entering a new long position in XLF, or one of its top holdings that has a similar pattern, may have headwinds.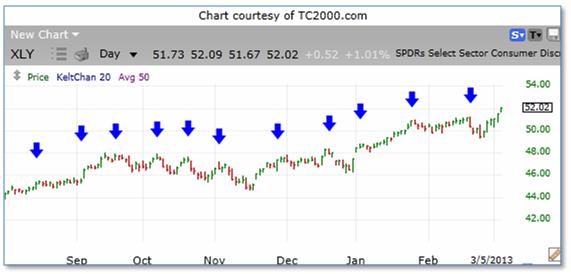 When you see such a pattern, and you are looking for bullish trades, look at other stocks or sectors that may just be coming off bottoms. Even within a sector, one stock may be nearing a cycle high as others are just coming off cycle lows. Take the Merck example above, a drug stock that may be nearing a cycle high. Looking further into the sector one finds Teva Pharmaceutical, which is likely coming off another regular cycle low.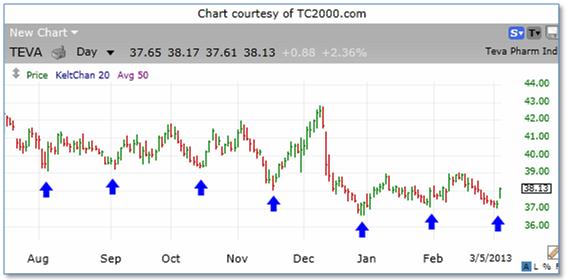 Cycles are not reliable enough to be the basis for a trading system. But as a trade qualifier or filter, looking for them and paying heed to lows and highs, either just-formed or likely due, will make a big difference in your trading results.
Of course, there's much more you need to know and many more stocks you can capitalize upon each and every day.  To find out more, type in www.markettamer.com/seasonal-forecaster
By Gregg Harris, Market Tamer Chief Technical Strategist
Copyright (C) 2013 Stock & Options Training LLC
Unless indicated otherwise, at the time of this writing, the author has no positions in any of the above-mentioned securities.
Gregg Harris is the Chief Technical Strategist at MarketTamer.com with extensive experience in the financial sector.
Gregg started out as an Engineer and brings a rigorous thinking to his financial research. Gregg's passion for finance resulted in the creation of a real-time quote system and his work has been featured nationally in publications, such as the Investment Guide magazine.
As an avid researcher, Gregg concentrates on leveraging what institutional and big money players are doing to move the market and create seasonal trend patterns. Using custom research tools, Gregg identifies stocks that are optimal for stock and options traders to exploit these trends and find the tailwinds that can propel stocks to levels that are hidden to the average trader.
Related Posts
HeartFlow: A Deep Dive
Here's Why Avalanche's Cryptocurrency Is Skyrocketing
Why Berkeley Lights Fell Again Today, Despite Bullish New Analyst Notes