Since the beginning of the year, the Q's have just been sitting' there.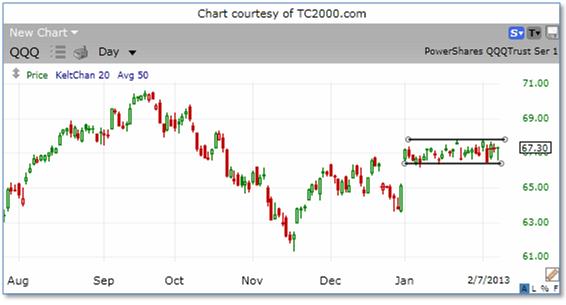 I looked back at recent years in QQQ's price chart. There were other times it sat like this for a month. But just a month. Every time, after about four to six weeks, fingers hovering over buy or sell buttons on trading screens got itchy, and the Q's went flying. The big boys? They all want a fistful of dollars, and they ain't gonna wait too much longer to make them.
Two foreign index ETFs that have been strong lately are the first ones starting to 'curl' downwards. The Stochastics on EFA, the iShares MSCI EAFE Index ETF, having scraped the ceiling for a couple months now, have turned downwards and produced a 'sell' signal.
EEM, the iShares MSCI Emerging Markets ETF, is doing the same thing. XLB, the Materials ETF, is weakening. But so far, most of the other major sector ETFs are doing ok. Are EFA, EEM, and XLB early indicators for a pullback? Or, will the market ring up some more gains? Is it too strong to stop?
"Crazy bellringer was right, there's money to be made in a place like this."
(Clint Eastwood as 'Joe' in "A Fistful of Dollars')
The VIX is still at an unusually low level. Puts, a.k.a. Protective Puts, won't stay cheap forever. If fingers start hitting buy or sell buttons, the price of protection will rise quickly. It may also be a good time to take profits. Remember the last thirty-six times you gave back a lot of profits when the market pulled back suddenly? Each time you said "I won't let this happen again."
Of course, there's much more you need to know and many more stocks you can capitalize upon each and every day.  To find out more, type in www.markettamer.com/seasonal-forecaster
By Gregg Harris, Market Tamer Chief Technical Strategist
Copyright (C) 2013 Stock & Options Training LLC
Unless indicated otherwise, at the time of this writing, the author has no positions in any of the above-mentioned securities.
Gregg Harris is the Chief Technical Strategist at MarketTamer.com with extensive experience in the financial sector.
Gregg started out as an Engineer and brings a rigorous thinking to his financial research. Gregg's passion for finance resulted in the creation of a real-time quote system and his work has been featured nationally in publications, such as the Investment Guide magazine.
As an avid researcher, Gregg concentrates on leveraging what institutional and big money players are doing to move the market and create seasonal trend patterns. Using custom research tools, Gregg identifies stocks that are optimal for stock and options traders to exploit these trends and find the tailwinds that can propel stocks to levels that are hidden to the average trader.
Related Posts
Aurora Cannabis Was the Hottest Big Marijuana Stock in May — but Will Its Sizzle Soon Fizzle?
Are Moderna's Coronavirus Gains Over?
Debunking Americans' Most Pressing Social Security Concern