In the May 11th, 2016 issue of Seasonal Forecaster, I detailed a trade setup on Omnicell Inc. (OMCL).
From the company's website:
Omnicell is recognized as a leading provider of comprehensive, technologically advanced automation that enables health care facilities to acquire, manage, dispense, and deliver medications and supplies more effectively. Omnicell automation is used from the point of entry into the hospital through the central pharmacy, nursing units, operating room, procedural areas, and patient bedsides – as well as in long-term care sites.
Omnicell had just announced earnings that beat expectations, although a slight decline in margins was listed as a concern. But it was Omnicell's track record of stock gains that led me to the trade setup.
In the newsletter, I detailed:
One more trade setup for this week. Omnicell Inc. (OMCL) has a very strong seasonal pattern. Over the next 10 weeks OMCL has gained an average of 18%. There has been only one loss in the past 14 years and many double-digit gains.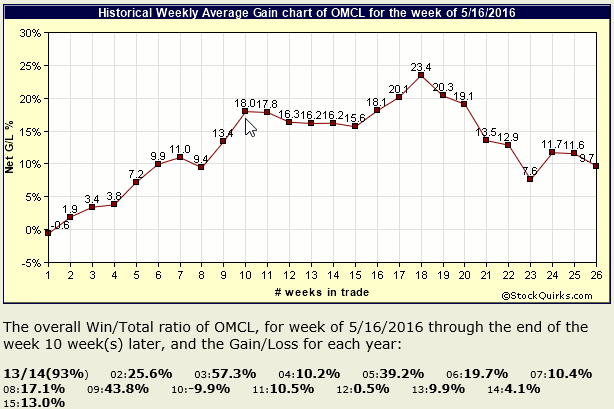 I added OMCL to the newsletter portfolio that morning at the opening price of 31.86. So is OMCL showing any sign of confirming the seasonal pattern again this year?
Yes. OMCL broke above resistance last week, and the position is currently up 2.2%.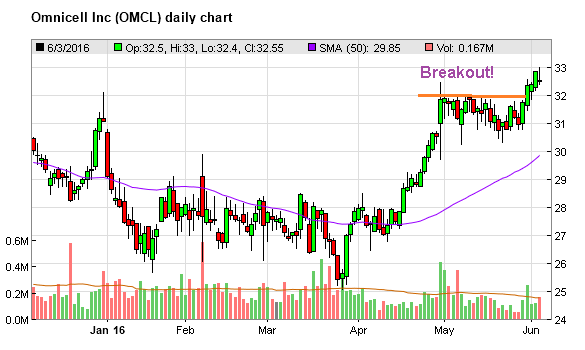 But the volume pattern, along with a couple of other indicators, is showing likely strong institutional participation, i.e., accumulation, in this stock. That's why, in this morning's newsletter, I covered an add-on trade for OMCL.
There was a similar trade setup I covered in the 5/25/2016 newsletter. I detailed an add-on trade to that position as well this morning. The other long stock positions in the portfolio? One is down 3.5%, but the others are showing gains of 5.2%, 4%, 15%, 39%, and 3.5% – all trades entered since February, and most of them were entered due to seasonal pattern analysis.
Seasonal analysis is a consistent strategy for high probability trade identification that typically produces consistent profits with low drawdowns.
Of course, there's much more you need to know and many more stocks you can capitalize upon each and every day.  To find out more, please click on the following link: www.markettamer.com/seasonal
By Gregg Harris, MarketTamer Chief Technical Strategist
Copyright (C) 2015 Stock & Options Training LLC
Unless indicated otherwise, at the time of this writing, the author has no positions in any of the above-mentioned securities.
Gregg Harris is the Chief Technical Strategist at MarketTamer.com.
The content on any of Market Tamer websites, products, or communication is for educational purposes only. Nothing in its products, services, or communications shall be construed as a solicitation and/or recommendation to buy or sell a security. Trading stocks, options, and other securities involve risk. The risk of loss in trading securities can be substantial. The risk involved with trading stocks, options and other securities are not suitable for all investors. Prior to buying or selling an option, an investor must evaluate his/her own personal financial situation and consider all relevant risk factors. See: Characteristics and Risks of Standardized Options (http://www.optionsclearing.com/publications/risks/riskstoc.pdf). The www.MarketTamer.com educational training program and software services are provided to improve financial understanding.


Related Posts
Why Seagen Shares Are Tumbling 12.5% Today
Why Is Wall Street Applauding Netflix's Next Big Mistake?
TikTok to Block Election Night Videos Falsely Asserting Victory