In the April 24th newsletter, I stated that stocks were throwing off conflicting signals. Finding few higher-probability trade setups, I suggested it was time to "take profits, buy protection, consider shorts and other bearish trades, and enter only smaller new positions."
The S&P 500 opened that morning at the previous day's close, but within the first hour began selling off. This was the start of a 5-day, 3.6% pullback.
On Monday of this week (in the June 14th newsletter), I said "I'm just not finding a lot to work with right now. Many stocks appear overbought, but are not offering the right setups for bearish trades."
The S&P did eek out a 1.3% gain through Tuesday, but statements by the Fed on Wednesday gave the market exactly the excuse it had been looking for to take profits. The S&P has since logged a straight down 3.4% decline.
I've noticed over the years that when it suddenly seems hard to find any of the normal setups I look for, a sudden change in market direction is often right around the corner. I've learned not to force trades, because I'm not the only smart person in the Universe. If something is becoming obvious to me by either its presence or absence, it is likely becoming obvious to thousands of other traders.
Successful trading is not just knowing how to find and manage trades, it is also about listening to your common sense and intuition. One of the hardest techniques for traders to master is the 'non-participation' strategy, also known as the 'sit on your hands' strategy.
When you find yourself looking hard for justifiable trade candidates, consider instead spending your time booking a weekend at a Bed & Breakfast in an interesting location. It will probably cost much less than what you would have lost on a forced trade, and you will sleep better. And the smell of freshly baked blueberry muffins will make you forget all about spread trades and stop-losses.
Of course, there's much more you need to know and many more stocks you can capitalize upon each and every day.  To find out more, type in www.markettamer.com/seasonal-forecaster
By Gregg Harris, MarketTamer Chief Technical Strategist
Copyright (C) 2013 Stock & Options Training LLC
Unless indicated otherwise, at the time of this writing, the author has no positions in any of the above-mentioned securities.
Gregg Harris is the Chief Technical Strategist at MarketTamer.com with extensive experience in the financial sector.
Gregg started out as an Engineer and brings a rigorous thinking to his financial research. Gregg's passion for finance resulted in the creation of a real-time quote system and his work has been featured nationally in publications, such as the Investment Guide magazine.
As an avid researcher, Gregg concentrates on leveraging what institutional and big money players are doing to move the market and create seasonal trend patterns. Using custom research tools, Gregg identifies stocks that are optimal for stock and options traders to exploit these trends and find the tailwinds that can propel stocks to levels that are hidden to the average trader.
Related Posts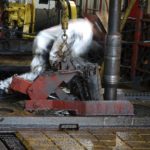 Is Transocean a Buy?
3 Dividend Stocks That Pay You More Than Pepsi Does

Redfin's Crazy Strong Advantage Over Traditional Real Estate