Maybe a half trillion dollar market capitalization is the stumbling block, but it's sometimes hard to rationalize that Apple is truly valued at $508Bn today.
Delving into the details, some startling figures appear.
First, let's look to the widely cited metric of price-to-earnings.  Apple has a forward P/E of just 11, which is by no means expensive.
In fact, digging into those earnings, we see a figure of $13,000,000,000.  That's nine zeroes after the 13, and it's not a mistake, nor is it an annual figure.  That's 13 billion dollars for a single quarter.
Now seasonality is a big factor in earnings but Apple is still projected to grow this year, which means the $45Bn EBITDA for the trailing twelve months should be substantially surpassed in the coming twelve months.
The story of Apple is not limited to Apple of course.  It's massive market capitalization didn't just come from its own success, but also from cannibalizing competitors, most notably Research in Motion.
Remember when RIMM was valued over 6 times greater than what it is valued at today?  That was just 24 months ago.  $50Bn of valuation lost on RIMM.  $50Bn of valuation gained by Apple.
Some might say the Apple story is ending.  As iPod sales, the flagship product, just a few years ago dwindle, maybe the same will happen iPhones and iPads?
But wait.
iPod sales had just one connected recurring revenue stream: iTunes.  The iPhone has more than iTunes; it has the addictive nature of cell phones in general which means the monthly charges Apple enjoys from the subscription service have greater lifetime value.  And iPads don't necessarily cannibalize iPhones like iPhones cannibalized iPods.  Statistics on iPad usage show a huge number of users rely on iPads for reading and game-playing at night while lying in bed, when phone usage is considerably lower.
And then there's Search.  Siri is just the beginning of what Apple will do to fundamentally disrupt search.  Each customer will be enabled with a virtual assistant through Siri.  It's a game-changer in the world of search in years to come that Google is already threatened by.
And there's iCloud.  The Dropbox founders didn't take the deal from Jobs to be bought out, and so Apple created iCloud, which is better.  It's more than file-sharing and synchronizing.  Imagine downloading a file on your iPod and having it appear on your iPad, iPhone and Mac too – instantaneously.  It's the beginning and Apple has the brand and trust to support a new recurring revenue stream as the one-stop virtual storage center on the web.  Plus, iCloud is only in its infancy.
And then, there's Apple's move to TV.  Apple claims to have nothing noteworthy to discuss in this area yet.  But just wait.  Unlike the Mac, which still has a small market share, and requires fundamental shifts in consumer behavior to adopt, the Apple TV requires no special adoption.  Turning the TV and Computer into one box has been the holy grail for years in the tech industry, but mass adoption has been slow.  The winner in this market will make a killing, and Apple has its eyes set on the prize, despite its CEO downplaying its impact.
In fact, if Apple were to keep up its pace of growth and new market penetrations, generating north of $50Bn of profits annually, then two years of its profits would be equivalent to Facebook's projected total valuation.
So much for Apple being the little guy in the David Vs Goliath computer war.  It's taken over, and the freight train has no plans to stop now.
Related Posts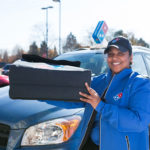 Domino's Q1 Earnings: Is the "Fortress" Strategy Working Yet?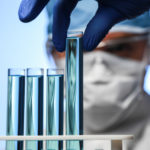 5 Top Pharmaceutical Stocks to Buy in 2019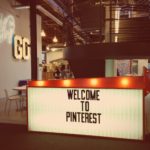 3 Reasons Why Pinterest Stock Can Keep Heading Higher